Proposed mine based financial viability on inflated oil price estimates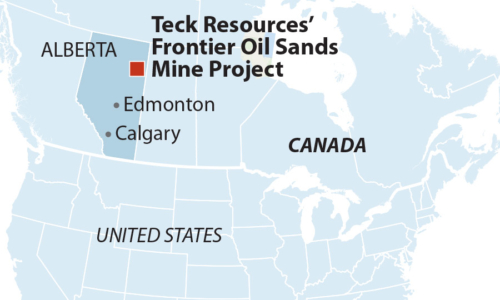 Don Lindsay, CEO of Teck Resources, said last week that proceeding with the Frontier Oil Sands project may not happen, even if Canada approves its pending permit. A key reason he cites is the persistently low price of oil.
Beyond any environmental considerations that might impact the final decision, the Federal Cabinet, which has until the end of February to decide on the project, should take Lindsay's words seriously because it could find itself forced to bail out, to the tune of many billions, another economically disastrous oil project.
LAST JULY, CANADA'S JOINT REVIEW PANEL GAVE INTERIM APPROVAL OF THE PROJECT BASED ON A US$95 PER BARREL estimated price for oil. At that price, the project would actually be viable, and might produce jobs and broader economic benefits. However, most long-term forecasts place the price of oil well below US$95 per barrel for the foreseeable future. Brent oil is currently approximately US$60 per barrel and Canadian blends are in the $30 to $40 per barrel range.  The interim permit approval was based on a poorly supported price estimate that ignored forecasts from Canada's own Canadian Energy Regulator (CER), the World Bank, the International Monetary Fund (IMF) and oil and gas industry groups.
Recently, Teck Resources also lowered its long-term oil price estimate.
In the short term, the EIA cut its oil price estimates by 18 percent
A few days ago, the U.S. Energy Information Administration (EIA) significantly dropped its future oil price forecasts. In the short term, the agency cut its oil price estimates by 18 percent.  And, for the next decade, EIA foresees prices below $75 per barrel. The EIA's forecast does not reach $95 per barrel until 2043.
As IEEFA has noted, in a report that was shown to members of the Federal government, if oil prices are this low, how can the Frontier Oil Sands project be economically viable? Teck Resources appears now to agree. The jobs and economic benefits promised to Canadians cannot be delivered at such low oil prices.
Teck Resources' core products include copper, zinc, steelmaking coal, and energy. It is having a rough time. Revenues and profits are down sharply and the company's stock is halved from its high in 2019.
NEARLY ALL MAJOR FOREIGN OIL AND GAS COMPANIES HAVE ABANDONED THEIR INVESTMENTS IN OIL SANDS since oil prices collapsed in 2014, often taking multi-billion-dollar write-offs. Equinor, Total, Shell, ConocoPhillips, Koch Industries, and Kinder Morgan are just a few of the international companies that have walked away from investments in Canadian oil sands.
What's more, the current global over-supply of oil is unlikely to end anytime soon. The world economy is becoming increasingly less dependent on oil. In fact, oil and gas stocks, which represented 28 percent of the S&P 500 in 1980, now represent only 4.4 percent, a stark indicator that fossil fuel-based energy is no longer the economic driver it once was.
Teck's plan to build the world's largest oil sands mine will almost certainly fail
Teck, should it gain federal approval and build the world's largest oil sands mine, will almost certainly fail. And, Canadian taxpayers could face a very steep financial burden. The Federal government set an extraordinary precedent when it acquired the Trans Mountain pipeline from Texas-based Kinder Morgan in August 2018 for $4.5 billion, and assumed the construction costs to fund the expansion—costs that have been estimated at more than $10 billion. The Federal government, in effect, became the buyer of last resort when a private company opted not to go forward.  It is not unlikely, with such a weak economic case, the Federal government —aka taxpayers—would be pressured to provide financial support.
Teck and the Federal Cabinet would be well-served by considering whether or not the financial rationale for building an oil sands mine still holds. The initial application for the Frontier Oil Sands Project was submitted in 2015, and a lot has changed since then. Reassessing an investment decision, along with revisiting approval for such a decision, could spare Canadian taxpayers another multi-billion-dollar liability.
Tom Sanzillo is IEEFA's director of finance.
Kathy Hipple is an IEEFA financial analyst.
Related Items
IEEFA report: Teck Resources' Frontier Oil Sands project shows reckless disregard for financials
IEEFA report: Additional $320 million in subsidies used to finance Trans Mountain Pipeline in first half of 2019
IEEFA Canada: Ill-advised oil sands project faces rough future