Climate Week Symposium features news from the frontlines of movement for transition to renewables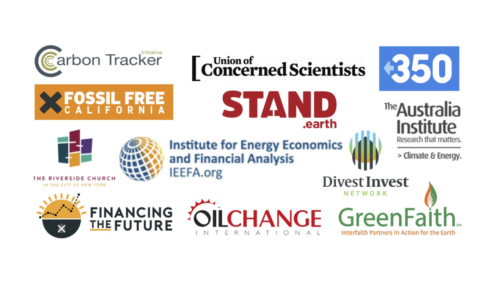 September 27, 2019 (NEW YORK) – At Financing the Future, a Climate Week symposium held September 26, Mary Powell, President and CEO of Green Mountain Power, announced that the Vermont utility will be the first in the world to divest its pension fund from fossil fuel companies. With the reinvestment of about $13.5 million, the company's $180 million pension fund will be 99.2% divested by the end of September. The final .8% of investments will be divested by the end of 2020. Powell made the announcement alongside renowned environmentalist, Bill McKibben.
"You can count on one finger the number of U.S. utility company pension funds that have divested from fossil fuels," said McKibben.
The event drew several hundred participants from activist, business, and government circles to Riverside Church in upper Manhattan. It focused on the third goal of the Paris Agreement, namely: making finance flows consistent with keeping global warming well-below two degrees Celsius.
Opening the symposium, New York City Comptroller Scott Stringer said, "we have to draw the line somewhere, tinkering around the edges won't push polluters far enough — companies have to fundamentally change their business practices."
Stringer said the New York City government was committed to divesting from fossil fuels while doubling investments in green energy, including "blue bonds" for water resiliency projects. He added that he would also continue to fight plans to build the Williams Pipeline.
U.N. Assistant Secretary-General for Economic Development and Chief Economist Elliott Harris underlined the importance of both government policies and private sector mobilization to achieve change. "Right now, we are investing the green on top of the brown – if we were to shift all that to sustainable – we could solve the problem," he said. "The money is there."
A panel of experts provided updates on the Divest Invest movement. Lolita Jackson from New York City's Climate Policy and Programs described a growing number of international initiatives, such as the C40 Divest/Invest Forum — a first-of-its-kind initiative to help urban leaders make the leap to effective and efficient divestment and accelerate green investment. She noted that pension funds in London, Pittsburgh and Montreal had decided to divest from fossil fuels.
The U.S. CEO of BNP Paribas Asset Management, Daniel Klein, described the pathbreaking decision of the global asset manager to divest from coal — a stark contrast to the inaction of its peers, such as BlackRock, Vanguard and Fidelity.
Campaigners also underscored the importance of public pressure on national governments.
"Governments like mine [Canada] support oil sands and LNG – but when your house is on fire, you don't add more fuel," said Tzeporah Berman from STAND.earth. Berman said efforts were underway to roll out an international Fossil Fuel Non-Proliferation Treaty for signature in 2020.
Noting that Australia is the third largest exporter of fossil fuels after Russia and Saudi Arabia, Richie Merzian, from the Australia Institute, said that sovereign wealth funds could be key, especially in countries with pro-fossil fuel policies. "Even funds in Gulf states like Saudi Arabia, UAE, Qatar and Kuwait are starting to divest from fossil fuels," he said.
Clara Vondrich, Director of Divest Invest, challenged institutional investors like the New York and California state pension funds to divest: "There is no more time for toothless shareholder engagement with the fossil fuel industry that is digging and burning us past climate tipping points of no return. It's time for investors to either demand that the industry winds down, or they must divest. That is the only way that investors themselves can avoid being complicit in the destruction of everything we love."
A second panel moderated by Tom Sanzillo, Finance Director of the Institute for Energy Economics and Financial Analysis (IEEFA) focused on fiduciary duty to address climate risk.
"Investors need to expect more and tolerate less," said Kathy Mulvey from the Union of Concerned Scientists. "They need to put the burden of proof on the companies to demonstrate that they are reducing emissions."
Diana Best from Sunrise Project said that not only banks and shareholders, but insurers need to step up. "The top ten insurance companies are putting $50 billion into fossil fuels, in fact, passive investment in fossil fuels has actually increased since Paris," she said.
Climate attorney Lisa Hamilton said that litigation against fossil fuel companies would only increase. "Ten years ago, it seemed like an abstract threat many years down the road, now there is measurable risk – we are almost in 2020," she said. Not only coastal communities were suing fossil fuel companies for damages but those along the Mississippi river and in forested areas vulnerable to drought.
The event concluded with a spoken word performance by Grammy-winner Malik Yusef. "You don't have to do this by yourself, it's a big fight…in small doses, we are powerful."
Co-sponsors of the event included: Divest Invest, 350.org, The Australia Institute, GreenFaith, Riverside Church, Carbon Tracker Initiative, Fossil Free California, Institute for Energy Economics and Financial Analysis, The Sunrise Project, Union of Concerned Scientists, Stand.earth, New York City Mayor's Office and Oil Change International.
Media contacts:
Vanessa Warheit, [email protected], 415 225 4435
Janet Cox, [email protected], 415 902 1795
Clara Vondrich, [email protected], 415 656 6224