October 18, 2021 (IEEFA) — Despite its growing importance to the U.S. economy, the nation's plastics industry remains a heavily concentrated sector taking advantage of an opaque, unregulated price-setting mechanism to bolster profits for major oil and gas companies, as well as plastic producers.
The sector, which has increased prices throughout the year, was deemed to be an essential industry by the federal government in early 2020. As such, the government should begin regulating it as it regulates certain other essential businesses, recommends a report by the Institute for Energy Economics and Financial Analysis (IEEFA). 
The price of polypropylene, a key ingredient in most plastics, has soared 135% so far in 2021. As prices rise, strains could mount on manufacturing essential products such as masks, face shields, cups and packaging.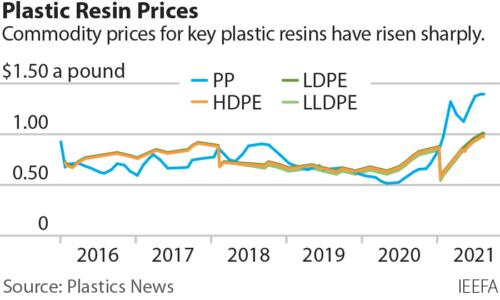 "Plastics are ubiquitous in the United States economy. Well before the current bout of inflation, price increases have been steep, fast and persistent—and the justifications for such price hikes have been shallow and weak," said Tom Sanzillo, IEEFA's director of financial analysis and the report's lead author. 
As prices rise, public scrutiny has been limited to trade and business publications. There have been few consumer complaints about the increased costs thus far. The risk of high prices, particularly in the area of medical supplies, is a problem. 
IEEFA's report shows that only a handful of companies control the markets in higher density polyethylene (HDPE), low linear density polyethylene (LLDPE), low density polyethylene (LDPE) and polypropylene (PP). These commodities are the key ingredients used in the production of single-use plastics (bags, straws, packaging). Prices are set by an obscure process with little transparency. In 2021, the producers have sought to push prices up each month. 
The IEEFA study shows that although the plastics industry touches almost every segment of the U.S. economy, current regulation is based on a patchwork of public laws and agencies. 
"The industry is controlled by just a few companies. It is time that the price-setting mechanisms be reviewed," Sanzillo said. "The industry has become too important to be left to the vagaries of unrestrained market forces. A new balance needs to be found regarding production and product content, emissions, prices, profits, and waste disposal."
The report's findings challenge industry justifications for the price increases. On one hand, the coronavirus pandemic and Gulf Coast hurricanes disrupted production. On the other hand, companies recovered quickly, showing continued production and profits through 2020 and 2021. One industry observer said recently profits were "fantastic."
Trade reporters have observed that industry leaders are holding back plastics from the international market in order to sell in the United States at higher prices. High prices, which usually signal the need for new manufacturing plants, are not leading to plant expansion by the companies. 
While the plastics industry is important to the U.S. economy, and to the medical supplies sector in particular, the report also highlights the toll in terms of toxic emissions and waste produced at various stages of manufacturing as well as the threat to the climate due to dependency on fossil fuels in plastics production.
"During the pandemic, there has been a clear increase in demand for certain plastics, especially for PPE," said Sanzillo. "However, the price increases lack a convincing justification. Concerns are rising over toxic releases and ocean dumping. The industry relies heavily on fossil fuels, and its carbon emissions undermine efforts to combat climate change. The market imbalances, public health and climate risks should be seen as red flags by industry leaders, regulators and the public." 
Full Report: Why External Review of Price-Setting Mechanism for Plastic Resins is Warranted
Author Contacts:
Tom Sanzillo ([email protected]) is IEEFA's director of financial analysis.
Suzanne Mattei ([email protected]) is an IEEFA energy policy analyst.
Media Contact:
Muhamed Sulejmanagic ([email protected])
About IEEFA: The Institute for Energy Economics and Financial Analysis examines issues related to energy markets, trends and policies. IEEFA's mission is to accelerate the transition to a diverse, sustainable and profitable energy economy.