February 3, 2021 (IEEFA) — Forecasts used by Duke Energy that predict steadily rising demand for electricity in the Carolinas ignore the company's sales history in the past 15 years, which have been essentially flat, and should be challenged by state regulators, according to a new study by the Institute for Energy Economics and Financial Analysis (IEEFA).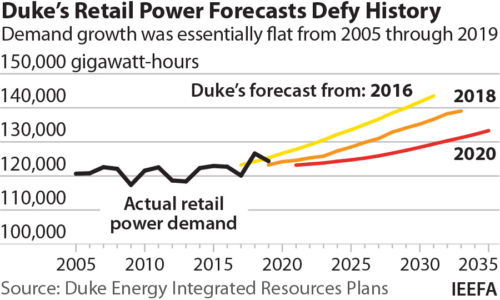 The study, the second in a series examining shortcomings in Duke's proposed integrated resource plans (IRPs) for Duke Energy Carolinas and Duke Energy Progress, finds that total retail power demand has remained relatively flat since 2005. Even so, Duke's last three forecasts have predicted steady growth through 2035.
"Residential sales are not growing," said Dennis Wamsted, an IEEFA analyst and author of the report. "Between 2010 and 2019, residential sales fell slightly. Despite this evidence, the two Duke units still expect increases in electricity demand."
Duke Energy Carolinas expects residential sales will grow about 1 percent annually through 2035; Duke Energy Progress predicts 1.4 percent annual growth. The forecast is remarkably optimistic: Energy efficiency measures, increases in rooftop solar, and a transition away from energy-intensive industries caused U.S. total electricity sales to climb only 0.15 percent annually over the last decade. Population, meanwhile, grew four times faster.
The forecast could lead Duke to add expensive, gas-fired plants to its generation fleet. The company, however, has pledged to reach net-zero carbon emissions by 2050. It's likely that the time needed to approve and build new plants would result in stranded assets, with plants being retired well before the end of their useful life.
"Ratepayers could end up with the bill for expensive and unneeded new capacity," said Wamsted, "and that's capacity that would have to be retired years before the end of its economic lifespan to comply with Duke's net-zero carbon emissions goal."
IEEFA series: Key Shortcomings in Duke's North Carolina IRPs, An Issue-By-Issue Analysis
Part 4 – Ignoring cost savings from renewables
Part 3 – Overlooking battery storage
Part 2 – Overstating electricity demand growth
Part 1 – Over-relying on gas-fired generation
Author contact
Dennis Wamsted ([email protected]) is an IEEFA analyst/editor.
Media contact
Vivienne Heston ([email protected]) +1 (914) 439-8921
About IEEFA
The Institute for Energy Economics and Financial Analysis (IEEFA) examines issues related to energy markets, trends and policies. The Institute's mission is to accelerate the transition to a diverse, sustainable and profitable energy economy.