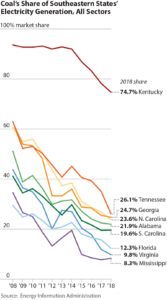 Oct. 1, 2019 (IEEFA U.S.) – Abundant gas supplies have transformed the electricity-generation sector in the traditionally coal-dominated Southeast U.S. Planned new solar construction in the region will add momentum to the energy transition and likely lead to the zeroing out of all coal generation in a number of states in the near future, finds a report released today by the Institute for Energy Economics and Financial Analysis (IEEFA).
The report is based on data and industry trends from Alabama, Florida, Georgia, Kentucky, Mississippi, North Carolina, South Carolina, Tennessee and Virginia.
The report—Coal-Fired Power Generation Is In Freefall Across the Southeast U.S.—examines the regional transition away from coal from 2008-2018, showing how the surge in gas supplies from hydraulic fracturing and horizontal drilling has irreversibly altered the outlook for electricity generation—outpacing even the accelerating national trends over the past 10 years. In 2008, states in the region generated 52% of their electricity from coal, compared to a national average of 48%. By 2018, while the national average fell to 28%, in the Southeast it dropped to 22%.
"An essentially two-stage transition is eroding coal's market share in what was once a bastion of coal-fired power generation," said Dennis Wamsted, an IEEFA analyst and lead author of the report. "A time will come soon—certainly within the next decade—when coal power will disappear entirely from some of these states. And the regional trend, broadly speaking, is toward less and less coal-fired generation everywhere we looked."
The report details a growing wave of coal plant retirements and a flood of planned new solar capacity. It notes that coal-fired generation already has fallen below 15% of total generation in three states—Florida, Mississippi and Virginia—where it appears to be moving inevitably toward zero. In the six other states studied, coal now accounts for less than 30% of annual generation in five. Only Kentucky still derives more than 50% of its electricity from coal—and even there, coal generation has fallen by almost 36% in the last 10 years.
The report examines each of the nine states in depth, analyzing coal plants still in operation and the competitive challenges they face—particularly from plans to build more than 21 gigawatts of new solar in the region over the next five years. In addition, the report details state-specific developments that will continue to undercut coal generation, such as competition from Georgia Power's two new nuclear units, growing corporate demand for renewable energy resources in Virginia and elsewhere, and the push by NextEra Energy subsidiary Florida Power and Light to become the nation's leading solar utility.
"The regional future for coal is one of continuing decline, if not complete obsolescence," the report concludes.
Full report: Coal-Fired Power Generation Is In Freefall Across the Southeast U.S.
Author contacts
Dennis Wamsted [email protected] is an IEEFA analyst and editor.
Seth Feaster [email protected] is an IEEFA data analyst.
Media Contact
Vivienne Heston [email protected] +1 (914) 439-8921
About IEEFA
The Institute for Energy Economics and Financial Analysis (IEEFA) conducts global research and analyses on financial and economic issues related to energy and the environment. The Institute's mission is to accelerate the transition to a diverse, sustainable and profitable energy economy.
RELATED POSTS:
IEEFA U.S.: Solar-plus-storage is undermining the economics of existing coal-fired generation
IEEFA report: 2019 Coal Outlook – Domestic Market Decline Continues
IEEFA report: Powder River Basin coal industry is in long-term decline