Aug. 22, 2019 (IEEFA) — A plan by the Navajo Transitional Energy Company (NTEC) to acquire Cloud Peak Energy's coal mines in Montana and Wyoming is a high-risk gamble and poorly timed, concludes a report published today by the Institute for Energy Economics and Financial Analysis.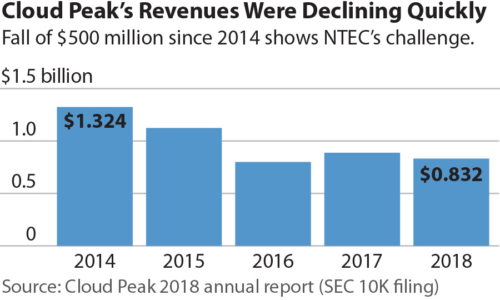 The report, Proposed Navajo Acquisition of Bankrupt U.S. Coal Company Is an Ill-Timed Gamble, details questionable revenue projections presented by NTEC around the proposed deal. IEEFA analysts note that the bankruptcy court-supervised sale of Cloud Peak drew no bids from major coal companies. Further, NTEC's move to acquire Cloud Peak comes at a time when the decline of the U.S. coal sector is expected to persist.
"If it were to complete the transaction, NTEC would be putting hundreds of millions of Navajo Nation dollars at risk," the report states.
It also suggests that NTEC's coal-centric strategy is out of step with the times and that the Navajo government would do well to appoint new NTEC leadership.
A sudden move fraught with risk.
"The agreement NTEC has put forth on Cloud Peak is fraught with financial risk, as NTEC would be buying into a sector in steep decline and a company badly battered by market forces," the report states. "Cloud Peak is bankrupt because competition from larger producers is fierce and utilities are shifting rapidly away from coal-fired electricity generation, causing both its existing and potential customer base to shrivel drastically in recent years."
Excerpts:
"The move would entail a high-risk acquisition of assets concentrated in only one region and one type of coal—thermal coal—both of which have been under severe and increasing financial pressure for some time, the result of a fading customer base that has led to intense competition, extremely low margins and numerous bankruptcies as the U.S. coal industry declines across the board."
"The degree of risk involved in NTEC's Cloud Peak purchase is evident in the small number of bidders for the assets—and in the absence of any major coal companies in the mix of interested parties."
"It appears that NTEC's executive team—whose members have mainly coal industry backgrounds—are unable to look beyond that sector of the electric generation business toward trends reshaping the industry. That old-school approach threatens to saddle the company, and the Navajo Nation as a whole, with serious financial liabilities."
"In the big picture, NTEC's proposed acquisition of Cloud Peak is a case of a small company with small assets buying another company with small (and distressed) assets. Cloud Peak is not a permanent going concern, and NTEC's ownership is not likely to change that."
"A more forward-looking approach would have the company invest in the ongoing energy-sector shift that favors other, more sustainable forms of power generation—wind and solar, for instance—in the short- and long-term alike."
Full report: Proposed Navajo Acquisition of Bankrupt U.S. Coal Company Is an Ill-Timed Gamble
Karl Cates ([email protected]) is an IEEFA research editor.
Dennis Wamsted ([email protected]) is an IEEFA associate editor.
Seth Feaster ([email protected]) is an IEEFA data analyst.
Media Contact:
Vivienne Heston [email protected] +1 (914) 439-8921
About IEEFA:
The Institute for Energy Economics and Financial Analysis (IEEFA) conducts global research and analyses on financial and economic issues related to energy and the environment. The Institute's mission is to accelerate the transition to a diverse, sustainable and profitable energy economy.