October 12, 2020 (IEEFA) — An aggressive expansion into utility-scale solar by Public Service Company of New Mexico will replace all of the power PNM will lose when the coal-fired San Juan Generating Station (SJGS) closes in June 2022, concludes a research brief published today by the Institute for Energy Economics and Financial Analysis.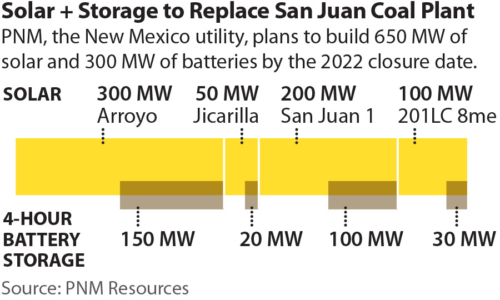 PNM's shift, supported by signed power purchase agreements on four generation and storage projects, also presents another barrier to the long-shot success of a proposed carbon-capture retrofit by a company called Enchant Energy aimed at keeping the San Juan plant online after its closure.
"Enchant is essentially being beaten to the punch by PNM, which aims to have its replacement solar farms in place at least a year before Enchant executives says its retrofit—under a very optimistic and unlikely timetable—would begin to operate," the note states.
Karl Cates, an IEEFA analyst and author of the brief, said PNM's plan, which would put "steel in the ground" as soon as January and will result in the buildout of 950 megawatts (MW) of utility-scale solar and storage by June 2022, signals a larger impending shift toward utility-scale renewables in the Four Corners area of Arizona and New Mexico. 
"It will be seen industrywide as a fresh indication—on top of many others—of where regional and national energy markets are quickly moving," says Cates.
The brief highlights several direct economic impacts of the PNM solar buildout, all of which will be located in the Central Consolidated School District, a decision made deliberately to replace local public tax revenues that would otherwise be lost from the closure of SJGS:

Creation of roughly 500 jobs per month during the buildout of the projects; 

$74.7 million in property-tax revenues over the 20-year terms of the deals;

more than $1 billion in total capital expenditures.



"The PNM initiative puts the utility in step with the ongoing transition in U.S. electricity-generation markets while also meeting state expectations around reinvestment in the communities most directly affected by the transition away from coal-fired power," the brief states. "Because PNM is one of the largest electricity market players in the region, its shift will influence other electricity providers in the West and the Southwest, many of whom are facing the same market and policy pressures as PNM."
The Public Regulation Commission of New Mexico must still sign off on two of the four PNM solar deals but is likely to do so within the next several weeks given the commission's unanimous endorsement this summer of full renewable energy replacement for the San Juan plant. 
PNM's solar expansion throws another obstacle in the way of Enchant Energy's proposal for a carbon-capture retrofit. That plan was hobbled already by questionable assertions the company made around expected cost, customers, and transmission access.
The brief notes that Enchant Energy has failed to attract investors.
Full report: Biggest Utility in New Mexico Moves Forcefully Toward Solar
Author Contact
Karl Cates ([email protected]) + 1 (917) 439-8225
Media Contact
Vivienne Heston ([email protected]), +1 (914) 439-8921

About IEEFA
The Institute for Energy Economics and Financial Analysis (IEEFA) examines issues related to energy markets, trends and policies. The Institute's mission is to accelerate the transition to a diverse, sustainable and profitable energy economy.