9 December 2021 (IEEFA Australia): The Australian Government's Emissions Projections show that 5 gigawatts (GW) of coal-fired generation capacity will close earlier than indicated by the current official schedule published by the Australian Energy Market Operator (AEMO), according to a new briefing note by the Institute for Energy Economics and Financial Analysis (IEEFA).
The projections from the Department of Industry, Science, Energy and Resources (DISER) were released ahead of COP26 in Glasgow, where the Federal Government took an updated projection of 35% emissions reduction by 2030.
At present, Australia has 25GW of coal generation capacity. AEMO's schedule shows that between now and 2030, 6GW of coal will exit (known coal exits by 2030 are Liddell 2000MW, Vales Point 1320MW, Callide B 700MW, Yallourn 1450MW and 2 Muja C units 392MW). Accordingly, coal capacity in 2030 should be 19GW.
However, the DISER Emissions Projections show that coal capacity in 2030 would be 14GW, meaning 11GW of coal would close by 2030 – 44% of the current coal capacity. This would be made up of the 6GW of coal closures expected by AEMO, and a further 5GW of coal closures to reach the projection.
5GW of coal-fired generation capacity will close earlier than indicated by the AEMO official schedule
Johanna Bowyer, Lead Research Analyst for Australian Electricity at IEEFA, highlights the need to start planning for these exits.
"With the Federal Government indicating that 5GW of coal will exit earlier than expected by AEMO's schedule, it is key that the Government starts planning for these exits and puts in place mechanisms to support communities and workers," she says.
The DISER Emissions Projections also show that in 2030, Australia's overall renewables share of generation will be 61%; NSW will have 84%, Queensland 43% and Victoria 61%.
As the breakdown of generation by technology and the coal exit schedule was not provided in the DISER emissions projections document, IEEFA analysed what the projections could mean for coal generators in the National Energy Market (NEM).
IEEFA found the projections imply that on average in 2030, the open coal generators would run at only 80% of their 2019 levels. Further, if the coal generators with the earliest closure dates were assumed to be brought forward to meet the Federal Government's projections, by 2030, Eraring would close (rather than exiting over 2030-32), half of Bayswater would close (two of four units) and half of Gladstone would close (three of six units).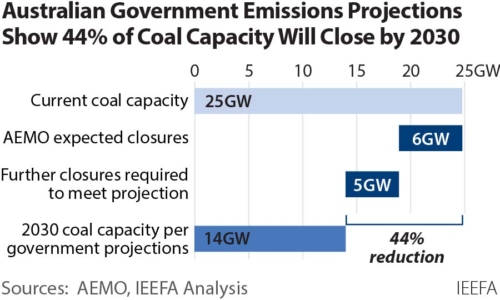 "One questions whether the open coal generators would be profitable," Bowyer says, "if they are only producing 80% of the electricity they produced in 2019 (representing capacity factors for open coal generators ranging from 50% to 72%)."
"Further, low prices are likely to be seen in 2030, as more low operating cost renewable generation is added to the grid, reducing wholesale electricity prices. Coal generators are likely to see both volume and price reductions out to 2030, eroding their profitability."
IEEFA has previously forecast that an unexpected coal generator exit by 2025 is likely (in addition to Liddell in 2022-23) due to erosion of coal generator profits.
The Federal Opposition's Powering Australia plan indicates that renewable energy penetration would grow to 82% by 2030. As with the Coalition's Emissions Projections, this implies earlier coal exits than expected by AEMO.
A capacity payment will extend the life of ageing coal generators and hurt investors in new low-emissions plants
Governments and the energy industry need to have an honest conversation with communities and workers about coal closures, Bowyer says.
Delaying tactics, such as introducing a capacity payment to coal generators, will extend the life of ageing coal generators, hurt investors in new low-emissions plants and undermine the ability of the Federal Government to meet the Emissions Projections it took to Glasgow.
Further, she says, delaying inevitable coal generator closures through a capacity payment will not provide any certainty around when the coal generators will exit, and will instead confuse the situation for investors, the energy industry and the affected communities even further. It could also cost consumers billions each year.
The Federal Energy Minister Angus Taylor is supportive of the capacity payment.
In the Powering Australia plan, the Opposition also indicates support for a capacity payment. Labor has included design principles for the mechanism, including it "must encourage investment in renewable energy" and "be a bridge to dispatchable technologies like pumped hydro, hydrogen and batteries". How that will happen is yet to be seen, especially as no official communication has been released indicating that coal is excluded from the capacity market.
Given the dramatic pace of change in the energy transition, IEEFA recommends a more targeted approach with a clear plan to transition to renewables and storage.
A realistic, enforceable schedule setting out the closure dates of each coal generator is needed, Bowyer says, plus a just transition plan to support the affected communities and workers. This will ensure power system reliability and provide greater certainty for communities to prepare and plan for their future.
Read the report: Australian Government Emissions Projections Show 44% of Coal Capacity Will Close by 2030
Media contact: Roz Hutt ([email protected]) Ph: +61 406 676 318
Author contact: Johanna Bowyer ([email protected])
About IEEFA: The Institute for Energy Economics and Financial Analysis (IEEFA) examines issues related to energy markets, trends and policies. The Institute's mission is to accelerate the transition to a diverse, sustainable and profitable energy economy. (www.ieefa.org)