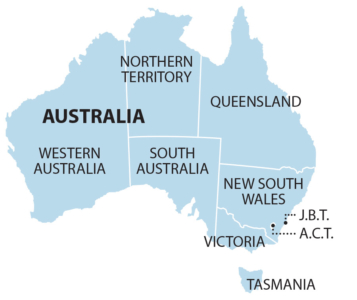 December 21, 2019 (IEEFA Australia): Some of the biggest electricity users in Australia should negotiate power agreements sourced from renewable energy suppliers to support the financial viability of renewable energy projects in Australia and reduce their carbon emissions, finds a new briefing note from the Institute for Energy Economics and Financial Analysis (IEEFA).
The note, Electricity Power Agreements in the Australian Corporate Market – Powering Investment in Renewable Energy Circumvents Political and Inflation Uncertainty, suggests large federal and state government departments, and energy intensive companies such as BHP and Rio Tinto – the largest emitter of greenhouse gases in Australia – should enter new renewable power purchase agreements (PPAs) to meet massive electricity demands.
Author of the note analyst Clark Butler says renewable PPAs entered Australia's electricity market just four years ago and have steadily increased in volume, but heavy carbon emitters are still missing.
"Large government departments and big companies would see both cost reductions and forecasting certainty, and a necessary reduction of their carbon emissions, if they entered renewable PPAs," says Butler. "Renewable PPAs also add jobs to the sector."
Butler found that over the last year, almost 4,500 people were employed in the renewable energy sector in New South Wales alone, an increase of 950 from the 2015-16 financial year.
The note finds the long-term upward trend of electricity prices over 20 years and the sharp increase in volatility over the last 5 years demonstrates the financial advantage of locking in PPAs.
"With the entrance of PPAs into the market, we've noticed a change in the type of industry seeking energy certainty," says Butler.
"INITIALLY IT WAS THE NOT-FOR-PROFIT SECTOR THAT LED THE WAY, including universities, local governments and cultural institutions, in tandem the mainstream corporate sector – banking, telecommunications, brewing, and grocery retailing.
"However, there has been some recent movement among heavy electricity users to embrace renewable PPAs, including BHP, Gupta Alliance and BlueScope Steel.
"Miners and large scale manufacturers could significantly insulate themselves against rising electricity prices by committing to long term renewable PPAs."
In the note, Butler reviewed the recent renewable PPA negotiated by the Sydney Opera House and found it had exceeded its aim and achieved 85% renewable energy matched to its usage. Solar provides the majority of electricity during the day, wind provides generation at other times, and the remaining 15% is provided through traditional generation, with protection against large swings in the spot price.
"SO FAR, THE SYDNEY OPERA HOUSE'S RENEWABLE PPA IS GENERATING A 1-2% BETTER FINANCIAL OUTCOME than the baseline," says Butler.
"This is a good outcome, and once they have implemented a battery solution to address the 15% of unmatched energy, the long term financial benefits will be even greater."
Butler finds that in addition to cheaper and improved cost certainty, large companies securing renewable PPAs can add considerable bulk to overall capacity and increase much-needed investment in large scale solar and wind energy projects in Australia.
"One of the key benefits of renewable PPAs is they provide the contractual certainty needed to finance construction and commissioning of renewable energy generation projects," says Butler.
"At the same time, companies entering renewable PPAs can show their genuine efforts to address at least some of their contributions to global carbon emissions in the management of their supply chain."
"This in turn will increase staff engagement as people increasingly seek change to address climate risk.
"All in all, renewable PPAs are a win/win."
Read the briefing note: Electricity Power Agreements in the Australian Corporate Market – Powering Investment in Renewable Energy Circumvents Political and Inflation Uncertainty
Media Contact: Kate Finlayson ([email protected]) +61 418 254 237
Author Contact: Clark Butler ([email protected])
About IEEFA: The Institute for Energy Economics and Financial Analysis (IEEFA) conducts research and analyses on financial and economic issues related to energy and the environment. The Institute's mission is to accelerate the transition to a diverse, sustainable and profitable energy economy. (www.ieefa.org)