7 January, 2016: Figures released today confirm Indian coal imports fell 34% year on year (yoy) in the month of December 2015. This follows the record 49% yoy decline in November 2015 and brings the decline to 15% yoy over April-December 2015.[i]
This is contrary to almost all financial market and International Energy Agency (IEA) forecasts which still assume the global seaborne thermal coal demand will be underpinned by growth from India.
"India was essentially the last flame of hope for the beleaguered seaborne thermal coal industry. December's import data confirms the last flicker has been snuffed out, not least for Australia's Galilee Basin," said Tim Buckley, Director of Energy Finance Studies at the Institute for Energy Economics and Financial Analysis (IEEFA).
"Indian thermal coal imports look to have peaked in mid-2015, and are now set to permanently and rapidly decline. The IEA's forecast of sustained thermal coal import growth into India looks outdated even as the latest 2015 report was printed," he said.
The accelerating rate of decline in thermal coal imports into India is entirely consistent with Energy Minister Piyush Goyal's target to cease thermal coal imports by 2017, with the exception of a few coastal power plants.[ii]
In it's June 2015 forecast, the Australian Government's Office of the Chief Economist (OCE) predicted domestic Indian coal production would only grow in line with the 2% annual growth achieved in the five years to 2013/14. However, Coal India Limited has reported its April-December 2015 coal production rose 9.1% yoy and coal dispatches rose at a higher 9.8% yoy as the rail system roadblocks are progressively removed.[iii]
"The OCE's failure to fairly review the acceleration of coal dispatches over 2014 and again in 2015 mean the report's key conclusion of stronger thermal coal imports looks increasingly unrealistic," said Buckley. "This has serious implications because Australian coal mine plus associated rail and port infrastructure expansions are premised on forecasts proving to-date to be entirely wrong, resulting in increased stranded asset risk."
Whilst domestic coal production has ramped up, the next problem that has emerged is that coal-fired power plants in India are now overbuilt. Coal-plant utilisation rates continue to fall. Having peaked in 2011/12 at 74.0%, average coal-plant utilisation rates across India fell to 66.0% in 2012/13, 61.9% in 2013/14, 61.1% in 2014/15 and IEEFA forecasts only 58.1% in 2015/16. This trend parallels the five-year decline evident in China which hit a record low in CY2015 estimated at 49.7%.
India's rapid electricity sector transformation has three key areas: doubling domestic coal production; a fivefold increase in renewable energy by 2021/22; and distribution (DISCOM) reform.
This dynamic will be increasingly evident as the development of renewable energy takes hold. Progress on India's 175GW of renewables by 2021/22 continues to build.
During 2015 alone, the cost of Indian solar declined by 20%, with recent awards of over 10GW of new solar tenders at tariffs now down to a sustainable Rs4.63/kWh (US7.1c).
SoftBank/Foxconn/Bharti and SunEdison each tendered on US$350m and US$500m of solar projects respectively at the end of 2015.[iv]
"These tariffs are now significantly lower than the cost of imported thermal coal and the deflationary nature of these 25 year fixed-priced solar tariffs will significantly assist Indian consumers. They also highlight the massive long-tail benefit of renewable energy," said Buckley.
"With global firms like SoftBank, SunEdison, SkyPower, NTPC, ENEL, ENGIE, Trina, Longi of China and the Adani Group all bringing significant access to global debt and equity capital, there is a growing acceptance that the Indian Government's 175GW renewable energy target by 2021/22 is looking achievable.[v]
On 30 December 2015 India's Cabinet Committee on Economic Affairs (CCEA) sanctioned US$750m of funding for a 30% capital subsidy for up to 4.2 gigawatts (GW) of new rooftop solar installations.[vi] This program will help kick-start the capacity building for this new distributed energy sector the government aims to reach 40GW by 2021/22.[vii] The government estimates solar power from the solar rooftop systems costs Rs.6.50/kWh, a rate already cheaper than the diesel gen-sets based electricity.
Underpinning these changes is the Government of India's 'Ujwal DISCOM Assurance Yojana' (UDAY) program launched in November 2015 with the aim to permanently resolve the issues in India's bankrupt distribution sector that has seen the States accumulate total unfunded losses of US$55bn booked in the last six years alone.[viii]
Key aspects of this program include quarterly tariff increases, reduced grid loss rates to 15% and the US$75bn debt restructuring. This will build transparency and force States to acknowledge previously off-balance sheet debt, in the process lowering the interest funding cost by US$2-3bn annually. To-date, 11 of the 29 Indian State governments have signed up to UDAY.[ix]
Another aspect of the Indian transformation underway is the current government's progress to try to resolve electricity shortages. The Ministry of Coal reported that at the end of 2015 inventories at coal-fired power plants averaged 21 days, triple the 7 days evident at the end of 2014.[x]
"The Indian electricity sector is radically realigning to match the vision that has been clearly and consistently articulated by Energy Minister Piyush Goyal," Jai Sharda said. "In particular, the latest data should be a wake up call to those who are still grasping onto the belief that seaborne thermal coal has a market in India." 
Tim Buckley is the Director of Energy Finance Studies, Australasia for IEEFA. He has 25 years of financial markets experience, including 17 years with Citigroup culminating in his role as Managing Director, Head of Australasian Equity Research.
 Tim Buckley (Australia) P: 0408 102 127 [email protected]
Jai Sharda (India) P: +91 93 2184 2224 [email protected]
Media: James Lorenz P +61 400 376 021 james@holdfastcommunications.com.au
About IEEFA
IEEFA conducts research and analyses on financial and economic issues related to energy and the environment. The Institute's mission is to accelerate the transition to a diverse, sustainable and profitable energy economy and to reduce dependence on coal and other non-renewable energy resources.
More here on IEEFA research: https://ieefa.org/category/subject/reports/
Background
International Demand for Traded Thermal Coal to Decline 30%
As detailed in Figure 1, IEEFA forecasts a 30% decline in global traded thermal coal demand by 2021 relative to 2015 levels. Declining demand in each of the three largest import markets – China, Japan and now also India – overrides growth in the rest of Asia.
Indian coal imports fell 34% yoy to 12.4 million tonnes (Mt) in the month of December 2015, down from 18.8Mt in the previous corresponding period. This follows the 49% yoy decline in November 2015 and the 15% yoy decline over April-December 2015 to 132Mt (from 156Mt in the prior period).
Figure 1: Global Traded Thermal Coal Imports (Mt)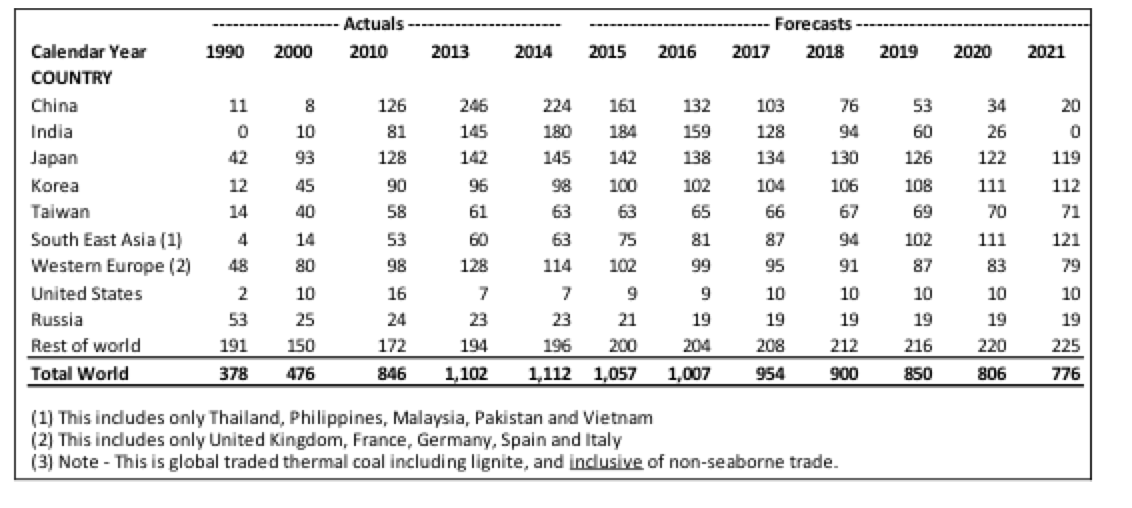 Source: IEA database, IEEFA forecasts
Thermal Coal Prices Fall to US$44/t by 2021
As detailed in Figure 2, Newcastle export grade thermal coal prices of US$51/t in January 2016 were down almost 30% over 2015 and down 60% from the 2010/11 peak. The Newcastle coal futures price shows a further decline to US$44/t by October 2021,[xi] showing the market is increasingly pricing in a permanent structural decline.
Figure 2: Newcastle Benchmark Thermal Coal Export Price (US$/t)
Source: indexmundi.com[xii]
[i]http://economictimes.indiatimes.com/articleshow/50466008.cms?utm_source=contentofinterest&utm_medium=text&utm_campaign=cppst
[ii] https://www.thedollarbusiness.com/india-wont-need-to-imports-coal-by-2017-goyal/
[iii]https://www.coalindia.in/DesktopModules/DocumentList/documents/Provisional_Production_and_Offtake_of_CIL_&_its_subsidiaries_for_the_month_of_Dec'15_and_for_Apr'15_-_Dec'15_01012016.PDF
[iv] http://www.pv-tech.org/features/indias-cutthroat-solar-auctions-behind-the-hype
[v] https://www.environmental-finance.com/content/analysis/financing-indias-renewables-revolution.html?utm_source=104na&utm_medium=email&utm_campaign=alert
[vi] http://www.bridgetoindia.com/blog/the-government-of-india-launches-an-ambitious-rooftop-solar-subsidy-scheme/
[vii] http://pib.nic.in/newsite/mbErel.aspx?relid=134026
[viii] http://ujwalbharat.gov.in/wp-content/themes/ujwalbharat/images/Towards_Ujwal_Bharat.pdf
[ix] http://www.bloomberg.com/news/articles/2015-12-22/india-deficit-to-rise-as-states-take-on-power-companies-debt
[x] http://pib.nic.in/newsite/PrintRelease.aspx?relid=133313
[xi] http://quotes.esignal.com/esignalprod/quote.action?symbol=NCFQ-ICE
[xii] http://www.indexmundi.com/commodities/?commodity=coal-australian&months=60