Modernize With Microgrids and Renewables or Rebuild the Status Quo? (Webinar: Tuesday, Oct. 24, 11 a.m. ET)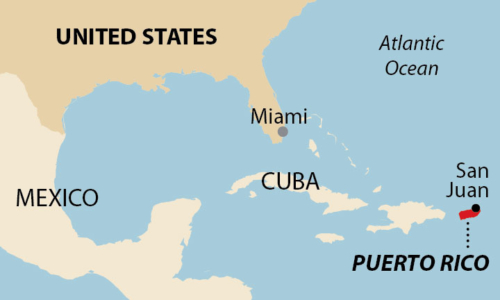 The future of Puerto Rico's electricity system is on the line now as planners, policymakers, special interests, and politicians negotiate how the U.S. commonwealth will rebuild its shattered electricity grid.
Long-running research by our organization  has documented how the Puerto Rico Electric Authority (PREPA) has been historically and chronically mismanaged and how it has been overly influenced by outsiders who do not have the island's best interests at heart.
Because of the horrific damage sustained from Hurricane Maria, Puerto Rico is at a crossroads now. Will the commonwealth choose the past or embrace the future?
At stake is whether Puerto Rico rebuilds its electricity system according to outdated power-generation models reliant on imported fossil fuels or modernize with microgrids and abundant local solar resources.
Next week, in a webinar to be presented by two IEEFA energy consultants, Cathy Kunkel and Anna Sommer (click here on October 24 at 11 a.m. ET to join the webinar), IEEFA will outline the background for PREPA's failure, the possibilities for reform, and the most economically sensible and sustainable way forward.
Advance highlights:
Puerto Rico electricity rates, before Hurricane Maria, were double average mainland electricity rates and astronomically higher than average mainland utility-scale solar rates.
The island's oil-fired power plants are not in compliance with U.S. emissions standards, its distribution network was in disarray long before Hurricane Maria, a liquefied-natural-gas import scheme is economically unviable, and PREPA has made no serious effort to adopt mandated renewable-energy assets.
PREPA's $9 billion debt must be forgiven if Puerto Rico is to build a sustainable electricity system.
PREPA, rather than rebuilding the same storm-vulnerable centralized grid it had—with generation concentrated in the south and with long south-to-north transmission corridors—would do well instead to create microgrids and integrate more distributed generation and storage into its system.
Indications are that some momentum for modernization is taking hold.
Gov. Ricardo Rosselló, in the wake of Hurricane Maria, said Puerto Rico "must not sacrifice the opportunity we have to have a power system that is resilient, modern and a global leader." Major clean-energy players that include Tesla and Sonnen have initiatives to bring significant utility-scale solar-powered electricity to Puerto Rico now.
This is an important moment for Puerto Rico and for those investors—public and private—who see a brighter future for the island. Please join us for our webinar next week.
Sandy Buchanan is IEEFA's executive director.
Join the webinar here  Puerto Rico's Electricity System, Before and After Hurricane Maria—Tuesday, Oct 24, 2017, 11:00 AM – 12:00 PM ET . You do not need to pre-register.  The webinar will also be recorded and made available on www.ieefa.org.

Related Posts:

IEEFA Update: Politics Is the Main Barrier to Solar Energy Independence in Puerto Rico
IEEFA Update: Accountability for Puerto Rico's Energy Must Be Baked Into FEMA Legislation
IEEFA Update: Trump Says Eliminate Puerto Rico's Debt: We Agree