Telling Details in a Deal That Transfers Two Wyoming Mines to an Appalachian Company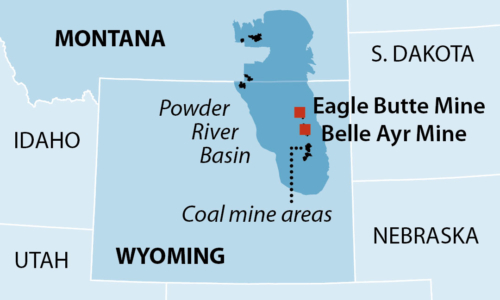 In the first negative-value transaction in the Powder River Basin proper, Contura Energy is planning to transfer two coal mines in Wyoming to another company in exchange for royalties from future sales and for the new owner assuming reclamation liabilities.
Contura, formed when senior lenders took some assets during Alpha Natural Resources bankruptcy, Eagle Butte and Belle Ayr, over to Blackjewel LLC, "a company based in Appalachia."
Contura will take a loss while apparently receiving some tax benefits. The deal is subject to Wyoming regulatory approval of Blackjewel's bond posting.
The Powder River Basin does not need another coal company trying to succeed off marginal reserves in a falling market.
But we wonder about the royalty payments attached to the deal. According to Contura's third-quarter financial statement, coal from the mines in question brought in $10.92 per ton while it cost from $9.00 to $10.50 per ton to produce. These figures represent the lowest operating margins among the major Powder Basin producers, which include Peabody Energy, Arch Coal and Cloud Peak Energy, and they are likely to be squeezed further.
Belle Ayr and Eagle Butte have middle- to upper-range costs but smaller margins because of the quality of coal quality they produce (8400 BTU). Prices for 8400 coal have been declining; in 2012 Belle Ayr and Eagle Butte garnered $12.04 per ton, and the outlook is for further price deterioration.
The transaction required no financing, so the participants avoided the predicament that Murray Energy and Bowie Resources Partners found themselves in last month in the lead-up to a deal that collapsed around the proposed sale of several western mines.
For Contura, this is a bit better deal than the one it struck earlier this year with Blackjewel's parent, Revelation Energy, in which Contura had to pay to unload assets. That deal cost Contura more than $300 million to unload a bunch of permits and reserves back East that were liabilities.
THERE ARE STILL TOO MANY U.S. COAL COMPANIES MINING TOO MUCH COAL for too few customers. It seems that consolidations, mine closures and streamlined operations are the way to go. But Belle Ayr and Eagle Butte have declining revenues, they are not low-cost producers, and their customer base is disappearing. Where is the financial justification for keeping them open?
Companies usually try to use bankruptcy to get rid of non-performing assets while retaining only those that have the potential to create value. In this case, it appears that Contura was unable to dump Belle Ayr and Eagle Butte during bankruptcy, so is doing so now at a loss.
Investors are not impressed by deals the U.S. coal industry has attempted around western reserves at El Segundo and Lee Ranch in New Mexico and at Sufco, Skyline, Dugout and Lila Canyon in Utah. Those deals have been judged by the market directly or indirectly as damaged goods. Peabody's Kayenta mine in northwest Arizona, which is about to lose its only customer, has no buyers.
The Contura-Blackjewel transaction does not help the industry. The Powder River Basin, the biggest producer of American coal, does not need another coal company trying to succeed off marginal reserves in a falling market. That said, if the Belle Ayr and Eagle Butte mines close, a tighter market would result and could give the industry some reason for optimism.
Tom Sanzillo is IEEFA's director of finance.
RELATED ITEMS:
IEEFA Update: The Coal Deal That Collapsed to Nobody's Surprise
IEEFA Report: Kayenta Mine Is Unlikely to Find New Customers Once Navajo Generating Station Closes

IEEFA Update: As Texas Coal-Fired Power Plants Close, Powder River Basin Mines Are Losing Their Largest Customers