ExxonMobil, Chevron lag Permian independent production despite claims of leadership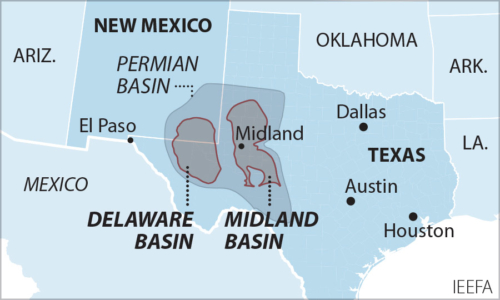 November 15, 2021 (IEEFA)—Although the Permian Basin is an important upstream growth target for Chevron and ExxonMobil, independent operators are the dominant producers in the area, according to an analysis by the Institute for Energy Economics and Financial Analysis (IEEFA).
While ExxonMobil and Chevron have portrayed themselves as leaders in the Permian, the IEEFA analysis finds it unlikely that future operations from their current assets will propel either to top-producer status in the vast region that sprawls across Texas and New Mexico.
"Both Chevron and ExxonMobil see the Permian as the future of their domestic upstream growth," said Trey Cowan, an IEEFA oil and gas analyst who authored the briefing note. "But the reality is that they are not likely to overtake independent producers at their current pace."
IEEFA's analysis of data from 2018 through 2020 found independent producers hold the highest-performing wells, and that metrics used by the two supermajors to portray leadership actually favor independent producers.  For example, Pioneer Natural Resources, which acquired Parsley Energy and DoublePoint Energy earlier this year, overtook OXY to become the largest Permian Basin producer.
"Big Oil would have to significantly increase their drilling and completion campaigns to rise to the activity pace that the leading independents have set," said Cowan. "Their average productivity per well also lags far behind EOG's in the Delaware Basin." 
With thousands of turned-in-line wells, the Permian has become the focus of U.S. oil production. Output has increased from 890,000 barrels per day (bpd) to 4.3 million bpd over the last decade, or more than twice the pace of total U.S. crude oil production growth over the same period, according to the Energy Information Administration. 
"While Big Oil has held substantial acreage positions across the Delaware, Midland and Central Basin Platform in the Permian, we find little by way of well production quality to distinguish the supermajors," said Cowan.
Full Report: Independent Producers Dominate Majors in the Permian
Author Contact:
Trey Cowan ([email protected]) is an IEEFA oil & gas industry analyst
Media Contact:
Muhamed Sulejmanagic ([email protected]), +1 (313) 246-4547
About IEEFA: The Institute for Energy Economics and Financial Analysis (IEEFA) examines issues related to energy markets, trends and policies. IEEFA's mission is to accelerate the transition to a diverse, sustainable and profitable energy economy.