Site remediation will involve thousands of acres and require hundreds of skilled workers; public pressure on Peabody may be required for 'proper cleanup'; responsible repurposing of NGS infrastructure will include development of utility-scale solar and emerging electricity-storage technology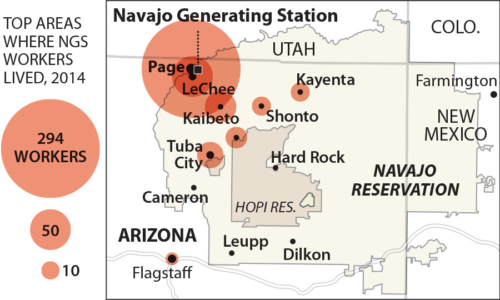 Dec. 7, 2018 (IEEFA) — Land reclamation and site remediation around the coal-fired Navajo Generation Station and its companion Kayenta Mine in northeastern Arizona will require years to complete and likely employ hundreds of  former plant and mine workers, concludes a  research brief published today by the Institute for Energy Economics and Financial Analysis.
The report—"Long-Term Opportunity for Navajo Nation in Post-Coal Reclamation Economy"— sees cleanup activity around the NGS-Kayenta complex "as a viable bridge toward a more diversified regional economic base" after the plant and mine close at the end of next year.
Citing public information in permit filings and environmental impact documents, the report estimates that primary site remediation at NGS will take five years to complete and similar work around Kayenta Mine will take up to seven years. Ongoing work beyond that, including water-quality monitoring and site maintenance, will last up to 35 years.
"Granted, most of this work could be finished within five years, but full remediation and reclamation will take years to complete and will require an array of skilled work," said Karl Cates, an IEEFA research editor and lead author of the brief. "These are epic requirements that will take time to meet, and job prospects in fact are better in local remediation work than they are at NGS or Kayenta Mine."
Jobs Outlook for NGS-Kayenta Operations Versus Remediation and Reclamation
| | |
| --- | --- |
| | Jobs Outlook |
| Coal-fired NGS operations | 1 year |
| Primary NGS remediation | 5 years |
| Ongoing NGS remediation (limited jobs) | Up to 30 years |
| Kayenta mining operations | 1 year |
| Primary Kayenta Mine reclamation | 5 to 7 years |
| Ongoing Kayenta Mine reclamation (limited jobs) | 7 to 35 years |
The study notes that many of the cleanup-related jobs will demand skills similar to those required of current workers at NGS and Kayenta Mine. The power plant currently employss about 350 workers in and around Page, Ariz.; The mine, whose only customer is NGS, employs about 400 people.. The plant and the mine, about 100 miles apart, are linked by a dedicated slurry-and-rail system.
The report describes the potential for elements of a post-coal cleanup economy based on:
An emerging body of research that suggests substantial economic opportunity in power plant and coal mine cleanup;
Federal assessments of long-term reclamation work associated with the Kayenta Mine after its closure;
Projections for NGS land and water remediation requirements that will take perhaps a generation to complete;
A growing realization of the need for responsible transition policies that will support a post-coal economy.
"A successful transition following closure of the power plant and the mine complex will require that the responsible parties be held accountable for their cleanup obligations," the brief states. "Public pressure may be required for proper reclamation of Kayenta Mine, which is owned by Peabody Energy, part of an industry that is not especially well known for its reclamation track record.
"It will require also that other opportunities be exploited around the post-coal repurposing of NGS infrastructure, which can be retooled for utility-scale solar power generation of the type already being developed on Navajo lands and for which there is a growing market.
"The economic feasibility of NGS in fact is not at issue," the brief concludes. "The question, rather, is how to responsibly manage a transition toward a more diversified regional economy  that can function without NGS."
Full report here: "Long-Term Opportunity for Navajo Nation in Post-Coal Reclamation Economy: Proper Cleanup of NGS and Kayenta Mine Will Require Hundreds of Skilled Workers for Years to Come"
Media Contacts:
Karl Cates [email protected] 917 439 8225
About IEEFA:
The Institute for Energy Economics and Financial Analysis (IEEFA) conducts global research and analyses on financial and economic issues related to energy and the environment. The Institute's mission is to accelerate the transition to a diverse, sustainable and profitable energy economy.