A Utility Company's Subsidy Plan Ignores the New Energy Economy
We've published a report today that outlines in fresh detail how the proposed bailout of the Ohio utility giant FirstEnergy is a raw deal for ratepayers.
Our report, "A $4 Billion Bailout in the Buckeye State," concludes that the FirstEnergy scheme, if approved by the Pubic Utility Commission of Ohio, would cost ratepayers across northern and parts of central Ohio hundreds of millions of dollars annually through 2024.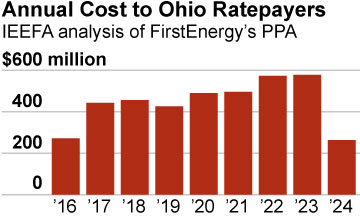 The plan, at its heart, is designed to shift the risk of continuing to run four uncompetitive electricity-generation plants from FirstEnergy's shareholders to FirstEnergy's customers. It would protect, specifically, the coal-fired W.H. Sammis plant, and units at the Clifty Creek and Kyger Creek plants, and the nuclear-powered Davis-Besse plant. It would do so by assuring that ratepayers subsidize those aging plants regardless of how they perform.
The proposal is plainly out of step with evolving energy markets. FirstEnergy is asking PUCO in essence to ignore trends that put coal-fired and nuclear-powered electricity generation plants at increasing disadvantage.
Among these trends:
Low natural gas prices, which have dropped precipitously in recent years and are unlikely to recover in the foreseeable future, assuring that natural gas-fired electricity generation remains competitive.
The rise of wind- and solar-powered generation as renewable-energy installation costs drop as and as federal and state incentives for renewable power continue.
Flat growth in electricity demand in PJM, the regional electricity-transmission organization, with the growing uptake of energy-efficiency programs, with distributed and on-site renewable resources gaining market share, and with the increasing popularity of demand-response policies, which reward customers for using less energy when demand is high.
Our report, authored by IEEFA Director of Resource Planning Analysis David Schlissel and IEEFA Energy Analyst Cathy Kunkel, notes that the proposal would guarantee FirstEnergy shareholders a 10.38 percent return on the plants regardless of their performance. These plants are currently unprofitable and will likely remain so for years to come.
Our report shows also that the plan is the latest step in FirstEnergy's corporate strategy of finding cash infusions to finance its operations (see our October 2014 analysis, "FirstEnergy: A Major Utility Seeks a Subsidized Turnaround").
FIRSTENERGY IS ASKING OHIOANS TO LOOK THE OTHER WAY AS ELECTRICITY MARKETS CHANGE and as the new energy economy takes root. At the core of the company's pitch for its ratepayer-subsidy scheme for the four plants mentioned above are overly optimistic outlooks for natural gas prices and electricity prices across PJM.
Our report finds that FirstEnergy's forecasts on both points are misleading and that its subsidy proposal in all likelihood will cost Ohio ratepayers almost $4 billion rather than saving them $561 million as the company suggests.
The PUCO should deny the FirstEnergy proposal on its merits, and can use this case to send a broader message. Rather than propping up fading energy policies of the past, Ohio has an opportunity now to embrace the development of modern, cleaner and more efficient resources.
Sandy Buchanan is IEEFA's executive director.