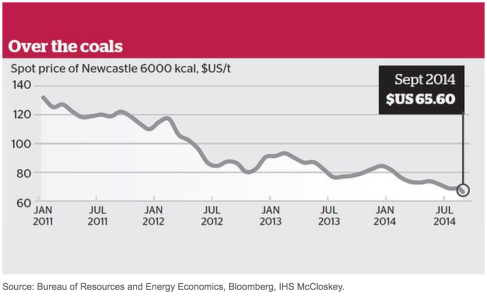 A CHART OF NOTE FROM THE SYDNEY MORNING HERALD over the weekend shows the steadily declining price of coal since January 2011 under an article headlined, "Why Abbot's Faith in Coal Could Be Wrong—Very Wrong."
The column, by National Affairs Editor Tom Allard, questions Prime Minister Tony Abbot's staunch support for the coal industry. Allard quotes a report from UBS: "The world is on the cusp of a once-in-a-century shift towards renewable energy led by 'solar and batteries.' Power stations fueled by fossil fuels like coal will be the 'dinosaur of the future energy system.'"
IEEFA's own Tim Buckley is also paraphrased and quoted, saying that the Australian government "fails to appreciate the determination of Chinese authorities to address the country's terrible pollution problem." Buckley makes emphatic note of China's trend toward renewables: "You just have to look at their five-year plans to see how serious they are."
Allard's piece is in response to Abbot's notorious "coal-is-good-for-humanity" speech earlier this month. Here's Allard's full column.
TOM KNOX, A COLUMNIST FOR COLUMBUS (OHIO) BUSINESS FIRST, posts a note today on how 12 big commercial users of electricity are questioning American Electric Power Company's proposal to have customers shoulder much of its coal-fired generating costs.
The companies include Lowe's, Staples, and Macy's, all part of an organization called Compete Coalition, which Knox describes as "a group that support competitive electricity markets" and that view AEP's proposal as "unfair to customers and harmful to competitive markets." Here's the full post.
THE PADUCAH SUN REPORTS TODAY ON DISCUSSIONS AROUND BANKRUPTCY for Paducah Power Systems, the utility that charges customers the highest electricity rates in Kentucky.
The paper has this from Albert Jones, a former Paducah mayor and a former U.S. attorney: "You can fool around for months and months. Just file it."
Paducah Power is bound by a contract that ties it to Prairie State Energy Campus, a struggling coal-powered facility created by Peabody Energy. Here's the full article (subscription required).
OF NOTE ON THE PUBLIC-FILINGS FRONT: InterCoolerOnline.com, a site that trackers insider selling, reported last week that Lynnette M. Cavalier, a FirstEnergy vice president, sold 5,000 of FirstEnergy stock on Oct. 9. (On Oct. 6, IEEFA published "FirstEnergy: A Major Utility Seeks a Subsidized Turnaround," detailing how the company has faltered in its over-reliance on coal. IEEFA also began a series of blog posts that week around the report.) Detail here.
Meanwhile, Peabody Energy filed an earnings report on Monday that showed margins on its Australian holdings at $1.68 per ton in the third quarter of this year. This stands in contrast to a $44-per-ton margin reported in the third quarter of 2010. Detail here.
— Karl Cates
[email protected]
Twitter @ieefa_institute