April 13, 2022 (IEEFA)—High oil and natural gas prices are not translating into increased production due to investor pressure to maintain capital discipline, according to an analysis by the Institute for Energy Economics and Financial Analysis.
As oil prices climb higher, publicly-traded oil and gas producers are proving reluctant to increase drilling and output. According to the Federal Reserve Bank of Dallas Energy Survey, the primary reason for the sluggishness is investor pressure to maintain strict control over capital expenditure. The analysis finds that the chief goal of the U.S. oil and gas industry is no longer production growth.
"This trend shows that the top issue for oil and gas operators in the U.S. is not increasing production but rather paying down debt and rewarding shareholders," said Trey Cowan, an IEEFA energy finance analyst and author of the report. "High oil and gas prices no longer seem to spur increases in production."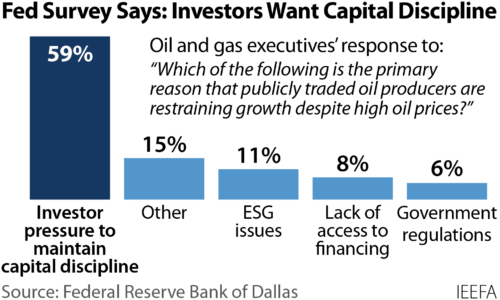 As more nations cut off purchases of Russian gas in response to the invasion of Ukraine, there have been increasing calls in the U.S. to boost production and drive down gas prices for consumers. Unlike in past booms, oil and gas producers have not responded with more drilling, opting instead to benefit from increased operating revenues.
The IEEFA analysis also finds that oil and gas companies are poorly positioned to step up production as many companies have depleted their drilled but uncompleted well inventories to keep costs down. The report also points out that regulations and permitting are not key factors in slowing down production or keeping prices high.
Full Report: Shale Producers Have Little Wiggle Room in 2022
Author Contact:
Trey Cowan ([email protected]) is an IEEFA energy finance analyst.
Media Contact:
Susan Torres ([email protected]), +1 (908) 331-1472
About IEEFA: The Institute for Energy Economics and Financial Analysis (IEEFA) examines issues related to energy markets, trends and policies. IEEFA's mission is to accelerate the transition to a diverse, sustainable and profitable energy economy.