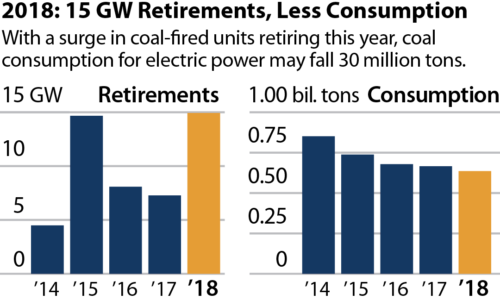 Feb 1, 2018 (IEEFA) — The U.S. coal industry continued to shrink in 2017, and its trend toward long-term structural decline is all but sure to persist, concludes a study published today by the Institute for Energy Economics and Financial Analysis.
The report—"U.S. Coal: More Market Erosion Is on the Way"—details how competition from cheap natural gas, the growing uptake of solar- and wind-powered generation, and little growth in electricity demand have combined to shrink the market for coal.
"In electricity generation—the key market for coal—the industry is increasingly uncompetitive and is losing market share," said David Schlissel, lead author on the report and IEEFA's director of resource planning analysis. "Further declines in coal's energy generation market share can be expected through 2018 and beyond."
In 2018, a likely doubling over 2017 in the amount of coal-fired capacity to be retired.
The report notes that coal consumption in 2017 stayed at record lows, that retirements of coal-fired plants proceeded apace, that wind generation in particular contributed to record renewable-energy gains, and that low coal prices continued to hobble the industry.
Notably, the IEEFA report predicts that the total amount of coal-fired capacity likely to be retired this year over 2017 will double, to 15,000 megawatts from about 7,300 megawatts. In a fresh wrinkle in a long-established trend, many retirements will be of plants with more than 1,000 MW of capacity.
"IEEFA sees coal-fired generation continuing to drop in 2018, both in absolute terms and in market share," Schlissel said.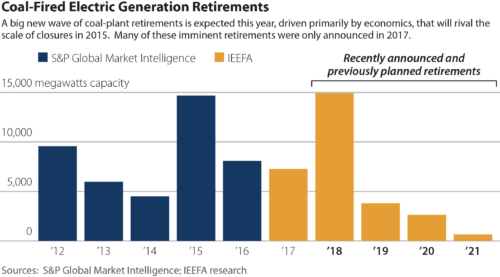 Additional findings:
The market share of wind and solar has increased four-fold since 2009, and in four states—Iowa (37%), Kansas (36%), Oklahoma (32%), and South Dakota (30%)—wind's share of total electricity generation exceeded 30% in 2017.
Trends in long-term utility-scale investment in renewables show that more wind and solar are coming.
Consumption of coal for electricity generation slid and remained at historic lows, falling by 1.8% in 2017 to 666 million tons, down from 678 million tons in 2016. This occurred even with a 20% increase in natural gas prices, and IEEFA projects consumption in 2018 will drop by an additional 30 million tons, or 4.5%.
While coal production increased by 6% in 2017, to 773 million tons from 728 million tons in 2016, IEEFA sees the trend reversing in 2018 and declining by 20 to 40 million tons.
IEEFA sees lower prices persisting in major regional coal-production areas—the Powder River Basin (Wyoming and Montana), the Illinois Basin (Illinois, Indiana, and western Kentucky), and Central Appalachia (eastern Kentucky, Ohio, Pennsylvania, Tennessee and Alabama).
Employment in coal mining was essentially flat in 2017 and will most likely stay that way.
Rollbacks of federal environmental regulations and other federal policy changes have not and probably will not significantly improve coal's market competitiveness.
"Coal producers continued to lose customers," said Tom Sanzillo, IEEFA's director of finance and a co-author on the report with Schlissel and Seth Feaster, an IEEFA energy data analyst.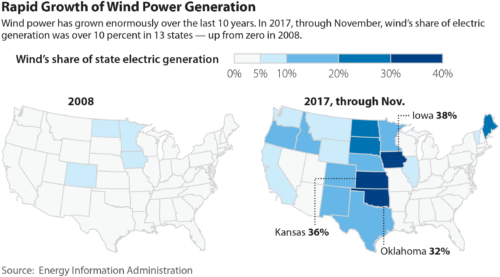 "IEEFA sees 2018 as a year of further decline for coal-fired electricity generation and the coal industry generally," Sanzillo said. "Coal prices and coal company margins will continue to be under pressure. Even if promised regulatory relief at the federal level is achieved, market forces will continue to prevent a sustained coal recovery."
Sanzillo said recent declines in the role of coal in the U.S. electricity-generation mix are in line with a trend that has been years in the making. In 2017, coal accounted for 30 percent of electricity production in the U.S., down from 45 percent in 2009.
Full report: "U.S. Coal: More Market Erosion Is on the Way"
_________________
Media contact: Karl Cates, [email protected], 917 439 8225
About IEEFA: The  Institute for Energy Economics and Financial Analysis (IEEFA) conducts research and analyses on financial and economic issues related to energy and the environment. The Institute's mission is to accelerate the transition to a diverse, sustainable and profitable energy economy.
David Schlissel and Tom Sanzillo will present a webinar on these report findings Tuesday, Feb. 6, from 2-3 PM EST. Participants can join the webinar here or by calling +1 (571) 317-3116 , access code 132-100-485 on Tuesday at 2:00.