Feb. 14, 2018 (IEEFA) — New research by the Institute for Energy Economics and Financial Analysis details how nine major power markets around the world have achieved an outsize share of wind and solar generation while assuring security of supply and are providing compelling examples of the fast-moving evolution of electricity generation.
The report, "Power-Industry Transition, Here and Now," includes case studies of markets—ranked by relative share of reliance on variable renewables—that include Denmark, South Australia, Uruguay, Germany, Ireland, Spain, Texas, California, and the Indian state of Tamil Nadu.
"Our report shows that on the ground now and in a variety of markets these renewable-energy leaders have raced ahead of much of the rest of the world in proving how power grids can be readily sourced with up to 50 percent of their energy from wind and solar," said Gerard Wynn, a London-based IEEFA energy finance consultant and lead author of the report.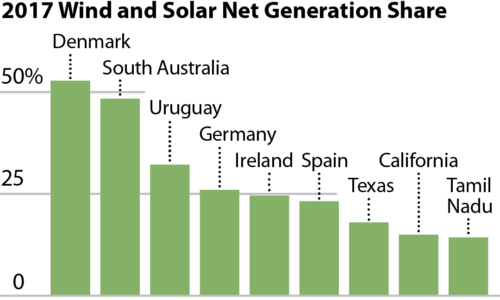 "As we speak, renewables are being integrated in these states and nations at levels in excess of 10 times global averages by using a menu of options and actions to integrate these clean, low-carbon power sources into electricity markets," Wynn said. "The tools exist now to spectacularly grow the global generation of wind and solar power worldwide."
"We draw attention to actions that system operators can consider immediately, all of which can help ease the integration process and assure security of supply," Wynn said. "Other states and countries can follow the lead of these policymakers, investors, and regulators, according to their circumstances, and so avoid radical redesigns of their power markets," he said.
Power outage data indicates that major cities in the national case studies have not suffered grid problems and that, to the contrary, suggest that they have among the world's most robust electric grids and are performing better than peers.
'Tools exist now to spectacularly grow the global generation of wind and solar power worldwide.'
The report details integration of wind and solar power equivalent to 14 to 53 percent of total net generation, depending on the market studied, and describes a reality that stands in stark contrast to recent energy policies put forth by the U.S. government.
"The case studies in our report make clear that the Trump administration's rhetoric on electricity generation is not grounded in market reality," Wynn said. "Our research shows that the growing uptake of variable renewables can preserve energy security."
The report describes several methods by which regional and national markets can integrate high levels of variable wind and solar. Among them:

Timely transmission system investment to reduce power losses and congestion.
Better cross-border interconnection and cooperation to access cost-effective back-up.
Prioritizing flexible generation assets to balance wind and solar power.
Market reform to incentivize flexible back-up supplies and drive efficiencies.
Support for demand-side response measures to minimize build-out of reserve capacity.
Betterwind and solar forecasting capabilities to help operators better manage grids.
Each case study shows how effective transition policies are tied to specific conditions and how a broad choice of state-of-art of solutions is the most economically sensible way forward.
Texas serves as an example of transmission investment that has helped lift wind's market share there to more than 18 percent in 2017. Uruguay has used hydropower to balance meteoric renewable-energy growth; the country has seen wind and solar rise to 32 percent market share in 2017 from 1 percent in 2013. South Australia, which gets 48 percent of its electricity from variable renewables, illustrates the potential in harnessing demand response and battery storage. Denmark (53 percent) and California (15 percent ) show the value in strong cross-border interconnection; Germany (26%) and Ireland (25%) are laboratories for market reform, Spain (23%) has benefited from better wind-power forecasting, and India's Tamil Nadu (14%) epitomizes the role of strong government leadership.
"Change is happening at breakneck speed, in the here and now, overtaking academic discussions on how quickly or whether this transition can happen," Wynn said.
Full report: Power-Industry Transition, Here and Now: Nine Case Studies
Media contacts:
Gerard Wynn +44 7990 560 525 [email protected] (U.K.)
Karl Cates 917 439 8225 [email protected] (U.S.)
---
ABOUT IEEFA:
The Institute For Energy Economics and Financial Analysis (IEEFA) conducts research and analyses on financial and economic issues related to energy and the environment. The Institute's mission is to accelerate the transition to a diverse, sustainable and profitable energy. https://ieefa.org
Gerard Wynn is an IEEFA London-based energy finance consultant. He is a former reporter and analyst for Reuters News Agency.