October 29, 2020 (IEEFA) — Strong performance by Kosovo's first large-scale wind and solar farms show the coal-dominated, Western Balkan country can exploit falling renewables costs and green lending appetite to align better with a low-carbon European transition and reduce losses from stranded fossil fuel assets.
According to a new report by the Institute for Energy Economics and Financial Analysis (IEEFA), Kosovo has multiple opportunities to move beyond coal, which provided 95% of its electricity last year. It can close the oldest of its two coal plants; boost building efficiency to reduce crippling energy losses; strengthen electricity distribution networks; improve interconnection with its neighbours; and conduct electricity market reforms.
Kosovo has traditionally relied upon lignite, a low-grade form of coal, because of large reserves. But the World Bank and U.K.-listed Contour Global have withdrawn financial support for a new lignite power plant, citing its high cost compared with renewables. The withdrawal reflects how new coal plants are no longer economically viable in Europe, and the $2 billion price tag for the proposed Kosova e Re Power Plant (KRPP) makes it highly unlikely that the project could proceed as a state-owned project.
"The country must move beyond coal to secure its energy future," said Arjun Flora, co-author of Beyond Coal: Investing in Kosovo's Energy Future. "This will include meeting pan-European standards on carbon emissions and air quality, as well as adopting a rapidly rising carbon price so it can ultimately join the European Union".
"Stranded asset risk is very real in Kosovo," Flora said. "We have seen European utilities issuing massive, repeated write-downs on coal assets and scrambling to sell or close power plants, as EU member states issue coal exit dates. Poland is a warning, as the EU's most coal-dominated nation, where the chief executive of the country's biggest energy company PGE recently warned of the threat of bankruptcy."
"Data from Kosovo's new wind and solar projects show capacity factors that beat the UK average for onshore wind; and exceed those for solar in Germany, Europe's largest producer. This should silence the old argument that Kosovo has weak renewable energy resources."
Natural gas is often touted as a "bridge" transition fuel, but is unlikely to be the most cost-effective remedy for Kosovo. The country is interested in connecting with the Trans-Adriatic Pipeline, linking Asian supplies to the Balkans, but Kosovo has no gas infrastructure or market. Even before such a costly infrastructure could be created, renewables would be broadly competitive with gas-fired generation.
IEEFA estimates electricity demand will rise 20% during the decade from the current 6,000 GWh, driven by increasing incomes and the growing electrification of the energy sector. The projected increase will require the generation of an additional 1,200GWh every year by 2030.
Despite its promising future, Kosovo should take additional steps to ensure a secure electricity supply, including supporting consumers who use rooftop solar to generate power; and establishing a demand-side response (DSR) market that signs agreements with energy-intensive users to reduce demand when required.
Beyond electricity, Kosovo also has options to boost alternative heating sources. A majority of households are heated by burning biomass, which poses serious health risks for homes with inefficient stoves. The country's woody biomass is being consumed almost twice as quickly as it can be replaced, according to the World Bank. Alternative heating options include expanded district heating, fuelled by solar thermal, waste heat or energy crops, instead of fuel oil, lignite and woody biomass.
"It may make sense for Kosovo to leapfrog directly past gas, to a renewables-based, energy-efficient economy," said report co-author Gerard Wynn. "But this will require investment. As one of Europe's poorest, most carbon-intensive countries, it is only fair that European countries and multilateral development banks support this transition."
Summary Chart: Mitigating Kosovo's 2030 Energy Shortfall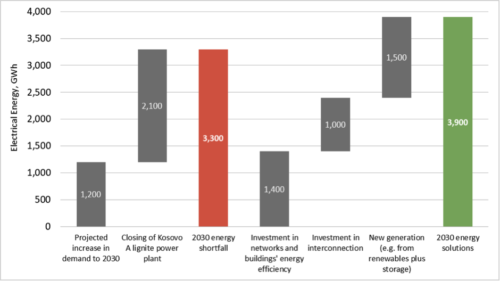 Full report: Beyond Coal: Investing in Kosovo's Energy Future
Report in Albanian: Përtej qymyrit: Investim në të Ardhmen Energjetike të Kosovës
Press release in Albanian: Performanca e fortë e burimeve të ripërtëritshme dhe rënia e kostove mund të ndihmojnë Kosovën të shkëputet nga e kaluara e furnizuar me qymyr
Author contact
Gerard Wynn ([email protected]) is an IEEFA energy finance consultant.
Arjun Flora ([email protected]) is an IEEFA energy finance analyst.
Media contact
Vivienne Heston ([email protected]) +1 (914) 439-8921
About IEEFA
The Institute for Energy Economics and Financial Analysis (IEEFA) examines issues related to energy markets, trends and policies. The Institute's mission is to accelerate the transition to a diverse, sustainable and profitable energy economy.