December 3, 2020 (IEEFA) — The coronavirus pandemic has exposed the costs of excessive coal dependence at Poland's largest energy company, Polska Grupa Energetyczna (PGE), highlighting the need for more renewables and greater detail on coal power plant closures under the company's new strategy, according to a report by the Institute for Energy Economics and Financial Analysis (IEEFA).
The report—COVID and carbon crunch: Why PGE's 'Strategy 2030' already looks dated—updates an analysis of the profitability of PGE in the wake of the coronavirus pandemic, taking into account today's foreign exchange markets and commodity prices, as well as the company's new medium-term strategy, unveiled last month.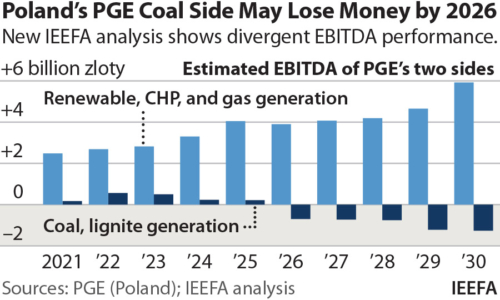 The strategy is described as "a wasted opportunity for a significant company re-set," given PGE's 2030 target for offshore wind generation that remains unchanged since the company's most recent strategic update in January 2020, with solar and onshore wind goals that are less ambitious than Poland's National Energy and Climate Plan.
Unless PGE curbs its reliance on coal and lignite for power generation, its earnings (before interest, taxes, depreciation, and amortization, or EBITDA) will now be 43% lower in 2030, compared to a scenario of pre-pandemic fuel and carbon costs, and without the company's new strategy. 
Higher carbon costs will especially contribute to making coal and lignite generation a source of losses by 2026, according to the analysis. Coal and lignite account for 86 percent of PGE's power generation today.
Under its new strategy, PGE sets ambitious plans to spin out its entire coal and lignite portfolio. But its plans are undated, unfunded and have no agreed mechanism. The new strategy sets out no targets for individual coal power plant retirements.
"PGE's current energy investment opportunities are in a sense zero-sum, between fossil fuel and renewables," said Paolo Coghe, an international financial economist and co-author of the report. "More of one means less of the other. PGE must invest urgently today in profitable, cash-generating renewable power capacity and shift decisively from a legacy of under-performing assets."
The IEEFA report recommended that PGE accelerate its offshore wind programme, since it is the biggest opportunity to rapidly add capacity. At the same time, PGE (or the new spinout) should retire coal-fired plants.
"Poland and PGE have in the past shown that they can implement rapid energy policy change, for example, supporting coal power and energy security under the country's capacity market. Now is the time to do the same for offshore wind," said report co-author, Gerard Wynn.
The report analysed the impact of separating coal and lignite from the rest of PGE. The authors calculated a rapid rise in the profitability of the remaining company (see chart below), but this still lagged the projected pre-COVID EBITDA of the combined business, supporting a conclusion that PGE must radically accelerate both its renewables capacity additions and its coal power retirements. 
Relative EBITDA performance, PGE's proposed spinout of its coal and lignite business vs the remaining New Company (renewables, CHP and gas)
Note: "EBITDA NOV2020" applies post-COVID prices and PGE's new energy strategy
Full report: COVID and carbon crunch: Why PGE's 'Strategy 2030' already looks dated
Author Contacts
Paola Coghe is an energy economist based in Paris.
Gerard Wynn ([email protected]) is an IEEFA finance consultant based in London.
Media Contact
Vivienne Heston ([email protected]), +1 (914) 439-8921
About IEEFA
The Institute for Energy Economics and Financial Analysis (IEEFA) explores issues related to energy markets, trends and policies. The Institute's mission is to accelerate the transition to a diverse, sustainable and profitable energy economy.