February 26, 2019 (IEEFA U.S.) ‒ Faced with a convergence of market forces, the world's five leading integrated oil and gas companies are reducing historically robust levels of capital spending, according to a briefing note released today by the Institute for Energy Economics and Financial Analysis (IEEFA).
The five largest integrated oil and gas companies ‒ ExxonMobil, Shell, Chevron, Total and BP ‒ in 2019 spent a total of $88.7 billion on capital projects, down nearly 50 percent from the $165.9 billion spent in 2013. Not since 2007 have the capital expenditures, or capex, among the five companies been so low, according to the note: Oil Majors' Shrinking Capital Expenditures (Capex) Signal a Mature Industry in Decline.
"Diminishing capex should worry investors and serve as a warning that the oil and gas industry is not the cash cow it used to be," said IEEFA energy financial analyst and lead author of the briefing note, Kathy Hipple. "Traditional businesses, like oil and gas exploration and production (E&P), refining, and petrochemicals are all showing signs of stress."
The world's largest publicly-traded oil and gas companies' annual capex budgets are massive, in the tens of billions of dollars, even as they reduce annual allocations.  Capex budgets are spent on projects that take years to develop and are expected to be cash-producing assets for decades.
"The days of consistent, long-term 20 percent returns are long gone and the promise of petrochemicals as the savior of the supermajors is proving elusive as the financial outlook is, at best, mixed," said IEEFA director of finance Tom Sanzillo who co-authored the report.
The five oil majors have taken different approaches to capex spending. ExxonMobil has in the last few years increased spending to $24.4 billion in 2019.  The company plans to increase capex in 2020 to more than $30 billion in what has been described as a counter-cyclical strategy.
While Exxon Mobil's 2019 capital budget is 93 percent of its ten-year average of $26.1 billion, Chevron and Total, by contrast, have reduced their capex budgets. Chevron's 2019 capex was $14.1 billion, approximately 60 percent of the nearly $24 billion 10-year annual average. Total's spending declined to $11.8 billion in 2019, just over half its $21.1 billion 10-year annual average.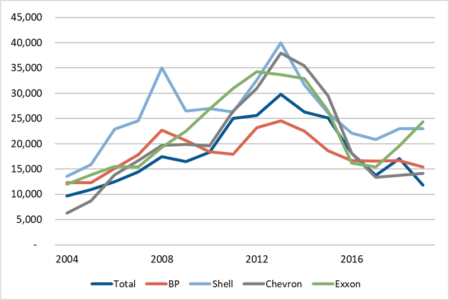 The industry is still struggling to recover from the drop in oil prices from more than $100/barrel in 2014 to $29/barrel in 2016. Natural gas prices have fallen even more dramatically to below $3/MMbtu. Long-term low prices mean revenues and profit margins are squeezed, leaving less cash available for capex.
"The industry claims it is motivated by capital discipline and higher levels of diligence, but another explanation is a lack of viable investment prospects," said Hipple. "The decline in capex indicates an industry with lower production levels going forward and a smaller return on capital invested."
Kathy Hipple is an IEEFA financial analyst.
Tom Sanzillo is IEEFA's director of finance.
Clark Williams-Derry is an IEEFA energy finance analyst.
Briefing note: Oil Majors' Shrinking Capital Expenditures (Capex) Signal a Mature Industry in Decline
Media Contact
Vivienne Heston (New York) [email protected] tel: +1 (914) 439-8921
About IEEFA
The Institute for Energy Economics and Financial Analysis (IEEFA) conducts global research and analyses on financial and economic issues related to energy and the environment. The institute's mission is to accelerate the transition to a diverse, sustainable and profitable energy economy.