By Tom Sanzillo and Cathy Kunkel —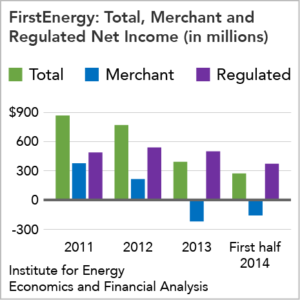 We're closing our weeklong series of blog posts around the weak financial performance and poor leadership of FirstEnergy Corp. by looking today at how the company has pursued an aggressive political and regulatory strategy in Ohio that hurts ratepayers and thwarts good public policy.
Our report, published Monday,  "FirstEnergy: A Major Utility Seeks a Subsidized Turnaround," explores in deep detail what we've been blogging about all week. It includes a deep dive into FirstEnergy's political and regulatory shenanigans in Ohio in particular.
Among them:
FirstEnergy's proposed bailout of the Sammis, Davis-Besse and OVEC plants. This tactic mirrors what the company has done in West Virginia by way of the Harrison plant transfer there. In Ohio, FirstEnergy is seeking approval for a similar purchase agreement under which its Ohio distribution utilities would buy the output of the Sammis coal plant, the Davis-Besse nuclear plant, and the company's share of the OVEC coal plants—all at a set price. If approved, the arrangement would shift the risk of operating these plants onto Ohio ratepayers at inflated prices.
Misuse of Ohio's renewable energy market. Under the state's renewable energy standard, FirstEnergy's distribution utilities are required to source a certain percentage of their electricity from renewable energy sources. FirstEnergy misused this requirement: A financial audit of the company's renewable energy procurement program in 2012 found that First Energy's distribution companies had purchased renewable energy credits from FirstEnergy Solutions at prices that, at times, exceeded renewable energy credit prices anywhere else in the country. These prices were passed through to customers.
Political opposition to broader energy efficiency. FirstEnergy sees energy efficiency as direct competition to its core business of selling electricity, and its corporate strategy includes fighting energy efficiency public policies. While it has opposed energy efficiency in Pennsylvania and West Virginia, nowhere has it been more aggressive on this front than in Ohio. FirstEnergy was the key player in a successful Ohio campaign in 2014 to roll back a 2008 law that established basic standards for the use of energy efficiency and renewable energy by utilities. FirstEnergy has already begun its reduction of energy efficiency programs as a result of these recent changes.
Opposition by FirstEnergy to efficient use of the wholesale capacity market.First Energy opposes "demand response," the practice of paying electricity customers to curtail consumption in order to reduce demand during the most expensive peak periods of the day. It also avoids bidding energy efficiency into the capacity market, a strategy that has two results: It prevents the company's customers from benefitting from the price offsets they would have received had FirstEnergy participated, and it artificially inflates capacity prices because a low-cost resource—energy efficiency—is kept out of the market.
FirstEnergy's corporate strategies include other efforts to turn the flagging company around at ratepayer and taxpayer expense. One of them involves its stake in the Signal Peak mining operation near Roundup, Montana, a position that exploits the Bureau of Land Management's dysfunctional coal-leasing program. Put another way, FirstEnergy's Signal Peak venture represents a government giveaway that has enhanced the value of the company.
Such tactics ultimately will likely prove a dead end, however, and combined with its financial reversals and its weak forward-looking strategy,  FirstEnergy's downward trajectory will probably continue.
Tom Sanzillo is IEEFA's director of finance. Cathy Kunkel is an IEEFA research fellow.