Data From Texas, the Largest Market in the Country, Shows a Deepening Shift
Renewable energy is rapidly gaining electricity market share in the U.S, surging ahead of coal-fired power even in some traditionally coal-heavy states, according to the latest monthly figures from the Energy Information Administration.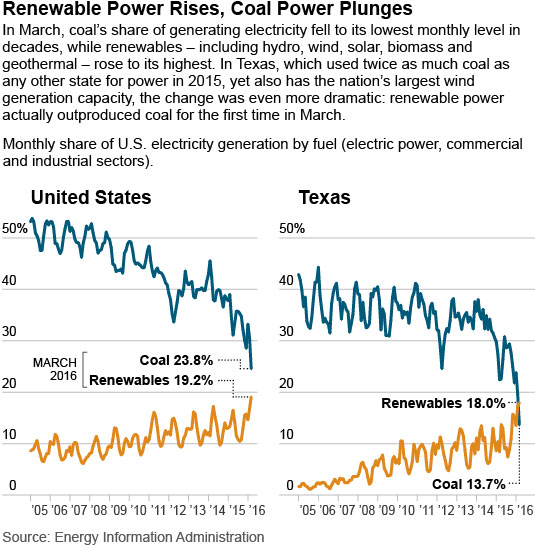 The amount of electricity generated by hydro, wind, solar, biomass and geothermal sources together reached 19.2 percent of all power generation in the U.S. in March, the highest percentage since the heyday of hydropower decades ago.
Coal's share of power generation in March dropped to 23.8 percent, an unprecedented low in modern times. And non-hydro renewables—mostly wind and solar—exceeded 10 percent of net U.S. generation for the first time on record. Natural gas accounted for 34.1 percent of generation. Nuclear power's share was 21.8 percent.
In Texas—which burned over 80 million tons of coal in 2015, the most of any state, renewable generation beat out coal generation for the first time. Coal's share of electricity generation there fell to just 13.7 percent, compared with 17.2 percent for wind and 18 percent for all renewables. Where wind leads solar may well follow. The Electric Reliability Council of Texas, which operates the state's grid, said last week that solar generation in Texas—the biggest electricity market in the U.S.—will soon overtake coal-fired generation.
An article yesterday in SNL, the trade publication, summed it up like this:
"Texas, long the leading U.S. market for wind power development, looks to be on the verge of a solar boom."

"All scenarios show roughly the same transition from 2017 to 2031," ERCOT said in an update to its long-term system assessment, or LTSA. "A substantial reduction in coal capacity and a large increase in solar." In the report, ERCOT showed solar pulling about even with wind power at more than 15% of system capacity at the end of the next decade, up from less than 5% in 2017.
In Oklahoma, renewables have now outpaced coal generation for five straight months, with a 35.7 percent share in March to coal's 18.6 percent, roughly the reverse of March 2015.
Kansas, another state where wind capacity has soared, also saw renewable generation exceed coal-fired power plant production for the first time, with a 38.8 percent share versus coal at 32.8 percent (by comparison, in January, when it was less windy, Kansas generated over 50 percent of its power from coal).
On a daily basis, renewables may actually have surpassed coal generation recently, according to fuel-use estimates for the lower 48 states by Genscape, a firm that monitors and analyzes the energy sector. Genscape's data indicates this was the case on at least five days from December through April, helped by an exceptionally mild winter and strong spring winds.
Electricity generation in the U.S. clearly is undergoing a rapid and historic transformation. As recently as a decade ago, coal still dominated the mix, typically exceeding a 50 percent share of electricity generation from October to March. It was only in April of last year that natural gas generated more electricity than coal on a monthly basis for the first time.
But the market is changing so fast that this year that the EIA—which is known for being behind the curve in its outlooks—predicts that natural gas in 2015 will be the leading fuel for electricity generation in the U.S., with 34 percent share of market share while coal will slip to 30.5 percent.
Renewables, according to the EIA forecast, will produce 14 percent of electricity generated in the U.S.—reflecting a trend that is likely to continue. While hydro's share of the electricity mix has remained steady, non-hydro renewable has grown fourfold over the past decade.
Seth Feaster is an IEEFA energy-data analyst.
Related posts:

IEEFA Data Bite: Wind on the Rise, Coal on the Wane
2015 Wind-Installation Record Is Another Indicator of Electricity-Sector Transformation
Renewable-Energy Records in China Suggest a Reshaping of the Global Energy Economy