Putting a New Lignite-Power Program Ahead of a Thorough Clean-Up of Existing Generation Is a Strategy That Is Increasingly Difficult to Accept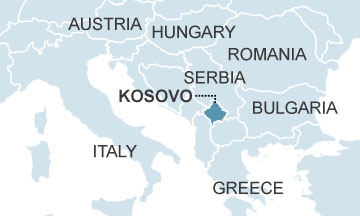 No better example comes to mind of outdated energy policy in action than what's unfolding in Kosovo.
The tiny country's main power plant is one of Europe's dirtiest, as we noted in a report we published two weeks ago chronicling how hundreds of aging coal-fired electricity plants across the continent fall outside new pollution limits adopted in April by EU member states.
As one of Europe's poorest countries—and one struggling to take a bigger part in the European economy—the last thing Kosovo needs is a bigger commitment to coal. Yet the World Bank, in concert with the Kosovo government, is considering funding a new lignite-fired power plant there.
An obviously more urgent priority is cleaning up "Kosovo B," as the existing plant is called, which according to our analysis of emissions data from the European Environment Agency (EEA) produces dust emissions 9,000 percent above the new EU limits. Kosovo B's two generation units ranked second and third for dust emissions among our study of 734 large European installations that burn coal, lignite and biomass.
The Kosovo issue—local as it is—exemplifies a regional problem: 17 of the top 20 dust emitters in our study were in eastern and southeastern Europe (Bulgaria, Estonia, Greece, Kosovo, Poland, Romania, and Slovakia), partly because of an aging industrial legacy left over from the Communist era.
Dust, or particulate matter (PM), is the most dangerous outdoor air pollutant, according to the World Health Organization, which notes that it causes cardiovascular and respiratory diseases as well as lung cancer.
In our study, the two units of Kosovo B had the dubious distinction too of being the sixth- and seventh-biggest emitters of nitrous oxide, or NOX, which cause bronchitis in asthmatic children and reduces lung-function growth. The plant exceeds the new EU limits on NOX by 400 percent.
Kosovo B undermines public health, in other words, and in doing so weakens the already weak Kosovo economy and indeed the very fabric of Kosovo society. Kosovo is not a member of the EU, but it is part of Europe.
The paper we published ("Europe's Coal-Fired Plants: Rough Times Ahead") concludes that EU member states would do well to incorporate new "BREF limits" into coal plant permits by 2021.
The World Bank—ignoring the evolution of electricity-generation markets—nonetheless is pushing for more reliance on coal-fired electricity in Kosovo, while it should be urging progress on an existing project around an environmental upgrade to Kosovo B. A World Bank presentation suggests that USAID— "the lead U.S. Government agency that works to end extreme global poverty and enable resilient, democratic societies to realize their potential"—is studying the feasibility of that upgrade.
Putting a new lignite-powered plant ahead of a thorough clean-up of the country's current lignite-generation plant is increasingly difficult to accept.
Gerard Wynn is an IEEFA energy finance consultant.
RELATED POSTS:
IEEFA Europe: In Announcing Coal Plant Closures, Enel, Biggest Utility in the EU, Signals Industry Compliance With New Emission Rules
IEEFA Europe: Will Germany Walk the Walk on New EU Emissions Rules or Just Talk More Talk?
IEEFA Europe: Offshore Wind Costs Maintain Falling Trend