Companies resort to asset sales and new borrowing to cover chronic shortfalls in free cash flows
January 16, 2020 (IEEFA) ‒ Since 2010, the world's largest oil and gas companies have failed to generate enough cash from their primary business – selling oil, gas, refined products and petrochemicals – to cover the payments they have made to shareholders.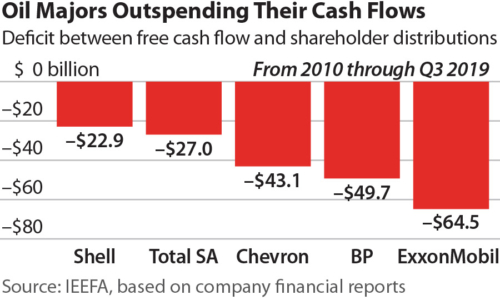 In a report released Thursday, analysts from the Institute for Energy Economics and Financial Analysis (IEEFA) found that five of the largest publicly-traded oil and gas firms: ExxonMobil, BP, Chevron, Total, and Royal Dutch Shell (Shell), collectively have rewarded stockholders with $536 billion in dividends and share buybacks since 2010, while generating just $329 billion in free cash flow over the same period. 
The companies made up the $207 billion cash shortfall—equal to 39 percent of total shareholder distributions—primarily by selling assets and taking out new loans, according to the report. 
"The oil majors are consistently under-performing the market and may believe that shareholders won't notice, as long as they receive generous dividends," said IEEFA director of finance and report co-author Tom Sanzillo. "As these companies continue to sell off assets and acquire more debt, they reveal a sector in disarray."
The authors observe that the five oil supermajors have employed a range of strategies to deal with their cash shortfalls.  BP and Total, for example, trimmed dividends after oil prices fell in 2015 and 2016, helping the companies narrow their cash deficits.
Asset sales have also played a crucial role in funding dividends and share buybacks. Shell, for example, sold $68 billion in assets from 2010 through the third quarter of 2019, including asset sales of $11 billion in 2017 and $6 billion in 2018 that helped the company bolster cash reserves. More asset sales are likely in coming years, as each of the oil majors has announced that some of their global reserves are available for purchase. 
"Investors are gradually moving away from energy stocks. A look behind the dividend payments of the leading companies helps explain why. For the core business of these companies, there is more money going out than coming in."  said Sanzillo.
Authors
Kathy Hipple is an IEEFA financial analyst.
Clark Williams-Derry is an IEEFA energy finance analyst.
Tom Sanzillo is IEEFA's director of finance.
Full report: Living Beyond Their Means: Cash Flows of Five Oil Majors Can't Cover Dividends, Buybacks
Media contact
Vivienne Heston ([email protected]) +1 (914) 439-8921
About IEEFA
The Institute for Energy Economics and Financial Analysis (IEEFA) conducts global research and analyses on financial and economic issues related to energy and the environment. The Institute's mission is to accelerate the transition to a diverse, sustainable and profitable energy economy.