Company's own metrics reveal slippage compared with oil major peers
October 15, 2020 – An analysis released today by the Institute for Energy Economics and Financial Analysis (IEEFA) reveals lagging performance by ExxonMobil under the leadership of Chairman & CEO Darren Woods. IEEFA analysts detail how the company racked up deeper or more rapid declines based on three critical financial metrics it has long used to tell its story and to assess its leadership compared to its peer competitors. 
ExxonMobil's board gauges CEO performance using long-term, 10-year indicators. It also looks at the same 10-year indicators as annual measures of progress. Under Woods's command, pre-pandemic profits, cash, and shareholder returns have all slipped.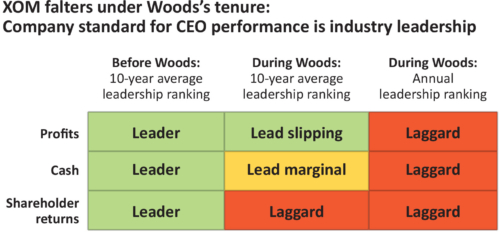 The IEEFA analysis comes as ExxonMobil is facing serious investor scrutiny after being removed from the Dow Jones Industrial Average index in late August for the first time in nearly a century. IEEFA questions why the board continues to stand by Woods, who is two years into his 2018 pledge to double ExxonMobil's returns by 2025.
ExxonMobil faced a sharper and deeper decline in its most important metric, "Return on Capital Employed," (ROCE) than its competitors (Chevron, Shell, Total, and BP) between 2017 and 2019. The company's "Cash Flow from Operations and Asset Sales" (CFOAS) also weakened during Woods's tenure while Shell has exceeded Exxon's CFOAS every year Woods was in charge. By its own company measures, Woods is failing but he is also failing by the one market measure used by ExxonMobil, the Total Shareholder Return (TSR), that the company acknowledges as a failure. Based on such performance, the board nevertheless decided that Woods demonstrated "strong leadership." 
"Exxon has dominated the oil and gas industry for decades and has defined its leadership based on that dominance," said lead analyst, Tom Sanzillo, IEEFA's director of finance.  "But in the last three years, there has been a steep decline in the fundamental financial metrics the company uses to judge performance. Its own data shows that Woods's leadership is weak relative to its competitors even before the global pandemic.   The board of directors cannot afford to continue giving Woods a free pass. The downward slide will accelerate. Woods should go."  
Full Report: Leader To Laggard ExxonMobil's Financial Troubles Intensify
Author Contact 
Tom Sanzillo ([email protected]) is director of finance at IEEFA and the former first deputy comptroller of New York State.
Media Contacts 
Vivienne Heston ([email protected]), +1 (914) 439-8921
Jack Shaw ([email protected]), +1 (510) 910-5427
About IEEFA
The Institute for Energy Economics and Financial Analysis (IEEFA) is an independent think tank that examines issues related to energy markets, trends and policies. The Institute's mission is to accelerate the transition to a diverse, sustainable and profitable energy economy.