Project Remains Unbankable and Cannot Proceed Without Government Subsidies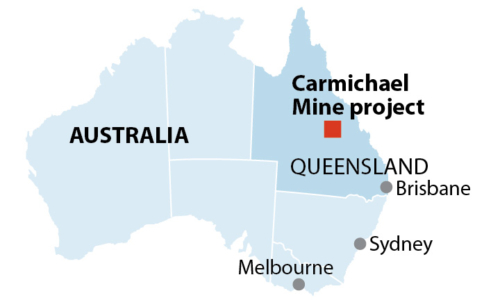 Last week's news that Commonwealth Bank, Australia's largest, has ruled out financing for the proposed Carmichael project because of the climate risk it comes with is but the latest in the long drip of events adding to the probability the mega-mine-and-rail complex will never be built.
In fact our view has only hardened that Carmichael is unbankable.

The whole "pit-to-plug" rationale for the project, as we explained earlier this summer, is fraying at both ends.
The mine was conceived as a conduit for coal to Adani Power Ltd (APL) in India, a plan that has become utterly unviable considering how Adani itself and India in general no longer have the need they once did for imported coal. With that piece of the puzzle collapsing, Carmichael is—or would be—left to compete on its own in global coal markets, which are in deep structural decline.
ON THE INDIAN FRONT, WITH A DISTRESSED APL CONTINUING TO NEGOTIATE WITH THE GOVERNMENT about "selling" its stranded 4.6GW US$5bn Mundra import-coal-fired power plant for a token Rs1, the financial state of the company is clearly dire. APL acknowledges the Mundra plant is only generating enough cash flow to cover its interest-servicing costs, and we see a looming write-down on Mundra of up to US$2 billion.
Energy Minister Piyush Goyal has long argued that India's reliance on thermal coal imports undermines national energy security and is a no longer economically rational policy, particularly with solar electricity generation cheaper even than existing domestic coal-fired power generation (and that's not even counting the many external costs of burning coal).
The market is clearly in agreement with Goyal. Indian coal imports have declined by 6 percent annually since hitting a peak in 2014/15, and the rate of decline has accelerated this year, with coal imports down 13.4 percent year-on-year in the first seven months of 2017.
APL's most recent earnings report shows a US$70 million loss in the second quarter of this year, almost double its US$36 million first-quarter loss. Net debts of US$7.6 billion against a market capitalization of US$1.6 billion is as clear a signal as it gets of financial distress. Operating profits will not even cover annual interest payments to banks, and auditors have raised doubts over the company's "going concern" assumption given its US$1.6 billion shortfall in current assets relative to current liabilities.
Financial close on Carmichael is no closer than it has ever been. With the project's strategic rationale having evaporated, IEEFA views the proposal, frankly, as a stranded asset in the making—and one that, should it proceed, will require enormous government subsidies.
Tim Buckley is IEEFA's director of energy finance studies, Australasia. Simon Nicholas is an IEEFA energy finance analyst.

RELATED POSTS:

IEEFA Update: Adani's 'Go-Ahead' on Australian Mega-Coal Mine Is a Stunt

IEEFA Australia: Adani's 'Pit-to-Plug Strategy' Is Fraying at Both Ends

IEEFA Press Release: Adani's Carmichael Idea Is More Unbankable Than Ever