Questions: Will the Ongoing Embrace of Fossil Fuels Hamper the Development of Wind and Solar? Can Goals for Climate-Change Commitments Still Be Met?
Britain appears to be turning more and more to natural gas as its coal-fired electricity generation plummets.
A tell-tale sign is in the country's course to set a record increase in gas-fired generation this year.

The U.K. transmission system operator, the National Grid, indicated this past Friday that the country's supply security would be stable this winter, even as coal generation has nosedived. The National Grid in its "winter outlook," in which it outlines its forecast for the percentage margin of electricity generation over peak demand, reported that generation would exceed peak demand by 6.6 percent, which it described as a "tight but manageable" ratio.
While grid officials attributed short-term stability to a small expansion in aging coal generation combined with a drop in electricity exports, the bigger picture is one of collapsing coal, and a surge in natural gas.
Two weeks ago, the Department for Business, Energy & Industrial Strategy published its latest energy statistics, showing a remarkable drop in coal-fired power generation in the second quarter of this year. That came on the heels of Britain's statutory adviser on climate change, the Climate Change Committee, earlier this year criticizing a lull in support for mature renewable power technologies, onshore wind and large-scale solar.
Figure 1. Plummeting Role of Coal in U.K. Electricity Supply (TWh)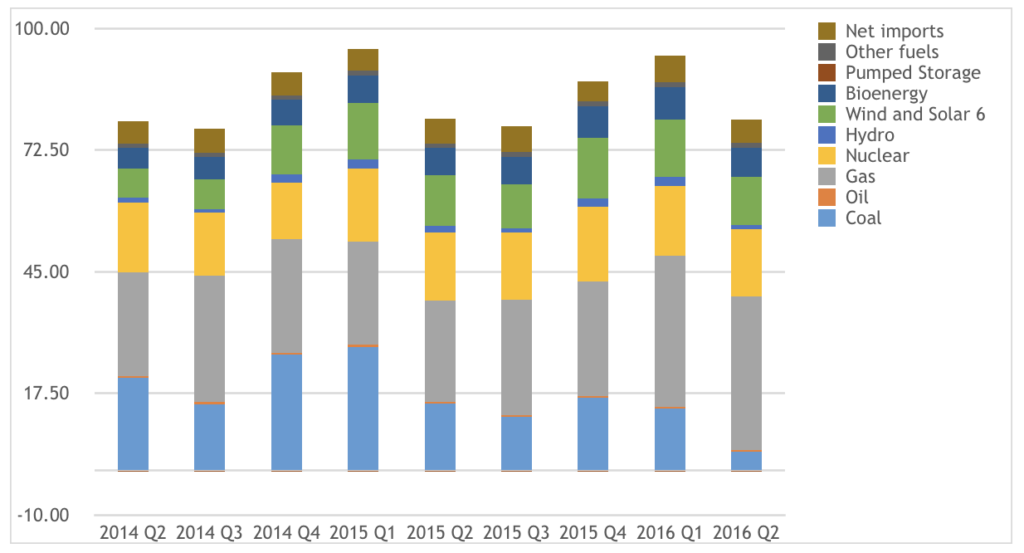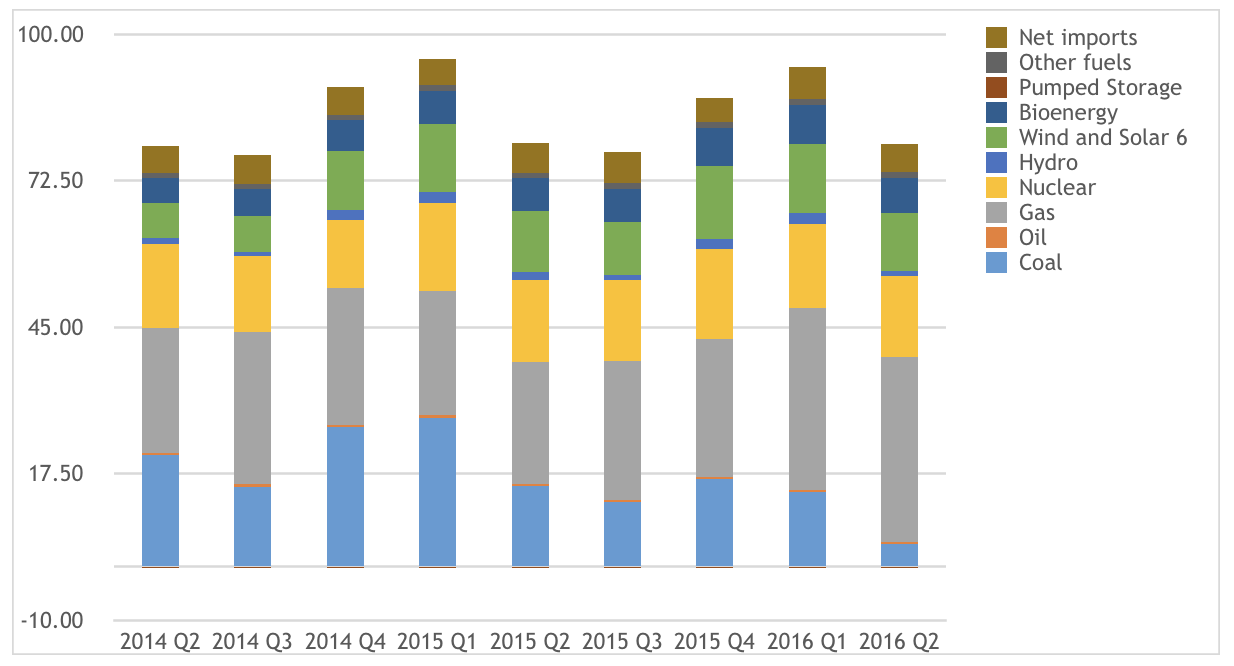 Meanwhile, gas-fired power supply will see a record annual increase this year, beating the so-called "dash for gas" era of the 1990s and the coal-gas switch in the early days of the European carbon market.
In the first six months of this year, the U.K. supply of gas-fired generation increased by 22.7 terawatt hours (TWh), year on year, compared to a record annual increase of 24.6 TWh (in 2007).  Current low gas prices mean the full year 2016 should beat that.
Figure 2. U.K. Heads for Record Year-on-Year Increase in Gas-Fired Power in 2016 (TWh)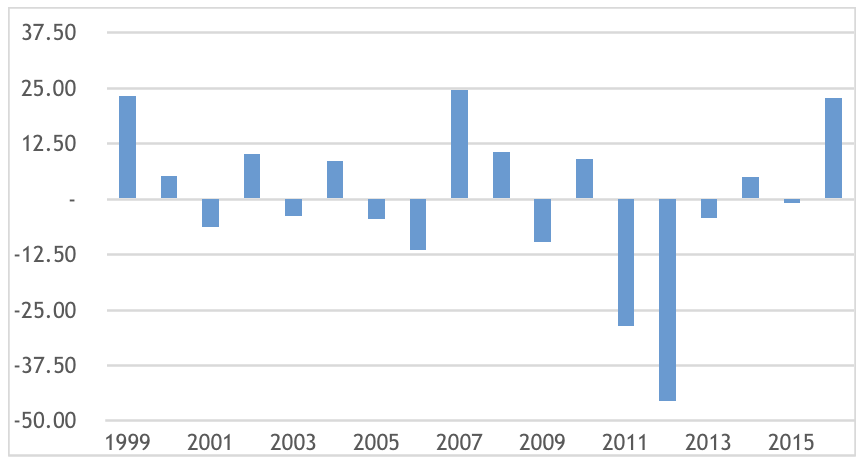 The return to gas is all about the decommissioning of coal plants, including two in March, as these plants run afoul of pollution controls and gas-fired generation is now cheaper than coal.
The gas revival raises a question, however, over the country's long-term commitment to renewable generation, after a rapid build-out of onshore wind and solar generation. Britain has frozen support for these technologies since capacity auctions held last year, with none further planned.
And it may undermine Britain's ability to meet ambitious mid-term climate targets, which require slashing greenhouse gas emissions by 57 percent by 2030 compared to 1990 levels and by 38 percent below today's.
Gerard Wynn is an IEEFA energy finance consultant.

RELATED POSTS:

IEEFA Europe: 'Capacity Payments' Provide a Lifeline to Costly Coal-Fired Generators

IEEFA Europe: Blueprint for a Lignite Phase-Out in Germany
IEEFA Europe: Behind Vattenfall's Sell-Off of German Lignite Assets, a Subsidy Play by the Buyers