Broad Indexes Are Up in the Short, Long and Medium Term; Coal Indexes Are Not; Little Indication Producers' Performance Will Improve
If stock prices are any measure of a company or industry's success or failure, the coal industry has been failing now for 10 years.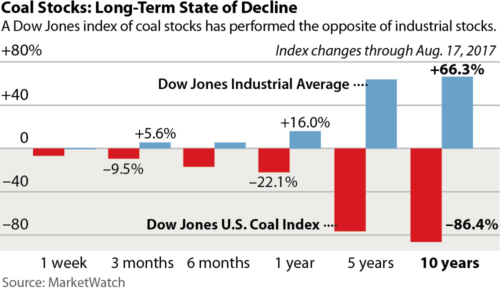 The recent progress noted by many companies in their second-quarter earnings reports notwithstanding—production increases, slight improvements in profit margins, some increases in exports via East Coast ports, and purportedly beneficial policy changes by the Trump administration—have produced zero signs of commitment by investors to the notion that coal is staging a comeback.

Although considerable fanfare has been made since the beginning of the year about how a coal resurgence is under way, the overall stock market is up since Jan. 1 while coal indexes have declined. This trend is evident no matter how you slice it—over the past week, the past month, the last quarter, the year to date or the past decade.

Even after its relatively poor performance of the larger market over the past week or two, broader indexes have done better than the faltering coal industry. And if you look at year-to-date performance—a period that includes the inauguration of a pro-coal President, gains in pro-coal majorities in both houses of Congress, administrative attacks on pollution, public health and public-land use policy and regulations related to coal, and even the announcement of a few new mine openings—coal stocks for the most part have declined.

U.S. coal producers constitute the third-largest coal-mining business in the world. Many have just come through bankruptcy. A new administration is promising regulatory relief and perhaps even direct subsidization. Even with all those forces in its favor, the coal industry has not persuaded investors that they are a viable investment.
Even some coal producers remain unconvinced that a coal resurgence is upon us, and some are saying so in public. The CEO at Foresight Energy, just to name one company, stated just last week that there is still too much coal being mined for domestic markets to handle, that the glut is keeping prices down, and that the U.S. market will remain weak. (Granted, Foresight has benefited from the improvement in metallurgical-coal prices over the last year or so.)

THIS EARNINGS SEASON WAS PUNCTUATED, INCIDENTALLY, BY A PLEA FOR A DIRECT FEDERAL CASH SUBSIDY for the eastern U.S. coal industry from Gov. Jim Justice of West Virginia. Justice justified his request ostensibly on national security grounds, a highly specious argument to begin with and certainly not a vote of confidence in the industry.  Asking U.S. taxpayers for $15-per-ton subsidy looks less like a business model and more like a life-support scheme.
The U.S. coal industry has too many companies and is mining too much coal for too few customers. Its outlook is bleak. Its recovery will require substantially less production, and both domestic and export markets will need to show strength over a substantial period of time. The road ahead will be rough as more coal-fired electricity plants close and as demand for product declines.
Tom Sanzillo is IEEFA's director of finance.
RELATED POSTS:

IEEFA Update: In Federal Coal-Policy Reversals, Trump Is Handing Out Snowballs in a Blizzard
IEEFA Swamp Watch: A New Coal Mine, the Russians, an Amsterdam Connection, and Trump…
IEEFA Update: Across a Bedeviled Industry, Too Much Coal Is Being Mined Still for Too Few Customers

IEEFA U.S. Coal Outlook 2017: Short-Term Gains Muted by Prevailing Weaknesses in Fundamentals