Change continues apace in one of the biggest electricity markets in the U.S.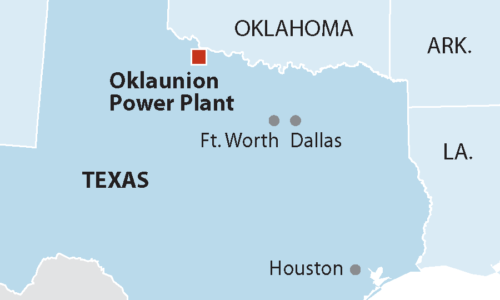 American Electric Power's confirmation this week that it plans to close its majority-owned 650-megawatt Oklaunion coal plant in Texas by 2020 may have surprised some people—particularly some policymakers in Washington.
The plant is only 31 years old, which is well below the average age for the U.S. coal fleet. And as recently as 2013 it ran pretty well, posting a capacity factor of 69%.
But markets can change fast, and nowhere is that more evident than in Texas, where developments in the past five years have led to wholesale changes in the state's freewheeling electricity supply business. Statistics from the Electric Reliability Council of Texas (ERCOT), the state's grid operator, show that installed wind capacity almost doubled from 2012-2017, jumping from 10,970 megawatts (MW) to 21,190. Output from wind, which provided just 9% of the state's electricity in 2012, met more than 17% of overall demand by 2017.
No evidence that  wind and solar undercut the grid's reliability.
While solar is not a meaningful player in the Texas market yet, it could be on a similar trajectory. Installed capacity topped 1,000MW in 2017, a doubling over the prior year, and ERCOT sees solar capacity almost doubling again in 2018.
ERCOT suggested in its 2017 State of the Grid report (released this past April) that the trends will continue as "both solar and wind resources are expected to increase significantly by the end of 2020."
Given those resources' zero fuel costs, they are dispatched ahead of other power-generation sources across ERCOT, and that fact alone has had a significant impact on the economics of even relatively young coal plants such as Oklaunion. From its high mark in 2013, the plant's capacity factor has drifted downward, falling to 36% in 2015, rebounding slightly in 2016 and then tumbling to 29% in 2017.
In other words, AEP wasn't making any money on Oklaunion, a point that CEO Nick Akins acknowledged late last year when the company decided to try and sell some of the plant's capacity. "Oklaunion has been a drag, particularly on the unregulated side [in ERCOT]," Akins said on the company's third-quarter 2017 earnings call, in October.
While AEP struggles with Oklaunion, the latest in a recent string of coal plants now scheduled for imminent retirement in Texas the queue to get into the state's electricity market remains robust. It is also worth pointing out that these changes—the trend away from coal to other power-generation sources—are happening without undercutting the grid's reliability, a fact stressed by ERCOT in its annual report:
"While the changing resource mix in the ERCOT region has presented new challenges for grid operators, it has not negatively impacted system reliability. New analytical and monitoring tools help ERCOT Operations manage this changing resource mix while maintaining system reliability and market efficiency."
WASHINGTON POLICYMAKERS WOULD DO WELL TO TAKE THESE LESSONS TO HEART because government can and does play a crucial role in technology development. Investment and production tax credits were central in getting the wind and solar industries started. Similarly, federal support was instrumental in the development of the nation's nuclear industry in the 1960s and 1970s. Energy Department R&D funds also played a major role in keeping sulfur dioxide and nitrogen oxide emissions compliance costs in check, despite repeated assertions from utility and coal industry executives that electricity costs would skyrocket because of those mandates.
But once goals are established and policies set in motion, elected officials best serve the public interest by stepping aside and letting the markets work. Markets, by definition, are messy, but they almost always lead to better end results than picking winners legislatively or via executive order.
Recent examples in Georgia and Washington, D.C., underscore this point. In Georgia, hard questions are being raised about the much-delayed and wildly over-budget Vogtle nuclear reactor project, which is now expected to cost $27 billion for roughly 2,200MW of capacity. Instead of addressing this runaway issue, Georgia Gov. Nathan Deal is urging the companies building Vogtle to keep going because of the construction jobs the project supports, some 6,000 in all. Jobs matter, of course, but wind and solar support thousands of jobs as well, and for substantially less per megawatt.
Similarly, the Trump administration's long-stated plan to earmark support for particular generation plants, primarily coal-fired ones, because of their presumed resilience, would accomplish little more than to take money from consumers and provide it to plant owners. The markets, imperfect as they may be, want wind and solar. Taxing end users to support aging coal plants isn't going to change that.
Dennis Wamsted is an IEEFA editor.
RELATED ITEMS:
IEEFA op-ed: A U.S. coal bailout wouldn't stop electric sector transition
IEEFA update: Unmistakable trends in American wind and solar