Push to expand the Hambach mine raises a question: How long will a major European utility continue to buck trends?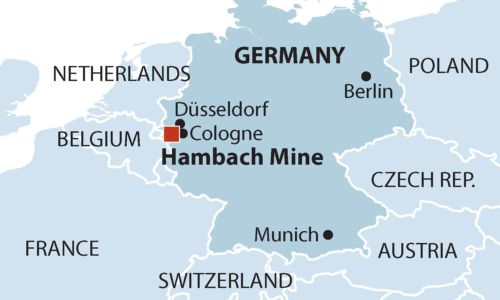 LONDON—RWE, one of Europe's biggest utilities, is keeping faith with its massive coal mining operations in northwest Germany, rooted in a logic based on economies of scale in power generation that defies the ongoing shift toward a more modern, distributed, low-carbon grid.
RWE's mining operations in Germany's Nordrhein-Westfalen (North-Rhine Westphalia) are enormous in scale. At its biggest mine, Hambach, the company produces 40 million tonnes of soft-brown coal called lignite annually, across an open-pit area of more than 4,200 hectares (11,000 acres), and in the process removes each year some 250 million cubic metres of earth and rock.
These activities have attracted significant public attention lately, as RWE sought to extend the Hambach mine to encroach on the last remains of a forest of the same name and enlisted German riot police to evict long-standing protesters. In early October, the Münster Higher Administrative Court halted the forest clearances, ruling that the company must await consideration of an appeal by Bund, the German environmental group.
The monumental-scale mining of coal has had its day.
In arguing its case to extend Hambach, RWE has warned of an engineering "domino effect," where halting excavation at the leading edge of the mine would prevent mining of coal at the base of the pit, as well as stop or slow down recultivation of the landscape further back.
RWE's chief executive, Rolf Martin Schmitz, has said that closing Hambach mine permanently and immediately would cost up to €5 billion, partly because of the difficulty finding alternative sources of rubble to shore up and stabilise the pit edges.
Closing even a portion of the mine also would change the economics of the whole operation—revenues would shrink but RWE would still have the same fixed costs to run the operation and repair the surrounding land.
In other words, lignite mining works best, or exclusively, on a monumental scale. Once you start tinkering at the edges, to slow excavation or close a power plant, the overall operation starts to make less sense. The trouble for RWE is that monumental excavation of coal or lignite to burn to generate electricity, emitting in the process tens of millions of tonnes of carbon dioxide annually, has had its day.
At the Institute for Energy Economics and Financial Analysis, we considered lignite headwinds in a report published this week, "Lignite Retreat, RWE's Short-Term Pain, Long-Term Gain". We focused on two of RWE's mines in North-Rhine Westphalia, Hambach and Garzweiler, which going forward will fuel 11 generating units at two major, pithead coal power plants, called Neurath and Niederaussem.
The first headwind for these power plants, which have a generating capacity of 3.3 gigawatts, is their age. We found that half of the lignite mined at Hambach and Garzweiler going forward will be burned by power plant units with an average age of 46 years.
The second headwind is their air pollution emissions, particularly of nitrogen oxides (NOx). All these units exceed NOx emissions limits that come into force in 2021 under the European Union's Industrial Emissions Directive. RWE is planning to upgrade the power plants using unspecified technologies, at what it vaguely describes as a cost of "low three digit million euros", i.e. more than €100 million.
The third headwind is climate action, including the reform of carbon pricing in Europe, and the growth in renewables. At present, we see compressed profit margins at these ageing power plants, as carbon prices rise and power prices fall or stabilise. These changes will increase the financial risk around investing more than €100 million to extend their life beyond 2021.
The fourth headwind is Germany's looming coal phaseout. Even as RWE was confronting protesters in September, a panel of experts was mulling a proposed coal phaseout date in Germany, creating a bizarre, backward-looking narrative for a public-facing company. Chancellor Angela Merkel's government earlier this year appointed the panel, which is officially called the Commission on Growth, Structural Change and Employment but more commonly just the Coal Exit Commission, to propose by the end of the year a date for closing the country's coal-fired power plants and to develop transition plans for its coal and lignite mining regions.
INSTEAD OF FIGHTING THESE HEADWINDS, RWE COULD PARE BACK ITS LIGNITE MINING and supercharge a strategic repositioning that the company is already pursuing through its prospective acquisition of the renewable infrastructure assets of its utility peer, E.ON.
Already, as a result of that asset swap, RWE is poised to benefit from a significantly higher environmental social governance (ESG) score, increasingly valued by investors, where the company historically has performed at the bottom of utility league tables. Such metrics would be bolstered by a more definite shift away from coal.
Lignite mining at scale was once a cheap way to produce electricity at pithead power plants—provided you ignored the external social costs associated with carbon emissions and air pollution. Now that those costs are increasingly affecting margins, through carbon prices and costly upgrades to meet pollution limits, it makes less sense.
Sharply lowering lignite production may indeed be a painful transition for RWE, especially as the economics of its wider mining operation may not then stack up. But the question for RWE is, how long does it intend to continue mining at scale for diminishing returns?
Gerard Wynn is an IEEFA energy finance consultant. He can be reached at gwynn@ieefa.org.
RELATED ITEMS:
IEEFA report: Halving RWE's lignite output can spur low-carbon shift, avoid spending $100 million to extend life of ageing power plants
IEEFA Europe: Poland's PGE would do well to accelerate plans to diversify away from coal
IEEFA update: A renewable energy revolution in Uruguay for all the world to see