Company Seen as Unlikely to Meet its Production or EBITDA Projections; Fate of Plant Is Emblematic of Larger Shift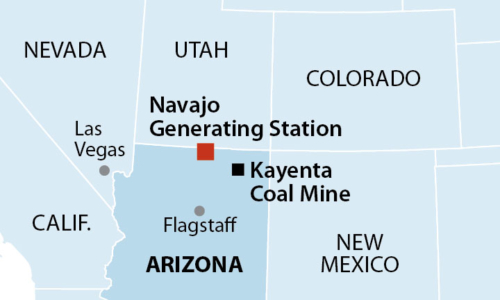 Bankrupt Peabody Energy is being dealt a fresh setback on news this week that owners of the coal-fired Navajo Generating Station don't expect to keep the plant open past 2019.
The 2,500-megawatt station in Northern Arizona is owned by a consortium of public and private utilities with significant service areas in several states. While Peabody naturally wants the plant to stay open, the utilities that own it have presumably found more affordable ways to provide electricity to their customers—which of course is their priority.
Far from being the economic engine that Peabody proclaims, the plant actually is a drag on the local economies of its various owners, who have a responsibility to provide the most affordable electricity  possible. Navajo Generation Station cannot meet this test in large measure because the coal it buys from Peabody costs too much.
THE FATE OF THIS PLANT ILLUSTRATES THE LARGER PROBLEM FACING PEABODY, which is that the market for coal-fired electricity is shrinking, although this specific closing may on its own blow a hole in the bankruptcy plan Peabody has laid out in court.
NGS, as the plant is known, for years meant almost eight million tons of coal business annually to Peabody, which has supplied NGS from its Kayenta mine for most of the past decade. With its fortunes flagging due to competition from low natural gas prices, however, the plant used only five million tons of Kayenta coal in 2016, a still not-insignificant amount of business that Peabody can now ill afford to lose.

That plan outlines how the company will operate through 2021. We don't know precisely how much coal is assumed to be coming out of the Kayenta mine under the bankruptcy reorganization plan Peabody has put forth, but in 2016 the mine produced 5.2 million tons of coal, accounting for 35 percent of Peabody Western's holdings.
What the company's filing before the bankruptcy court does tell us is that the company projects selling 17 million tons of coal from its three main Peabody Western mines (Kayenta, El Segundo and Twentymile) in 2017 and 2018. Peabody Western is projecting EBITDA of $119 million in 2019, of which we assume Kayenta would represent approximately $40 million. We think the company's 2019-2021 projections are at risk by perhaps six million tons in production and $40 million in profits annually.
Another Peabody customer, Cholla Generating Station, in east-central Arizona, has also announced intentions to close. Cholla was supplied by Peabody's El Segundo mine to the tune of 1.3 million tons last year (and more than three million tons historically). Peabody has made it clear that without Cholla, El Segundo has very little remaining economic value. The mine once provided about eight million tons per year to Peabody's annual totals.
THE BROADER QUESTION IS JUST HOW MANY OF THE OTHER PLANTS THAT PEABODY assumes in its court fillings will be buying its coal either will be shutting down instead or trimming their purchases to take advantage of low natural gas prices.
Kayenta, in Arizona, and El Segundo, in New Mexico, have been vulnerable for some time to natural-gas competition. Neither El Segundo nor Twentymile (in Colorado) were considered marketable in a deal to unload them on Bowie Resources that fell apart last year. 
We said a year ago we thought the company's coal production projections were too high then. The news this week from Arizona makes those projections look more questionable than ever.  
The overall effect is probably a $50-$90 million hole in Peabody Western's 2019 EBITDA projections (7 percent to 16 percent of total estimated enterprise-wide EBITDA). This damage could begin to take its toll within a year of the company's planned exit from bankruptcy. Truth is—these announcements aside—the bankruptcy plan had material defects already.  
We will be commenting more soon on the underlying weaknesses in the Peabody plan.
Tom Sanzillo is IEEFA's director of finance.
RELATED POSTS:
IEEFA Alert: Peabody's Plan to Emerge From Bankruptcy Is Likely to End in Bankruptcy Again

Coal Industry on the Brink in Arizona, Colorado, New Mexico and Utah

Is Bowie Resource Partners the Next Bankruptcy?