Murray Energy Checklist Included Rolling Back Clean Power Plan, Changing Science Findings, Rewriting Tax Code to Disadvantage Renewables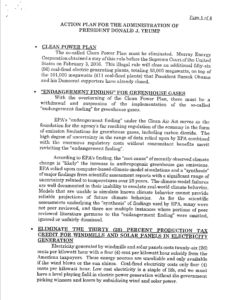 For the first time last week, Bob Murray, the outspoken CEO of Murray Energy Corp., publicly discussed his company's recently publicized wish list for actions that the federal government could take to support the coal industry.  Murray's "Action Plan for the Administration of Donald J. Trump," a once-secret document written almost a year ago, was released earlier this month by Senator Sheldon Whitehouse of Rhode Island.
Murray was showcased in an article published by Frontline as part of its "War on the EPA" project. He said his three-and-half-page long wish list, provided to President Donald Trump, detailed  "what he needed to do in his administration," and Murray added that the president had already "wiped out page one.'"
The "page one" checklist in Murray's now-public plan included three items: First was elimination of the EPA's Clean Power Plan. Second was reversal of federal policies guiding science-based "endangerment findings" that amount to a popular crack down on climate-changing emissions. Third was abolishment of tax policy that supports a fast-moving transition to renewable energy, that is, solar- and wind-powered electricity generation.
But have these actions really been the shot in the arm needed to revive the fortunes of the coal industry?
THE SHORT ANSWER TO THAT QUESTION is no. Granted, EPA director Scott Pruitt says that on his watch the Clean Power Plan is going down the tubes. But killing the initiative is easier said than done. Its unwinding requires a series of public hearings around the country that are only just beginning, and should Pruitt's EPA proceed to do what it has promised on the plan, litigation would ensue. Opposition would grow, and not just among environmentalists, but among state governments, influential politicians and Fortune 500 corporations.
The coal industry's dismissal of climate science stands a similarly slim chance of success. And while the administration may use the "science" argument to justify weakening a host of environmental regulations affecting coal, these changes won't stimulate more coal mining – though of course they will result in more pollution.
The recent rewrite of the U.S. tax code, enacted by Congress in December, gives the lie to Murray's declaration that the administration has managed to enact legislation that strips the solar and wind industries of some of the same types of assists that the coal industry, for example, has enjoyed for years. In fact, these industries—because they are so popular and economically beneficial to heartland states such as Iowa and Texas—were not crippled by the tax changes, which did not deliver what Murray wanted.
IN TRUTH, THE U.S. COAL INDUSTRY is in long-term market decline, a trend IEEFA has chronicled in detail over the past few years as it has unfolded and one that will persist.
Electricity-market regulators know the score already. This point came through crystal clear earlier this month when the Federal Energy Regulatory Commission rejected Department of Energy Secretary Rick Perry's proposal to rig the game by arguing that the U.S. electricity grid will lose its resiliency by lessening its dependence on coal and that less coal-fired power means will mean higher electricity bills.
In fact the opposite is true—the principal factor keeping electricity prices low in the U.S. since 2009 has been the decline in price and abundant availability of natural gas, and its increasing market share relative to coal.  Electric rates increased by less than 1 percent annually from 2009 or 2016, or about the rate of inflation, while—in contrast—rates rose nearly 5 percent annually from 2001 and 2008, when coal's share of power generation reached peak levels.
Data from the U.S. Energy Information Administration shows that from 2009 to 2016, retail prices for electric power rose from 9.82 to 10.27 cents per hour, or by about two-thirds of 1 percent per year.  They actually dropped for the industrial sector over that time, while increasing by an average of 1.3 percent annually for residential households.  By comparison, electricity prices increased by a third from 2001 to 2008—from $7.29 to $9.74 per kilowatt hour, and by 31 percent nationally for residential consumers.
In Murray's home state of Ohio, electric rates for industries, for example, basically stayed the same from 2010 to 2016, although the market share for coal–fired generation in the state has dropped from 82 percent in 2010 to less than 60% today. This decrease in market share, caused by coal's inability to compete in the market,  has been the impetus for Ohio electric  utilities and Murray (whose company supplies coal to some of the plants) to advocate for bailouts from regulators.
Much of the hype around the U.S. coal comeback of course has been around claims that jobs will be restored. As Reuters reported last week in an article whose headline said it all—"Trump's Coal Job Push Stumbles in Most States"—the latest data by the Mining Health and Safety Administration has a total of 771 jobs being added nationally in 2017.  The real killer of coal jobs has been the declining prices of natural gas industry and renewable energy —as the FERC decision confirmed—and no amount of wishing will make those market forces go away.
Eric Schaeffer, director of the Environmental Integrity Project, is former director of the EPA's Office of Civil Enforcement and a former special assistant to the EPA's deputy administrator. He is an IEEFA board member
RELATED ITEMS:
IEEFA Update: Financial Facts Don't Support Coal Industry's Claims of 2017 Recovery
IEEFA Update: Coal Is Dying, and EPA's Clean Power Plan Reversal Can't Save It
IEEFA Update: The Coal 'Comeback' of 2017