The $120 Million Coal Executive Who Got 1 Year for His Part in the Deaths of 29 West Virginia Coal Miners Is as Unrepentant as Ever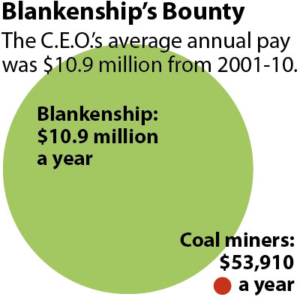 After being released last week after doing a year of minimum-security time in sunny Southern Arizona and California, Don Blankenship has been agitating nonstop for sympathy.
He wants the Supreme Court to overturn his conviction, he wants Donald Trump to do him a solid, he wants everybody to believe that he had nothing to do with the Upper Big Branch mine explosion that occurred on his watch and claimed 29 West Virginian lives in 2010.
"Out and tweeting that it's not his fault," said a Washington Post headline that put Blankenship's freedom rants in abrupt perspective.
Blankenship has had lots of chances to come clean, one as recently as a few days ago when U.S. Attorney Booth Goodwin urged him to own what he had done.
"I'm glad he had time to reflect on the pain he caused," Goodwin said on the eve of Blankenship's release. "I hope he used it wisely and will come out of prison ready to make amends."
But Blankenship did not and does not.
He continues to insist on a special reality apart from that documented in a Los Angeles Times article published last week under the headline "'Dear murderer': With a letter a day, West Virginian tried to remind coal executive of his role in 29 deaths'."
Blankenship replied in a long letter back that he was not to blame for anything.
To be clear: Blankenship, who has gotten generous press for proclaiming himself an 'American political prisoner," is an American criminal, and a rich one at that. His wealth—harbored who knows where and totaling who knows what—isn't publically known, but this much can be ascertained: He took more than $120 million in compensation from Massey Energy in the run-up to the Upper Big Branch disaster, for which he was convicted of conspiring to violate federal mine safety standards.
How much is that? One way to look at it is on an annual scale. CEO Blankenship raked in $10.9 million per year. Rank-and-file "extraction workers," aka coal miners, according to the most recent data from the Bureau of Labor Statistics, make less than $54,000 per year. All in, a coal miner in West Virginia would have to work for 2,226 years to take home what Blankenship was paid.
To suggest that Blankenship is worth $120 million today is conjecture, of course, because he might be worth less, he might be worth more, it's impossible to say (unless he releases his tax returns). But if it's not at least $100 million—subtracting for personal amenities and multiple homes here and there—"he should find a new accountant," as IEEFA's Tom Sanzillo wrote in 2015.
Apparently Blankenship is doing all right.
SNL, the energy-industry trade publication, reported last week in a "wide-ranging interview the day of his release" that Blankenship is thinking about "a move into the Las Vegas real estate business."
"Real estate is really getting hot here again," Blankenship told SNL.
Which is not so much the case in West Virginia, where communities are hurting for investment and struggling to diversify their economies as the U.S. coal industry fades.
That seems of no concern to Don Blankenship, however, who has a self-serving twist on everything.
As SNL noted glibly in the article it published: "From the start of the trial, Blankenship said, prosecutors looked to find him guilty."
Karl Cates is IEEFA's director of media relations.
RELATED POSTS:
Don Blankenship Is an American Criminal
Convicted Coal Baron Should Be Required to Disgorge His Ill-Gotten Gains
Accountability in Coal Country: The World Is Watching the Don Blankenship Trial