Benton County, Indiana: Cornfields, Soybeans, and a New Cash Crop
"White towers rising for miles amid the golden-tipped cornfields and leafy soybean plants" is a fun opening but the numbers are what jump out at you in a Wall Street Journal article published yesterday under the headline "Wind Power Wins Converts in Rural U.S."
About 100,000 people work in the American wind energy industry today—"close to 102,000" says the Journal article—almost twice those employed in coal-mining, and the gap is widening as coal plants close and as utility companies shift their electricity-generation footprints and take stakes in huge wind projects.
Wind is gaining ground in part because it is cost-competitive on the market and in part because it is increasingly unencumbered by opposition politics, which as the Journal headline suggests, is the point of the article. Here's a chart published in the piece taken from the American Wind Energy Association and the Atlas of U.S. Presidential Elections: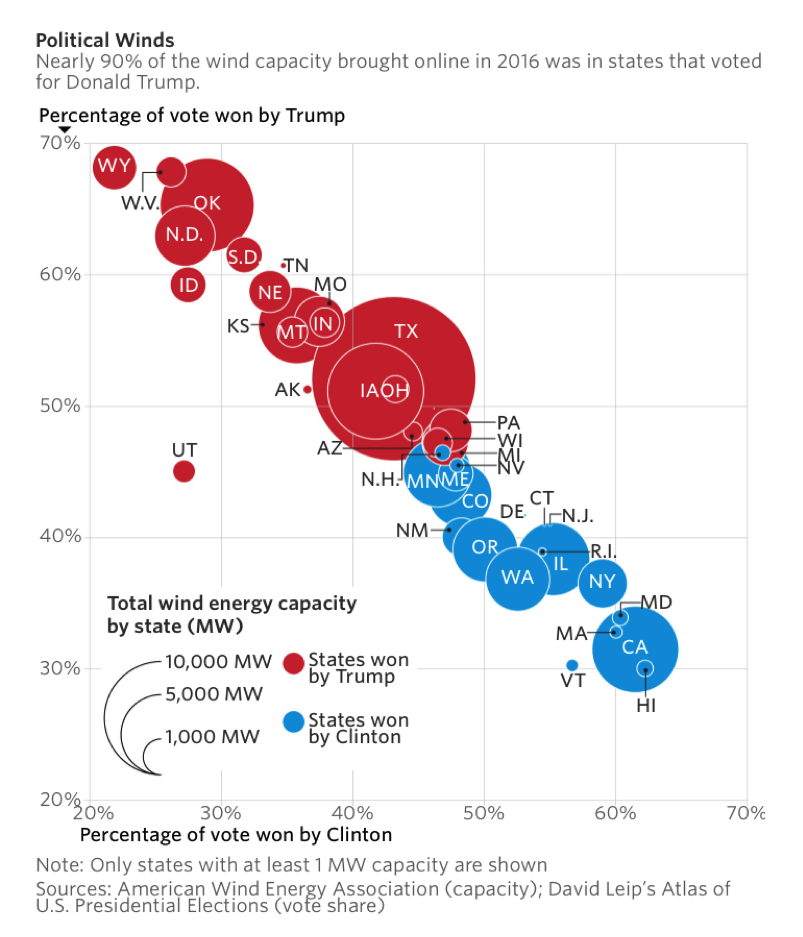 Notice the red circles, notice the blue circles, notice which ones are bigger.
The Journal zeroes in on this phenomenon by going to Benton County, Indiana, population 8,650, where BP (formerly British Petroleum) owns three wind farms and about half of the 560 wind turbines in the county, roughly 1 turbine for every 15 residents. The turbines started going up a few years ago when county residents rejected a proposal for an industrial-scale landfill pitched as an economic-development engine and opted for windfarms instead.
The Journal found one resident who thinks turbines are "unattractive and odd" because they're too "California." 
But the money generated locally by Benton County's wind industry seems to be being embraced apolitically, cutting across all persuasions in paychecks, public-works projects and property-lease premiums.

Here's the operative passage from the article on that point:
"Wind developers have made $17 million in payments to the county and have spent $33 million on roads, a boon for an economically struggling community that about a decade earlier considered hosting a waste dump to generate jobs and government revenue.
"The wind farms took hundreds of construction workers to build, and created 110 permanent jobs, mostly wind technicians—in charge of servicing and maintaining wind turbines—who, according to federal data, earn about $51,500 a year in Indiana.
"'Benton County didn't see the recession until 2011,' said the county commission's president, Bryan Berry, who has three turbines on his farmland. 'The wind industry helped keep things open.'"
Karl Cates is IEEFA's director of media relations.

RELATED POSTS:

IEEFA Update: Open Talk of Transition

IEEFA Update: 8 Things in the DOE Report That the U.S. Coal Industry Wishes Weren't There