Ekotek, SunRun and Tesla, Among Others, Suggest a Path to Grid Modernization
As Thanksgiving arrives in Puerto Rico, families will gather for their traditional celebrations. But some things will be markedly different this year: for thousands of families, the locations of the get-togethers will be chosen on the basis of whoever has electricity in their home, since so many residences are still without power two months after Hurricanes Irma and Maria struck the island. And for some, the gatherings will be particularly meaningful as they say goodbye to relatives who are leaving the island due to the devastation wrought by the hurricanes, or as they mourn the loss of loved ones whose lives have been lost.
At IEEFA, we pause to give thanks to our long-time colleagues in Puerto Rico and to our newfound allies who are working together to bring renewable energy to the island. We are humbled by how they have risen to the challenge, and by their courage and determination in the face of tragedy and in the absence of action by officials who should be acting responsibly.
El Puente,  the Institute for Competitiveness and Sustainable Economics (ICSE), and the Sierra Club are at the forefront of a donor-sponsored initiative to deliver powerfully bright Ekotek solar-powered lanterns that also function as radios and cell-phone chargers. Ekotek Energy, a Haitian company, is partnering with the groups to provide the lanterns at a discount; Puerto Rico Logistics is handling distribution. Other groups involved in the initiative: the health and education group SER of Puerto Rico, the Institute Psicopedagógico, the antipoverty or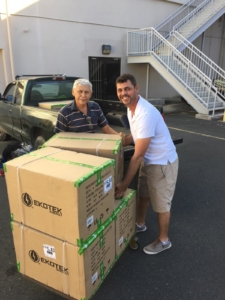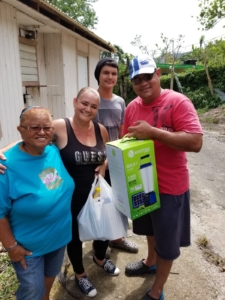 ganization Centro Para Puerto Rico and others, including Proyecto Enlace, Proyecto Caras and Centros Sor Isolina Ferrer.
Resilient Power Puerto Rico, an organization founded by architect Jonathan Marvel hours after Hurricane Maria struck, is bringing solar generators to community centers to support badly needed services and to give residents a way to charge phones and run computers.
Sunrun, a San Francisco solar company, is providing solar-powered electricity to community firehouses in urban and rural areas. Its first project, in the Barrio Obrero area of San Juan, is a 4-kilowatt set-up that keeps the lights on and will serve future electricity needs.
The Tesla Corporation has built a system that now lights San Juan's Hospital del Niño (Children's Hospital).
Heart 9/11,  a group led by union workers from the New York City Fire Department (FDNY) , NYC District Council of Carpenters, and  Laborers Local 79 – New York City responded immediately to the disaster and is spearheading the rebuilding of homes and community centers and providing medical care.
WHILE THESE EFFORTS AND MANY MORE LIKE THEM are providing relief now, Puerto Rico is still in dire need of an electricity restoration and development plan that serves the island's people, not outside interests.
The existing system—what's left of it—is expensive, and most of the utility rate dollars that support it go to off-island oil and gas interests and Wall Street, rather than to the economy of Puerto Rico.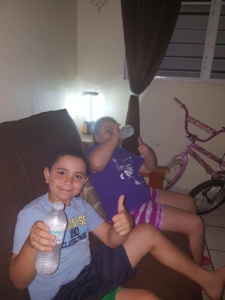 A number of organizations are working to ensure that the rebuilding effort is consistent with the findings and direction of the Puerto Rico Energy Commission, which regulates the Puerto Rico Power Authority (PREPA) and has pushed wisely for short- and long-term reform around professionalizing and modernizing PREPA.
The Smart Electric Power Alliance, an industry think tank, is providing critical information and education on the possibilities or Puerto Rican development of solar and other renewable energy resources. IEEFA, El Puente, and the Sierra Club have formed common cause with ICSE, the Puerto Rico business think tank, to promote investment in the island and encourage rational energy policies.
Other Puerto Rican leaders are also hard at work. The Aireko Foundation is supporting ways to harness renewable energy to expand business activity on the island and to keep the economic benefits in Puerto Rico.
While initiatives like those described above have brought the lights back on for thousands, a serious big-picture solution to electricity resilience has yet to be articulated.
With Congress considering restoration funding and with Puerto Rico's governor and his agencies weakened—by a recent contracting scandal, by a knee-jerk resistance to transparency, by a history of corruption at its public utility and by poor recovery management skills—private-sector initiatives represent the best model for attracting electricity-production investment in Puerto Rico.
Tom Sanzillo is IEEFA's director of finance.
RELATED ITEMS:
IEEFA Update: Betrayal in Puerto Rico
IEEFA Update: Puerto Rico's Solution—a Microgrid System Supported by Solar Energy
IEEFA Update: Reform Opportunity in Puerto Rico Electricity-Contract Scandal