The Company That Supplies the Failing San Juan Generating Station Is in Deep Financial Peril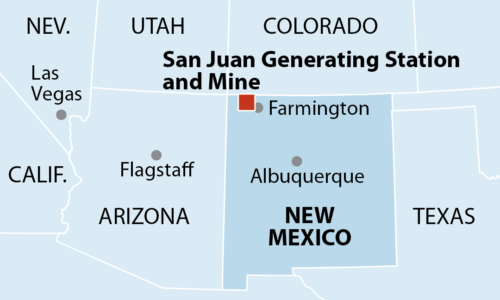 Feb. 2, 2018 (IEEFA) — An energy-market expert for the Institute for Energy Economics and Financial Analysis has filed an affidavit in support of a New Mexico group that is asking the state's utility commission to investigate ratepayer risk in the financial relationship between Public Service Company of New Mexico and Westmoreland Coal Co.
A complaint filed by New Energy Economy of Santa Fe with the New Mexico Supreme Court on Wednesday seeks a public review of the "San Juan Coal Supply Agreement," which ties the utility—the biggest in New Mexico—to Westmoreland. The company, which owns the mine that supplies coal to the San Juan Generating Station, which recently closed two of its four coal-fired generation units, is in broad financial peril. The other two units at the plant are slated to close by 2022.
Calling for an inquiry into an electric company's ties to a distressed mining company.
New Energy Economy is calling for an inquiry by the New Mexico Public Regulation Commission into the finances of Westmoreland "for the purpose of assessing whether these perilous financial times for Westmoreland could adversely affect PNM's ability to provide retail electric service to the public at just and reasonable rates."
"Essentially, PNM will inherit the mine from Westmoreland if Westmoreland defaults," states the New Energy Economy filing. "How are ratepayers implicated? This is THE reason for an investigation by the Commission, and the Commission has the right and the duty to investigate and demand a path forward in the event of this potential (and possibly likely) outcome."
TWO YEARS AGO, PUBLIC SERVICE COMPANY of New Mexico loaned Westmoreland $125 million—in relatively better financial health at the time—to buy the San Juan Mine.
The supporting affidavit, by David Schlissel, IEEFA's director of resource planning analysis, in consultation with Seth Feaster, an IEEFA energy data consultant, makes note of several signs of  Westmoreland's deteriorating financial condition.
Excerpts that focus on Westmoreland's business difficulties:
Contract termination and closure of Jewett lignite mine in Texas. In 2016, NRG terminated its mine-mouth coal contract with Westmoreland's Jewett Mine two years early; the mine closed at the end of 2016. The mine had served NRG's Limestone power plant; the plant switched to Powder River Basin coal from other companies.
Contract termination at its Beulah lignite mine in North Dakota. In May 2016, Westmoreland's Beulah lignite mine lost its contract serving the Coyote power plant. (NACCO got the contract), leaving the mine with only one customer (R.M. Heskett, a contract that expires in 2021), and the mine had an operating loss of $700,000 for 2016 according to Westmoreland financial filings.
Westmoreland's Rosebud mine's only customer, the Colstrip power plant [in Montana], has set retirement for units 1 and 2 in 2022, and it was announced in early December 2017 that a plan is in place to shut units 3 and 4 by 2027 … the company also said in recent financial filings that its renewed contracts for units 1 and 2 of the Colstrip plant have had a negative financial impact.
The Absaloka mine [in Montana] is down to only one customer … the Sherburne County plant (Sherco) in Minnesota. Of the three units at this plant, one is scheduled to retire in 2023 (682 MW), and another in 2026 (680 MW).
Retirement of coal-fired units 2 and 3 at the San Juan power plant has sharply cut production and revenue for Westmoreland at the San Juan mine. The closure of the units took place in December. The plant is the mine's only customer.
Excerpts that focus on Westmoreland's write-downs, closures, and difficulty selling assets:
In March 2017, Westmoreland officially closed its money-losing, 230-MW Roanoke Valley (ROVA) coal units in Weldon, N.C. Opened in 1994-95, Westmoreland had written them off for $133 million at the end of 2015; in the summer of 2017, the facility was sold for $5 million.
According to Westmoreland's third-quarter report filed with the Securities and Exchange Commission, for the period ended Sept. 30, 2017, the company has faced delays and difficulty selling its Coal Valley mine in Canada … As a result, the company had to make a significant investment in maintenance and to extend the life of the mine … The company cites their "ability to consummate a sale of the Coal Valley facilities on reasonable terms or at all" as the first item in a list of possible events that "could cause results or performance to differ materially" from their forward-looking statements.
Westmoreland's Genesee, Sheerness, Paintearth and Vesta coal mines in Alberta, Canada will be impacted by the province's Climate Leadership Plan, which will phase out coal-fired electricity generation by.
Westmoreland's CEO, Kevin Paprzycki, stepped down, effective immediately, on Nov 28, 2017. The company said an interim CEO was appointed while a search was being conducted for a permanent replacement. As of  Feb, 2, no replacement had been announced.
"Our work yields the conclusion that Westmoreland Coal, a publicly-traded company, has been showing signs of severe financial difficulty," states the affidavit, noting that Westmoreland's stock has lost almost all of its value over the past year; that Standard & Poor's rating agency has downgraded the company's credit rating and indicated that "the company could default or pursue a distressed exchange or other restructuring in the next 12 months"; and that S&P Global Market Intelligence has published Westmoreland reviews citing deep weaknesses in the company.
The affidavit notes the presence of widespread distress across the U.S. coal industry and asserts that "these issues warrant a public review of PNM ratepayer risk created by PNM's association with Westmoreland Coal."
(Case No. 16-00078-UT at the New Mexico Public Regulation Commission (registration required)).
Media contact: Karl Cates, kcates@ieefa.org, 917 439 8225