About Energy Finance 2018
The Institute for Energy Economics and Financial Analysis (IEEFA) holds an annual training program to help advocacy organizations and attorneys improve their own financial literacy. The training provides participants with ideas for how they can use financial issues in their campaigns, and helps them connect with other advocates.
This training program is based on a core element of our mission: to help citizen leaders and environmental advocates obtain information, skills, and tools to be better able to question proposed capital expenditures for infrastructure and projects proposed by fossil fuel developers. Providing this framework for advocates is an investment in improving the chances of success in these campaigns now and in the future.
Bringing financial issues into campaign strategies helps organizers develop new strategies and bring new constituents and allies into the campaigns. "Pocketbook" issues sometimes speak to people in ways environmental issues do not — bringing in local officials, civic leaders, taxpayers and ratepayers, and the media into the debate from new angles.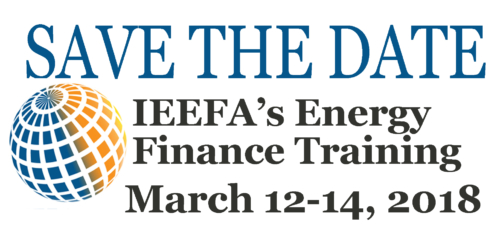 Registration will open in mid-January. The agenda and other logistics will be available at that time.
On Monday through Wednesday March 12-14, 2018 IEEFA and Columbia Law School will bring together environmental advocates and attorneys from around the world for a three-day training program in New York City. The training will cover current developments in the coal, natural gas, and electric utility industries. It is designed to provide advocates and attorneys with the skills to understand and engage in the financial aspects of current debates on fossil fuels. Continuing Legal Education credit will be available for attorneys.
This year's training will be held at:
Columbia Law School
Jerome Greene Hall
435 W 116th St.
New York, NY 10025
News about the conference will be updated at this link: www.ieefa.org/energyfinance2018
Similar to last year: A limited number of travel stipends will be available for domestic and international travel. Details will be released when registration opens.  We're working with the hotel on a new reservation process and will give the details when registration opens.
Please mark your calendars and stay tuned, more details will be released early 2018. The conference is invite only and attendance is first come first serve.