The World Bank and the U.S. Government, by Supporting Expansion of a Status Quo Energy Model in the Balkans, Are Putting an Entire National Economy at Risk
Kosovo relied on coal for 97 percent of its electricity generation in 2013, according to the most recent data from the International Energy Agency, and its dependency hasn't improved much (if at all) since then.
Of the 12 biggest coal-burning countries in the world, none rely on it as intensely as Kosovo does. Only South Africa comes close, and South Africa is plotting a way to reduce its dependency.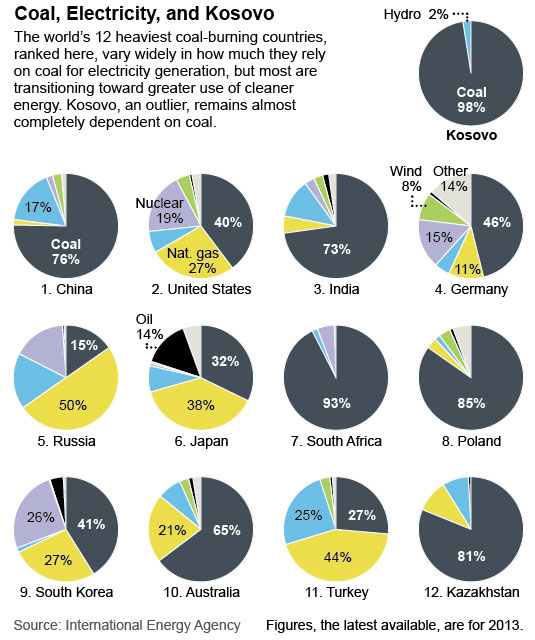 Yet the government of Kosovo, with backing from the U.S. government and the World Bank, wants to build a gigantic new coal plant. If it goes ahead with the project, it will have locked in Kosovo's heavy coal dependency for the long term and effectively crowded out investment elsewhere in the economy (more here on that in a report we published earlier this year (Albanian version here)). The project would require the single largest capital outlay in Kosovo for the foreseeable future. As such, it would bring deep and detrimental economic and environmental impacts that would linger for decades.
Such a project—aside from being starkly out of step with the times—also would amount to a misguided rejection of a widely accepted, core principal of energy planning: diversification of electricity-generation sources. And Kosovo, at the behest of certain private interests, the World Bank and the U.S. government, would have chosen an economic growth model that even large coal-burning countries no longer accept.
To be sure, Kosovo will continue to depend heavily on coal. It has rich lignite reserves, and even if construction of this new plant is scuttled, the country will still most likely rely on coal for well over 70 percent of its electricity.
But the balance of Kosovo's electricity needs—that other 30 percent—can be better met by improved energy efficiency, hydropower, wind and solar. A policy geared toward that goal would be better for public health, better for the environment and better for the economy, in no small part because it would drive electricity prices lower (clean-energy resources are now cheaper than coal in most parts of the world.)
Kosovo, if it goes forward with its coal build-out scheme, would remain an outlier, and for no good reason.
Tom Sanzillo is IEEFA's director of finance. Seth Feaster is an IEEFA energy-data analyst.
Related posts:
The World Bank's Bad Energy-Policy Call in Kosovo
IEEFA Review: Proposed 'New Kosovo' Coal-Fired Plant Would Drive Electricity Costs Higher