Vietnam's solar power industry has sprung another surprise.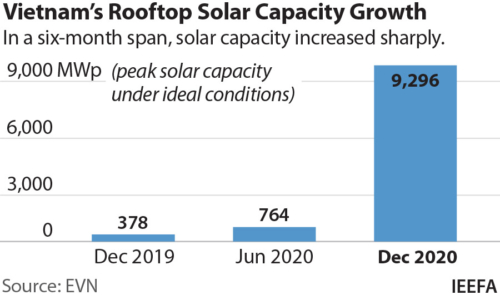 As of 31 December 2020, the closing date for eligibility to the second solar feed-in-tariff program, a total of 9.3 gigawatts peak (GWp) (or 7.4GW) of rooftop solar capacity had been connected to the national power system, the state utility Electricity of Vietnam (EVN) has confirmed. There are now over 101,000 rooftop solar systems deployed over residential, commercial and industrial premises across the country.
These figures beat even the wildest expectations. Marking a 25-fold increase in installed capacity compared to just a year earlier, the massive escalation is the result of an April 2020 policy decision which awarded rooftop solar projects a feed-in-tariff of 0.084 US cent per kilowatt hour over a 20-year period. With the aim of incentivising distributed generation assets that don't require additional land resources or transmission lines, the tariff was markedly higher than those granted for floating or ground-mounted solar farms, at 0.077 and 0.071USc per kWh, respectively.
These figures beat even the wildest expectations
This is not the first time the local renewable energy industry has proven the skeptics wrong. Vietnam made an impressive debut onto the regional sustainable energy landscape in 2019 when it delivered 4.5GW of utility-scale solar power capacity in less than two years. Today, at 16.5GW, solar power has penetrated a quarter of the national power system, according to EVN.
Similarly, a considerable part of the wind power pipeline, which currently stands at 11.8GW with a further 6.6GW likely to be confirmed soon, is expected to be delivered by the end of 2021. Work is well underway.
Investors have shown solid commitment and resilience through the disruptions caused by the COVID-19 pandemic. The growing pipeline of projects and merger and acquisition announcements are proof of their confidence in the market outlook and Vietnam's broader economic prospects. More importantly, the several gigawatts of new solar capacity is testament to the fact that renewable energy investors can deliver in this fast-paced market.
Renewable energy investors are sending clear messages across the system:
First, that coal power project developers are facing a losing game. Last year, only 1.2GW of new coal power capacity was added to the grid, from projects that took years to plan and complete. The 600 megawatt (MW) Duyen Hai 3 extension plant broke ground in 2014 and the 1.2GW BOT Hai Duong plant started construction in 2011, with still only half of it commissioned in 2020.
This performance compares very unfavourably to the rapid completion times that renewable energy players have achieved. The past two years have shown regulators that solar power investors can deliver capacity more efficiently than their fossil fuel counterparts and that it can be done with much less delay over controversial power purchase agreement (PPA) terms.
Local project developers were willing to take on market risk
Almost all of the 16.5GW of new solar power capacity has come from privately funded and managed IPPs, with financing mobilised from domestic and overseas lenders with no government support. Local project developers were willing to take on market risk with the standard PPA despite the fact that they are often seen as lacking the protections found in other markets. Nonetheless, funding has remained strong with the role of the domestic banking sector becoming more prominent. By June 2020, domestic banks provided up to 3.6USD billion in loans to renewable energy projects, a third of which was disbursed in the first half of the year alone, according to the Vietnam Banking Association.
All of this progress has taken place while coal project sponsors continue to make little progress at the negotiation table with Vietnamese officials. In fact, the fate of the remaining coal power pipeline is gloomier than ever. Foreign sponsors and lenders' fixation on traditional project finance requirements is not helping the projects move forward and now the high touch development timeline is out of synch with the changing appetite of Vietnamese officials. As explained by IEEFA in a recent report, the new regulatory framework formed by the Law on Public-Private Partnership, effective from 1 January 2021, which marks a retreat from the bankable contractual terms usually expected in earlier build-operate-transfer (BOT) coal power projects, will likely push sponsors farther away from the finish line.
Second, that officials must adopt a flexible approach to power sector planning. Keeping up with power market developments has been a challenge and official renewables projections often have a short shelf life. With the recent addition of rooftop solar capacity, IEEFA estimates that private investors have stepped up to deliver more than 3.5 times the government plan for renewable energy capacity for 2016-2020. The renewable energy industry continues to move quickly and boldly while, in the background, energy ministry officials formulate the new power development master plan for 2021-2030 (PDP8). As of today, the industry has already surpassed the 12.5GW solar power target to 2025 that officials had in mind just a couple of months ago.
The industry has already surpassed the 12.5GW solar power target to 2025
While it's hoped the upcoming PDP8 will instil an orderly development trajectory for Vietnam's power system, it should not however curtail the potential of renewable energy to deliver fast and cost-competitive electricity. It will be in the best interests of EVN and its ratepayers if power sector planners avoid rigid targets for each energy source, especially those that blunt the dynamism of solar and wind investment for the sake of reserving room for slow moving fossil fuel power.
The deflationary cost curve of renewables and the emergence of more innovative financing solutions will guarantee that renewable energy will further displace fossil fuels, including coal, gas and LNG, in Vietnam's energy mix in the years to come.
Existing concerns by system operators on how to manage effectively the variability of renewable energy are valid but not without answers. Making the right investments in reliable grid infrastructure and storage solutions will be key to optimising renewable energy capacity while generating a stable stream of power supply without the risk of locking in to large-scale fossil fuel plants.
Related articles: