PREPA's Projected 55% Rate Increase Is the Best-Case Scenario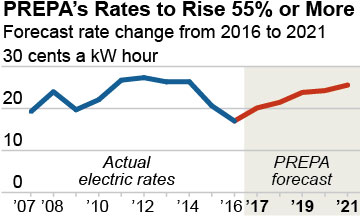 [This is one in a series of commentaries on mismanagement at the Puerto Rico Electric Power Authority: Today, likely increases in electricity rates; Tuesday, details on fees to consultants and advisors; Wednesday, how the recent debt-restructuring deal falls short of its core goals; Thursday, neglecting renewables.]

The Puerto Rico Electric Power Authority is moving forward quickly with rate increases that are unsustainable and that in all likelihood will further damage the commonwealth's already reeling economy.
They need to be stopped.
PREPA's plans include an electric rate of 20.1 cents per kilowatt/hour in 2017, a 22 percent increase over this year. Our research, contained in a report we published last week—"PREPA Debt Restructuring Won't Restore Agency to Financial Health"—shows that fully one-third of that rate will go to pay for service on the recent restructuring of PREPA's $9 billion debt.
This is a dubious distinction. It represents a proportion of rate revenues diverted into debt service higher than any we've ever seen. Even a famously terrible deal struck in the 1990s by the Long Island Power Authority pales by comparison. That agency—notorious for the bond deal that forced ratepayers to pay off the debt on a nuclear plant built by a private utility but never opened—siphoned off one one-sixth of rate revenues into debt service.
In Puerto Rico, 2017 only marks the beginning of runaway rates tied to PREPA's "revitalization" plan, which calls for ratepayer bills to increase by 55 percent over the next five years—and that's only if everything goes right.
Our research suggests rates in fact will go even higher because PREPA's outlook is based on unrealistic assumptions. PREPA's forecast assumes that electricity sales in Puerto Rico will remain relatively constant, contrary to recent trends. Electricity sales in Puerto Rico fell 20 percent from 2007 to 2015 and show no sign of recovery. If sales continue to decline, PREPA will have to raise rates even higher than planned to maintain the revenue stream it has promised to bondholders.
PREPA's rate forecast also assumes that the utility will be able to meet certain operational cost-savings targets. PREPA has not presented those plans in anything approaching a clear and transparent way that would allow for the kind of rigorous budget monitoring that is normal under such circumstances.
Further clouding the likelihood that PREPA will deliver on its bold savings promises it its long history of missing budget targets, one that has reared its head as recently as this May, which is the latest publicly available budget data.
If PREPA is not able to achieve its operational cost savings initiatives—and there is nothing to suggest it will—it will have to raise rates to close the gap.
PREPA sees its ratepayers forking out 25.6 cents per kilowatt-hour by 2021, which would be second nationally only to Hawaii. But of course Puerto Rico isn't Hawaii, which has a median income three times higher than Puerto Rico's, and has notched recent annual average GDP growth of 2.4 percent per year while Puerto Rico's GDP has decreased at an annual rate of 0.75%.
In short, the PREPA debt deal will drive electric rates sky high on an island that can't afford it and whose economy will be badly hurt by increases. PREPA itself won't be able to regain solid financial footing, contrary to what architects and beneficiaries of the deal have promised.

Cathy Kunkel is an IEEFA energy consultant. Tom Sanzillo is IEEFA's director of finance.
RELATED POSTS:
IEEFA Puerto Rico Report: Debt Restructuring Deal for Commonwealth's Electric Company Only Makes Matters Worse
IEEFA Puerto Rico: The Hidden Boogeyman in the Commonwealth's Debt Crisis