Report Finds Handwriting May Already Be On the Wall for 45-Year-Old Coal Plant Whose Pre-Tax Earnings "Fell off the Cliff" in 2009 and Are Unlikely to Recover to the High Pre-2009 Levels; Lower Natural Gas Prices, Lower Energy Market Prices & Other Trends Too Much to Overcome.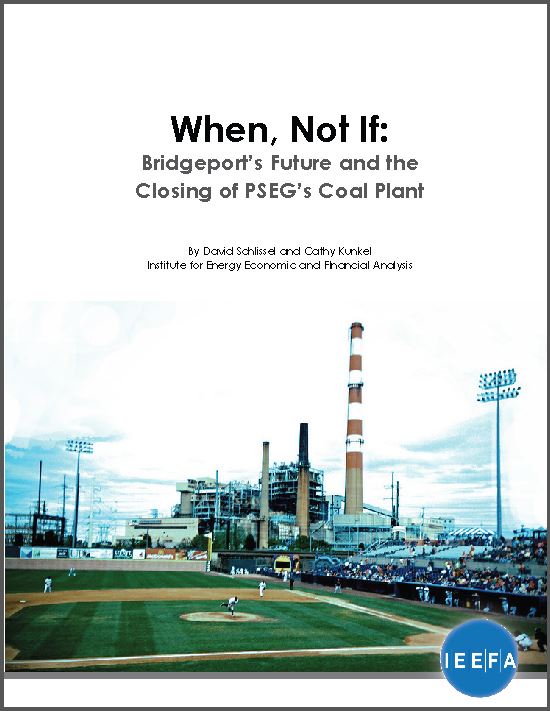 HARTFORD, CT– A new financial analysis report cautions that PSEG's Bridgeport Harbor Unit 3 – the last coal-fired power plant in Connecticut and one of the few remaining such facilities in New England – has been in deep financial trouble since 2009, and is unlikely to be financially viable for the long-term.  The report from the independent and nonprofit Institute for Energy Economics and Financial Analysis (IEEFA) is intended to help policymakers and residents near Bridgeport Harbor Unit 3 understand the need to start planning now for the retirement of the coal-fired power plant.
The IEEFA report notes that Bridgeport Harbor Unit 3 has been buffeted for years by the same economic pressures — low natural gas prices, low market prices, and flat or declining electricity demands – that have led to the retirement of more than 13,000 megawatts (MW) of the country's coal-fired power plant fleet from 2009-2012.
IEEFA released an earlier report reaching similar conclusions about the prospects for the Somerset, Massachusetts-based Brayton Point Station.  Immediately after making investments of more than $1 billion in pollution control equipment, Dominion Resources sold the 1,580 MW Brayton Point Station for the fire-sale price of an estimated $55 million, reflecting a substantial financial loss. Within a month of closing on that transaction, the new owner gave notice of its intent to retire Brayton Point in 2017.
Sandy Buchanan, executive director, IEEFA, said: "Community leaders and others would be well-advised to start planning now for the shuttering of Bridgeport Harbor 3.  The financial handwriting is already on wall for this power plant that is so old that it was launched when LBJ was President of the U.S. There is no reason to believe that Bridgeport Harbor can somehow survive the negative financial pressures that already have taken down scores of other coal-fired power plants."
David Schlissel, report author and director of resource planning analysis, IEEFA, said: "The future of the Bridgeport Harbor Unit 3 coal plant looks bleak. The bottom line here is that PSEG Power's pre-tax earnings from Bridgeport Harbor Unit 3 dropped off a cliff in 2009. Based on currently expected future circumstances, there is no credible reason to expect that these pre-tax earnings will again reach the high levels achieved in 2007 and 2008.  PSEG's after-tax profits from the plant will be even lower because it has to pay taxes, interests and depreciation from these pre-tax earnings."
Cathy Kunkel, report co-author and IEEFA research fellow, said: "Bridgeport was designed to provide baseload electric power, but due to changes in the grid, most significantly the availability of substantial amounts of low-cost power from natural gas-fired combined cycle units, Bridgeport is now being relied on for peaking service when natural gas-fired units are constrained.  Long start-up times, as much as a full day to reach full power, make it difficult for Bridgeport and other aging coal power plants to serve this peak service, back-up role."
Highlights of the report include the following:
Bridgeport Harbor Unit 3's capacity factor for 2012 was only 3 percent and for the first 10 months of 2013 was only 15.9 percent. The IEFFA report states that the coal-fired power plant is unlikely to reach the 71-87 percent capacity factors achieved before the collapse of natural gas prices in 2009.
New England's current energy and peak load forecasts are relatively flat through 2022.  Consequently, instead of serving higher energy loads, Bridgeport Harbor Unit 3 will have to continue to compete with low cost natural gas-fired units and new renewable resources to serve existing energy demands.
Circumstances that are anticipated to drive continued low pre-tax earnings from Bridgeport Harbor are: low market pricing for natural gas; the addition of increased gas pipeline supply into the Northeast, starting sometime in 2016-2018; relatively high operating costs and low energy market prices in turn necessitating very little power generation from the plant except for in peak winter months; relatively flat demand for energy in the New England market; and possible federal action on climate change resulting in higher costs for greenhouse gas (GHG) emissions by the end of this decade.
ABOUT IEEFA
The Institute for Energy Economics and Financial Analysis (IEEFA) conducts research and analyses on financial and economic issues related to energy and the environment. The Institute's mission is to help facilitate the transition to a diverse, sustainable and profitable energy economy and to reduce dependence on coal and other non-renewable energy resources.
CONTACT:  Patrick Mitchell, (703) 276-3266, or [email protected].
Published in the following papers:
The Wall Street Journal, New York, NY
Penn Energy, Tulsa, OK