Puerto Rico Electric Power Authority Remains Overleveraged; Creditors Will Face Another Round of Renegotiations, Probably Within Five Years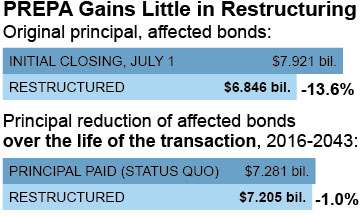 [This is one in a series of commentaries over the past few days on mismanagement at the Puerto Rico Electric Power Authority: Today, how the recent debt-restructuring deal falls short of its core goals. Thursday, neglecting renewables.]
The whole pitch for the Puerto Rico Electric Power Authority's recently approved debt restructuring was that it would put the agency on the road to recovery and make it financially sustainable at long last.
It was an enticing idea. A healthy PREPA would be able to borrow from the bond markets at reasonable rates, invest in much-needed upgrades to the island's electricity system and charge affordable rates.
None of that is likely to happen under the restructuring allowed a few weeks ago by the Puerto Rico Energy Commission, however. As we've noted in previous posts over the past few days, the deal only makes matters worse, it banks largely on hope, and it diverts too much money to overpaid consultants.
The deal doesn't even begin to reduce PREPA's $9 billion debt by enough to make much of a difference (here's the report we published last week that goes into full detail). Moody's  Investors Service estimated ahead of the restructuring that a principal reduction of 20 to 35 percent was appropriate based on the dire state of Puerto Rico's economy. The debt deal falls far short of that. It includes only a 15 percent principal reduction on some of PREPA's outstanding bonds, amounting to an overall principal reduction of only 11.1 percent. And over the lifetime of the bond deal, because of projected additional borrowings, the principal reduction will be less than 1 percent. We believe that for PREPA to become financially viable bondholders must take much bigger haircuts than either what has been approved or what Moody's suggests.
The special Puerto Rico law that gave PREPA the ability to restructure its debt, the PREPA Revitalization Act, requires the debt deal to meet a "savings test," that is, a specific reduction in debt service payments relative to a status quo scenario. While supporters of the deal claim that it meets the savings test, their case rests on calculations that are misleading. The deal fails the test, in other words, and it means PREPA and its ratepayers will continue to be burdened with a high level of legacy debt, which only makes electricity in Puerto Rico more unaffordable than it already is.
The debt may also prove a barrier to PREPA's ability to re-enter the bond markets in a timely manner in order to take on new debt needed to modernize its electricity system. In its filings to the Energy Commission, the agency shows no plausible path back into the  bond markets, and indeed provides contradictory information on when PREPA believes it can return to the markets (although PREPA apparently hopes to somehow do so in the next two to four years).
In the meantime, PREPA has agreed to allow bondholders to take their pound of flesh from PREPA's revenues first, before letting the balance go to PREPA expenses associated with actually providing electricity, leaving little or nothing for badly needed investment in modernization.
It's not clear if — or why — investors would support new PREPA bond issues to improve its aging system if they have to stand in line for repayment behind investors who own the legacy debt perpetuated by the new agreement.
So PREPA's debt deal doesn't put it on a path toward becoming anything resembling a healthy, solvent, creditworthy institution. Indeed, it's likely the Puerto Rico Electric Power Authority will find itself having to re-negotiate its debt obligations with creditors once again, and probably within the next five years. Meanwhile, ratepayers will continue to suffer, and PREPA will be unable to make capital investments that Puerto Rico needs.
Cathy Kunkel is an IEEFA energy analyst. Tom Sanzillo is IEEFA's director of finance.
RELATED POSTS:
PREPA Bond Deal Pays Too Much to Consultants Who Didn't Get the Job Done

Puerto Rico's Proposed Electricity Turnaround Banks Largely on Hope
IEEFA Puerto Rico Report: Debt Restructuring Deal for Commonwealth's Electric Company Only Makes Matters Worse