Momentum in the Face of Resistance by the Forces of the Status Quo
The snapshot map of the world here shows in a handful of new anecdotal markers the global transition to a new electricity-generation economy gaining ground even as status-quo interests dig in, so to speak.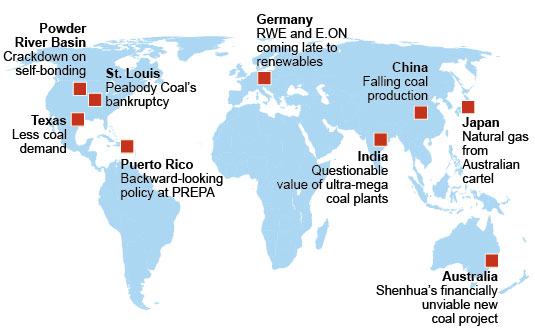 The fight for "self-bonding," the coal-industry promise to set aside ample funds for cleanup costs, grows weaker with word last week that the director of the U.S. Office of Surface Mining Reclamation and Enforcement had issued a crackdown on the practice. Self-bonding, as IEEFA's Tom Sanzillo has written, is essentially a subsidy now that puts taxpayers at enormous risk. The federal ruling keeps the issue on the front burner, where it belongs until it is responsibly resolved.
"It was a nice thing while the markets were up," Sanzillo told American Public Radio's Scott Tong last week on Marketplace. "But the markets don't stay up forever. And yet the public needs to be protected."
Meantime, St. Louis-based Peabody Energy, the biggest private-sector coal company in the world, is becoming one off the biggest private-sector bad-publicity machines in the world. The Denver Post Peabody headline of the week: "Official Rejects Overdue Peabody Tax Payment That Shorted Routt County More Than $91,000: Treasurer Bristles While Bankrupt Company Seeks to Pay Executives Millions." The news is of a piece with a rain of Peabody headlines that have gone from bad to worse and follow a Feb. 16 IEEFA report titled "Peabody's Strategies for Survival Ignore Market Realities, and Risk Backfiring."
Peabody hardly has the market corned on bad energy-industry press. Sean Reilly of E&E, the trade industry publication, wrote last week ago about how the Electric Reliability Council of Texas, which runs the state's electricity system, has argued dubiously about how complying with clean-energy standards would put the Texas grid at risk.
Here's IEEFA's David Schlissel commenting in that article about how ERCOT's behavior fits an industry pattern:
"Anytime EPA wants to do something, the claim from the industry and the system operator is, 'It's not going to work, it's going to lead to serious reliability issues,'" said David Schlissel, who oversees resource planning work at the Institute for Energy Economics and Financial Analysis, which favors a shift to renewable energy sources. "In general, these claims have just not been borne out."
The fact is, as IEEFA noted in June in research by Sanzillo ("Texas Outsize Role in the Decline of the Powder River Basin Coal Industry"), the Lone Star State is in the throes of an electricity-generation makeover that is emblematic of the main problem facing U.S. coal: demand for its product is declining.
Meantime in Puerto Rico, the Puerto Rico Power Authority, or PREPA, drew a major challenge to its regressive and ill-advised debt refinancing and system-makeover plan when business associations in Puerto Rico sued to block the move.
"The debt-restructuring process could face its greatest obstacle yet," wrote El Nuevo Dia under the headline, "Private Sector Sues To Stop One of the Largest Rate Increases in Recent US History."  This gist of the objections: PREPA's plan is expensive, it will drive already absurdly high electricity rates higher, and it will tie Puerto Rico to needless fossil-fuel addiction (more IEEFA research on PREPA here).
Spin the globe east and Gerard Wynn, IEEFA's man in London, notes how two huge German utilities—RWE and E.ON may be coming too late to the renewables game. And Tim Buckley, IEEFA director of energy finance in Australia and Asia reports, in a note last week on China, how the biggest consumer of coal is producing less and less of it. 
In India, IEEFA reports by Buckley and Jai Sharda on the financial unviability of large new coal-fired electricity plants in the region continue to drive discussion and press coverage around what might otherwise be largely unexamined projects that are risky and and unnecessary.
IEEFA's Bruce Robertson, reporting last week from Australia, was widely quoted for his note on how Australia's natural-gas cartel has created a discrepancy of interest, charging Australian local up to 65 percent more for the same gas it sells in Japan.
"It makes no sense that Australian gas should be cheaper in Japan, one of the highest-cost markets in the world," Robertson said. "Australian consumers would be correct to question why this is the case."
Karl Cates is IEEFA's director of media relations.
RELATED POSTS:

Puerto Rico's Proposed Electricity Turnaround Banks Largely on Hope

IEEFA Report: India Clings to Questionable Ultra Mega Power Plant Plans
IEEFA Wyoming: Bid to Export 'Clean Coal' to Japan Rings False