Nearly half of workforce let go; No word from corporate headquarters on long-term fate of remaining employees or of company resolve to honor reclamation responsibilities and local jobs promises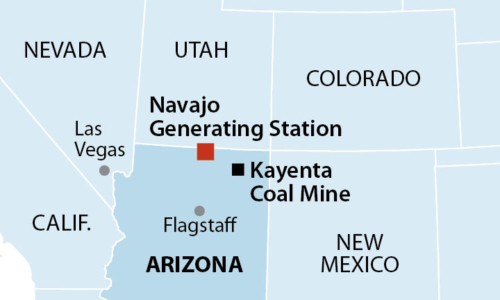 Peabody Energy during the first quarter of the year quietly reduced the size of the workforce at Kayenta Mine in northeastern Arizona by 46 percent, from 336 miners to 182.
In March, Peabody acknowledged publicly it had recently let go 40 Kayenta mine workers. The company has been silent beyond that announcement. The latest information comes via data from the federal Mine Safety and Health Administration.
By October of this year, the mine will cease producing coal, but Peabody will remain responsible for land reclamation that could sustain employment on and around the mine site for years to come.
Kayenta, which dates from the 1960s, is closing because its sole customer, Navajo Generating Station (NGS), will shut down in December, part of a trend nationally toward less coal-fired generation.
The table below shows recent numbers reported by Peabody of workers employed directly in the strip mine.
Kayenta Mine Miner Employment 2017 Q1 – 2019 Q1
MSHA Mine ID: 0201195
STRIP, QUARRY, OPEN PIT
2017 average
321.25
Q1
320
Q2
319
Q3
323
Q4
323
2018 average
335.75
Q1
330
Q2
339
Q3
338
Q4
336
2019 average
182
Q1
182
| | |
| --- | --- |
| Reduction in number of miners employed in 2019 | 154 |
| Percentage reduction of miner employment in 2019 | 46% |
Source: U.S. Mine Safety and Health Administration Mine Data Retrieval System
The mine is operated under mineral and land lease agreements with the Navajo and Hopi tribes. The company states on its website that "99 percent of Kayenta's work force is Native American," and that "wages and benefits for a typical miner are more than 10 times higher than the Navajo Nation per capita income." The majority of Kayenta miners, according to government data, have been on the job for more than 20 years.
While Peabody has played up the regional economic importance of Kayenta over the years, it has offered little in the way of detail on its post-mining plans in the area and how—or whether—it is committed to retaining long-time workers. Concerns locally are that the company will jettison employees in favor of lower-paying contract workers for reclamation.
In a May 2019 opinion piece in the Navajo Times, Randy Lehn, acting general manager of Kayenta, promised that Peabody would stand by workers after mine closure:
"The story about Kayenta is far from over," Lehn wrote. "We have reclamation work ahead that is expected to continue for several years … we expect a good number of employees who do not elect to retire to continue their employment at Kayenta, which offers an extended transition enabling families to remain together on native lands."
Much of the reclamation work at Kayenta will require surface-use heavy-equipment skills similar to those now used at the mine, which is an open-pit project. Post-mining operations will include road reconstruction, demolition, waste mitigation, topography modification, revegetation, groundwater remediation, material transport, drainage reconstruction and so on.
PEABODY IS OBLIGATED UNDER TERMS OF ITS MINING PERMITS TO PAY FOR REMEDIATION AND RECLAMATION, which will not be an overnight job. An IEEFA report published in December—"Long-Term Opportunity for Navajo Nation in Post-Coal Reclamation Economy"—concluded that "most of this work could be finished within five years, but full remediation and reclamation will take years to complete and will require an array of skilled work."
"Mine reclamation activity will encompass thousands of acres in and around Kayenta Mine itself and the nearby former Black Mesa Mine," the report said. "The project will include at least 7,000 acres within the Kayenta Mine footprint that are required by law to be 'reclaimed in accordance with permit requirements to meet post mining land uses of livestock grazing, wildlife habitat, and cultural plant use.' Thousands of other acres in the area are subject to similar reclamation obligations. Collectively—at NGS and Kayenta Mine—these are epic requirements that will take time to meet."
Peabody has no lack of resources to honor its Kayenta responsibilities. The company reported $1.25 billion in revenue, netting $133.3 million during the first quarter of 2019, when it returned $300 million to stockholders, according to its first-quarter earnings report. It is collecting an additional $111.5 million from a consortium of NGS owners under the terms of a contract that requires those owners to pay Peabody for mine reclamation costs.
The economic fallout from closures of the plant and the mine will be significant to tribal budgets and to thousands of households supported by mine and plant income, but one way to soften the blow—in the medium term—is to hold Peabody accountable for its cleanup obligations and to its local-workforce promises.
Key also to the post-coal strength of the Hopi and Navajo economies: Development of a tribal energy sector that capitalizes on the regional potential in solar, policy campaigns to support favorable conditions for such expansion, federal investment in coalfield communities, and impact investment initiatives to attract private outside capital.
The assets associated with the NGS-Kayenta complex hold promise as well, including the railroad connecting the mine and the generation station, the buildings at both sites, and the airstrip near the mine.
Pam Eaton is a Denver-based public-policy consultant. Karl Cates is an IEEFA research editor based in Santa Fe, N.M.
Related items:
IEEFA update: Out-to-pasture coal plants are being repurposed into new economic endeavors
IEEFA report: Fast-emerging opportunity in Navajo-Hopi Transition Impact Investment Fund
IEEFA U.S.: Solar tax credit extension through 2024 critical for coalfield communities