Plastics industry profits soar even in wake of COVID-19, weather-related issues
A recent IEEFA report on plastics pricing and the case for regulation of the industry has been released at a time of market tumult. 
Plastic resin producers are boosting prices and enjoying "fantastic" profits. Since last year, polypropylene prices have increased more than 100% and high-density polyethylene, linear low-density polyethylene, and low-density polyethylene are seeing increases north of 50%. The industry has identified the COVID-19 pandemic and weather conditions along the Gulf of Mexico as driving forces.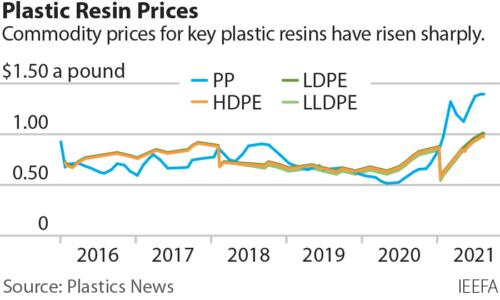 The IEEFA report, however, documents that the impact of these important events were short-lived for most companies. Announcements of plant reopenings happened quickly, and earnings calls for most companies during the first and second quarters showed solid bottom-line performances. During the second quarter, ExxonMobil's leadership informed its shareholders that the petrochemical unit carried the company to positive earnings. Some CEOs talked of debt reduction and others spoke about dividend stability amidst difficult market conditions. 
Other factors one would expect during a time of rapid price increases—high operating rates and concerns about supply shortages for example—did not materialize. Why? 
Commentators in early January 2021 saw plastics prices coming down. The same sentiment was expressed throughout the spring. But the prices remained high. Why? 
Prices remained high. Why?
By August, industry commentators were talking about "fantastic" profits and supply surpluses, and prices remained high. Rather than a significant market correction as one might expect, prices have recently fallen by only a relatively small amount. 
Since the IEEFA report's release, some market observers have been highlighting the rising costs of oil and feedstock as factors driving up prices. Indeed, prices have been rising at the wellhead and further upstream in the feedstock and oil markets. If inflation along the economic chain really were placing such heavy pressure on industry balance sheets, then plastic resin profits should be suffering. The opposite is occurring. 
Some are now arguing that demand has increased and is putting pressure on overburdened supply chains. But such arguments are yesterday's news; as of mid-October, Plastics Exchange reported that warehouses are full and overflowing.
It matters when only a handful of companies control a large segment of the market and the market begins to act in a peculiar manner. The recent recognition of the plastics industry as an essential element of the economy means increased attention. The role of plastics in the medical sector is just one of the critically important needs provided by the industry. These pricing irregularities, moreover, are taking place against a backdrop of pollution and climate concerns. 
It also matters when an important industry lacks transparency. The industry has offered a litany of reasons for the price increases. Our report shows—and the recent weak rationale that rising oil price is driving prices upward further demonstrates—that these reasons cannot stand against the bulwark of solid facts to the contrary. When an industry lacks transparency for many years and then is suddenly put under the spotlight, questions surface; conflicting and superficial answers become inadequate. 
It matters when only a handful of companies control a large segment of the market
At the height of the COVID-19 pandemic last year, Scott Sheffield, CEO of Pioneer Natural Resources and a board member of the Independent Petroleum Association of America, supported an important proposed regulatory action to regulate the rate of oil and gas production at the Texas Railroad Commission. The proposal, which was also supported by IEEFA, was voted down, but support for intelligent regulatory steps to address the future of fossil fuels remains.
The confluence of issues goes not only to prices but to the organization of the industry and the way in which production takes place. The industry's innovative history will face future tests. The best way to handle the public interests involved and to support private investment is through a new model of industry regulation. The system should support investment; balance investor returns with the rising need to address the industry's role in providing goods and services in the public interest; and find solutions for mitigating pollution and climate impact. 
Tom Sanzillo ([email protected]) is IEEFA director of financial analysis.
Suzanne Mattei ([email protected]) is an IEEFA energy policy analyst.
Related items:
IEEFA. Why External Review of Price-Setting Mechanism for Plastic Resins Is Warranted. October 2021.
IEEFA. Plastics tax debate is health and safety issue for rest of U.S. September 2021.
IEEFA. Army Corps of Engineers requires full environmental review for Formosa petrochemical project in Louisiana. August 2021.