As U.S. Steps Aside, Beijing's 'Belt and Road Initiative' Gains Traction
Jan. 9, 2018 (IEEFA.org) – China continued to be the world's dominant force in the building and financing of clean energy technology globally in 2017, according to a report published today by the Institute for Energy Economics and Financial Analysis (IEEFA).
The report,  "China 2017 Review: World's Second-Biggest Economy Continues to Drive Global Trends in Energy Investment," sees renewable energy dominating global power capacity additions for at least the next two decades and concludes that "China is preparing now to lead this new energy world."
Tim Buckley, lead author of the report and IEEFA's director of energy finance studies, said that U.S. withdrawal from the Paris climate agreement along with an increased emphasis by the government on coal and away from renewables is at odds with the direction being taken by China.
"The clean energy market is growing at a rapid pace and China is setting itself up as a global technology leader while the U.S. government looks the other way," Buckley said. "Although China isn't necessarily intending to fill the climate leadership void left by the U.S. withdrawal from Paris, it will certainly be very comfortable providing technology leadership and financial capacity so as to dominate fast-growing sectors such as solar energy, electric vehicles and batteries."
The report, which builds on IEEFA's summation of China's expanding new energy capacity in January 2017, analyzes China's further progress in clean energy sectors in 2017, including advancements led by the nation's large and influential state-owned utility, engineering, and finance companies. Growing Chinese dominance is led by the Belt and Road Initiative (BRI) that is driving outbound infrastructure investment along ancient trading routes; 2017 saw BRI gain momentum. Despite encountering some headwinds in 2017, it remains a central feature of China's foreign and economic policy.
"It has become clear that renewables will be the dominant energy technology of the following decades with even the cautious International Energy Agency (IEA) accepting that renewables will receive the majority of energy investment going forward," Buckley said. "China is not going to buck this trend; although it is still investing in some coal projects around the world, China will embrace the direction energy markets are moving in and is setting itself up as a global technology leader."
India is now following China's energy sector lead, adding its economic weight to further accelerate global renewable energy deployments at ever greater economies of scale, driving deflation.
Excerpts from the report:
IEEFA's list of large overseas clean energy projects for 2017 is even greater than the prior year's list. The total for large projects (valued at US$1 billion or more) in 2017 exceeds US$44 billion. This compares to US$32 billion identified in 2016, which was itself a record year for Chinese low-emissions-sector investment overseas.
Chinese M&A activity in countries that are part of the Belt and Road Initiative (BRI) soared in 2017. Through the whole of 2016, Belt and Road-related acquisitions totaled US$31 billion; in 2017, this figure was surpassed by the month of August.
The Belt and Road Initiative was enshrined in the Communist Party constitution in 2017, creating more pressure than ever for it to succeed and confirming China's desire to expand its role in the global economy.
Chinese solar manufacturers account for about 60% of global solar cell production, and China's solar manufacturing leadership was cemented in 2017.
Major Chinese wind energy companies, including the world's largest wind power developer, continued to expand overseas.
Large Chinese hydro power firms continued to either acquire or to win contracts to build major hydro projects. Latin America, Africa and Asia continue to be areas of focus for Chinese hydro companies.
State Grid Corporation, the world's largest power utility, leads persistent Chinese international investment in power grids.
China is outmaneuvering other economies in securing supplies of new energy commodities.
Chinese companies have maneuvered into a position to dominate the cobalt market with the majority of supply heading back to China. Chinese miners are expected to have been responsible for 62% of global supply in 2017.
Securing new energy commodities will allow China to dominate battery and EV manufacturing going forward.
Chinese electric vehicle (EV) manufacturers are rapidly building domestic capacity. Gaining such a head start in the EV sector domestically is a prelude to a push into international markets. Chinese manufacturers like BYD have ambitions to sell more EVs overseas than domestically in the future.
China's energy sector has many major financial institutions at its disposal to support its overseas energy ambitions.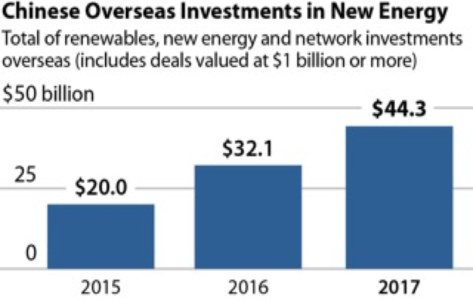 Full report here: 'China 2017 Review: World's Second Biggest Economy Continues to Drive Global Trends in Energy Investment'
Contacts:
Tim Buckley, Australia [email protected] +61 40 810 2127
Simon Nicholas, Australia [email protected] +61 405 831 614
Melissa Brown, Hong Kong [email protected]
Media U.S. —  Sandy Buchanan, [email protected], +216-688-3433
Media Australia — Andrew Bradley, [email protected]  +61 403 777 137
About IEEFA: The  Institute for Energy Economics and Financial Analysis (IEEFA) conducts research and analyses on financial and economic issues related to energy and the environment. The Institute's mission is to accelerate the transition to a diverse, sustainable and profitable energy economy.