Proposed Mine Would Be a Money-Loser and Would Generate No Tax Revenues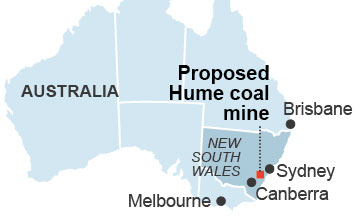 We've published a report today that shows how a new coal mine proposed for the Southern Highlands of New South Wales is financially unviable and unlikely to proceed.
Our research shows that the developer, Hume Coal, which is owned by the Korean steelmaker POSCO, cannot make a sound business case for the mine. IEEFA concludes specifically that with a total cost (including interest) of coal of A$130/t, absent a sustained recovery in coking coal prices and/or a collapse in the A$/US$ currency rate, the project would lose money with every tonne of coal produced. The negative net present value for the project (–A$384m) means the probability of this proposal proceeding is remote.
We believe that POSCO, which is an integrated steel company, would be commercially better off sourcing a long-term supply agreement or buying one of the many distressed coal mines readily available on the market.
Some excerpts from our report on the project, which is being proposed for an environmentally sensitive area about 80 miles southwest of Sydney ("The Hume Coal Mine: A Stranded Asset in the Southern Highlands"):

"In IEEFA's view the Hume Coal project is not commercially viable at or anywhere near current coking coal prices and AUD/USD currency rates. The project would require a significant and sustained lift in prices and/or currency fall."

"IEEFA is not aware of any major financial house that is forecasting such a scenario. Goldman Sachs is forecasting real long term hard coking coal prices of US$95/t (2015 real dollars) and PCI pricing of just US$75/t (long-term real). The Australian Government recently forecast a coking coal price of US$91/t out to 2017-18 in its 2016-17 Budget. Commonwealth Bank is forecasting the rise to US$100/t in mid-2016 will be temporary and the coking coal price will average just US$87/t in 2016. IEEFA acknowledges that the project would approach break-even at Macquarie Bank's long-term hard coking coal price forecast of U$105/t. IEEFA notes the long-term real price of coking coal averaged below US$100/t for the two decades prior to 2010."

"There is little prospect of Federal government revenue being generated from corporate taxes at Hume Coal."

"Even in the highly unlikely event that the Hume Coal project were to proceed, it will not be in a position to provide jobs to all the coal mine employees that have lost jobs elsewhere in the region in recent months. These job losses, which include 300 contractors and permanent staff let go across South32 mines in the Illawarra region and the announced closure in June 2016 of Glencore's nearby Tahmoor coking coal mine which employs 350 people, are a strong indication of the distressed state of the coal mining industry in the region. Within this context, the development of a greenfield coal mine in the area seems highly speculative, particularly as even existing coking coal projects are clearly financially challenged."

"Although the Hume project is unlikely to proceed under current market conditions, the investment decision uncertainty still has negative financial effects for the local area … the threat of a new coal mine development continues to hang over local property owners, creating uncertainty and depressing property prices. The uncertainty limits the opportunity for land and business owners to make their own development plans, since such investments are likely to be put on hold until a certain outcome is reached. Such uncertainty is one of the results of the NSW Department of Planning's tendency to approve new coal mines regardless of the financial viability of the projects and/or their proponents … However, this does not take into account the local effects that a new mining proposal can have on the financial status and decision-making of communities, small businesses and individuals."

We note also in our report that project's proposed pine feather extraction system, partly a response to environmental concerns such as subsidence and water availability, is new to Australia, a fact that may cause unexpected production issues. We note, too, that the system's ability to prevent high volumes of groundwater inflow is untested and that a significant additional cost for providing an equivalent water supply could be the result.
In light of the options available, and the current and expected future state of the coal market, IEEFA sees little chance that the Hume Coal project will move forward.
Tim Buckley is IEEFA's director of energy finance studies, Australasia. Simon Nicholas is an IEEFA research associate.
RELATED POSTS:
West Australian Mine Owner Reports More Losses, Shows No Ability to Cover Clean-Up Costs
GVK, Indian Player in Proposed Alpha Coal Mine, Makes No Mention of Project in Latest Filings
Peabody's Latest Financials Raise Doubts on 'Business as Usual' Expectations in Australia