Update: FirstEnergy Piles Insult Onto Billions of Dollars in Injury by Threatening to Move Its Headquarters From Akron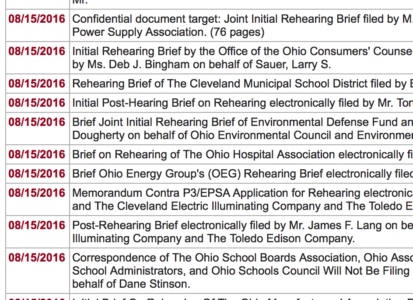 Call me old-fashioned, but I've always thought investor-owned electric utilities were set up to provide power to consumers who paid for what they got.   
In states where electricity is deregulated, utility companies compete for customers—just like any other business does. And in states where utilities are regulated, public-utility commissions determine how rates are set and what constitutes a fair profit.
These tried and true traditions—long proven in electricity markets across America—are being flouted in Ohio today by FirstEnergy, whose executives want others to pay for their mistakes and whose vision of a customer-subsidized business-bailout model would set a dangerous precedent that, if it's allowed to take shape in Ohio, could be cloned elsewhere.
You have to hand it FirstEnergy, however, for its daring. The company, battered over the past few years by the results of its own bad management decisions, today is shamelessly making a of mockery of traditional—and fair—utility regulation in what it is pushing for from the Public Utility Commission of Ohio.  
In a report we published this morning, "FirstEnergy Bailout Proposals Grow More Audacious, and Onerous, for Ohio Ratepayers," we update earlier research in which we've detailed what can only be described as the staggering handout the company is trying to extract from customers.
FirstEnergy, one of the nation's largest utilities, has been around a long time and is deeply resistant to changes that are transforming electricity markets, most notably the rapid uptake of wind and solar around the world. But the company in one way is disproving the notion that you can't teach an old dog new tricks. FirstEnergy has excelled lately at inventing new ways for customers to pay for bad management.
In fact, that's where company executives have invested most of their recent energy, no pun intended. FirstEnergy has spent much of the past two years pressing the Public Utilities Commission of Ohio to sign off on ratepayer-funded bailouts of failing coal and nuclear plants owned by its merchant affiliate, FirstEnergy Solutions.
It has run a campaign that, probably by design, can be hard to follow through arcane regulatory tangles.
Although the PUCO approved one bailout scheme in March, for instance, FirstEnergy stopped pushing for that plan (and decided to try alternate bailout route) when it became clear that the Federal Energy Regulatory Commission might block it. 
It now has two new proposals pending before the commission alongside a counterproposal by PUCO staff.
HERE ARE THE THREE CURRENT BAILOUT PROPOSALS:
FirstEnergy's "Modified Rider RRS," which, based on our recently updated market forecasts, IEEFA estimates would cost consumers at least $4.3 billion from Oct. 1, 2016, through May 31, 2024.


The PUCO staff's "Distribution Modernization Rider" proposal, which would cost customers from $393 million to $655 million over three to five years.

First Energy's alternative "Distribution Modernization Rider" proposal, which would cost consumers from $4.3 billion to as much as $8.6 billion from Oct. 1, 2016, through May 31, 2024.
WHILE THE PLANS AS A GROUP ARE ALL OVER THE MAP, THEY HAVE ONE THING IN COMMON IN ADDITION TO SOAKING RATEPAYERS: NONE INCLUDE ANY GUARANTEE THAT THE COMPANY WOULD HAVE TO USE ANY OF THE MONEY IN A WAY THAT WOULD BENEFIT OHIO CUSTOMERS.

FirstEnergy says its Modified Rider RRS proposal would provide "rate stabilization," although it doesn't say how. The explicit aim of the Distribution Modernization Rider proposals put forward both by the PUCO staff and FirstEnergy is to bring in enough funds as a subsidy from customers to keep FirstEnergy Corp's credit rating from being downgraded.
Any of the proposals would be a boon to FirstEnergy shareholders, but promise nothing in substance to ratepayers. With no limits on how the revenues collected under any of these three plans could be used, there is nothing stopping FirstEnergy from doing whatever it wants with the money.
HERE ARE SOME OF THE MORE OBVIOUS HOLES IN THE BAILOUT PROPOSALS: 
Neither the FirstEnergy nor the PUCO staff Rider DMR proposals requires that FirstEnergy actually spend any of the bailout funds it would receive on grid modernization in Ohio, or, indeed, anywhere else, despite the name of the plan. Instead, the company would be free to transfer via dividends the DMR funds from its Ohio retail companies into the parent FirstEnergy Corp. for any use it deems fit.

FirstEnergy has not offered any short- or long-term plan for improving its cash flow from operations (beyond seeking a long-term bailout from customers), which means the company could very well be back before the PUCO for another bailout request as soon as 2019.


Neither PUCO staff nor FirstEnergy have shown that any bailout will improve or stabilize the company's credit ratings.

Neither has provided a long-term forward-looking financial assessment, let alone one for the three to five-year bailout period proposed by PUCO staff or for the eight-year period proposed by the company.

Neither has presented any cost-benefit analysis for the proposed bailouts or of a credit downgrade.


Neither has shown any evident interest in the damage a bailout would cause millions of households and businesses across northern Ohio.
Adding insult to the enormous injury a bailout would inflict on customers, FirstEnergy executives have had the gall to suggest they might move the company's headquarters out of Akron—presumably out of state—if they don't get their way.
The company, it seems, is playing a game of chicken on this point, going so far as to put a price on what smacks of extortion, asking the PUCO for $568 million per year in ratepayers subsidies in exchange for what may or may not be a promise to keep its offices in Akron.
You have to give the company kudos for its guts here, too, even if its argument is built on a highly suspect "multiplier effect" study that shows the local economic damage it could cause if it pulled up stakes, and even if it doesn't get into how it would get out of its current lease, which runs through 2025.
Damn market tradition, goes FirstEnergy's thinking, bailouts are where it's at.
The PUCO should reject all three proposals.

David Schlissel is IEEFA's director of resource planning analysis.
RELATED POSTS:
FirstEnergy Throws a Hail Mary Pass in Its Campaign to Keep Aging Power Plants Alive

Study Sees FirstEnergy Corp. Trying to Reverse Its Slide Through Regulatory Capture and Ratepayer Bailouts